Daily Musings — Thoughts on News of the Day
December 23, 2020
In a video address Tuesday night, Trump called the proposed stimulus checks of $600 included in the economic relief bill that Congress passed Monday "ridiculously low" and said the payments should be more than tripled — a proposal that many Democrats immediately lined up behind.
"Consumers' assessment of current conditions deteriorated sharply in December, as the resurgence of COVID-19 remains a drag on confidence…"
Though initial unemployment claims improved more than anticipated last week, claims are still coming in at historically elevated levels.
The virus presents a compounding threat. Not only are these populations some of the most vulnerable to the coronavirus, but by destroying millions of jobs, the pandemic threatens a wave of evictions that experts warn could lead to a catastrophic housing displacement and even more people living on the streets.
"Our darkest days in the battle against COVID are ahead of us, not behind us…"
"There will have to be a resolution of the system working for the majority of the people in which there's productivity…And that could be obtained either in a smart, bipartisan way — or it will come by greater conflict."
Demand for bus travel has fallen by more than 80% during the pandemic, as public health authorities urge people to avoid travel where possible.
A surge in demand for furniture, exercise equipment and other goods for shoppers sheltering at home in a worsening COVID-19 pandemic has upended normal trade flows. That has stranded empty cargo containers in the wrong places, spawning bottlenecks that now stretch from factories to seaports.
Read more at VicNapier.com and my Medium.com page.
December 22, 2020
Seven in ten say their financial priorities have changed from the start of 2020 to now. For 63 percent, this year has permanently changed their financial priorities.
"In the meantime, the end of year holiday season will soon be upon us with the risk of another surge in Covid-19 cases and the possibility of yet more confinement measures."
The first issue is the Senate, now controlled by Republicans who tolerate deficit spending when a Republican is in the White House but become fiscal hawks when a Democrat is president.
In a historic decision, the Supreme Court not only embraced damages as an appropriate and traditional remedy for violations of constitutional rights, but also rejected the government's invitation to consider policy arguments in order to deny plaintiffs their day in court.
The December reading of 88.6 released Tuesday by the Conference Board is a sharp decline from last month, which was revised downward to 92.9, and it is far worse than economists had expected. It may be an ominous sign for an economy in which consumer spending accounts for 70% of all economic activity.
"I would like to hope that many of them are from homes where their parents have taken responsibility on their own to provide for their education…My fear is that large numbers have simply gotten discouraged and given up."
According to the Hollywood Partnership's third-quarter report, 185 businesses remained closed in the area as of September.
To answer the question, this brief synthesizes the findings of four recent Center studies on nontraditional jobs and older workers, a group that could be particularly vulnerable without employer benefits.
Read more at VicNapier.com and my Medium.com page.
Links may lead to sites where the author has an affiliate relationship.
December 21, 2020
The deal includes restarting a $300 boost to the federal unemployment insurance benefit, extending eviction moratoriums for renters for an unspecified amount of time and a $600 direct payment to most Americans.
Sunday's vote by the panel was who should be next in line, and by a vote of 13-1, it decided that it should be people 75 and older, who number about 20 million, as well as certain front-line workers, who total about 30 million.
The vaccine is not going to be a magic bullet immediately. So, we are going to still have to live with a certain amount of restrictions in our lives. It is going to be really important to build trust again as we go into the New Year.
Almost 8 million people have fallen into poverty since the summer. Savings for many, especially the lowest earners, are either dwindling or gone. Millions of households owe thousands in back rent and utilities — and face a renewed threat of eviction in the new year. A growing share of unemployed individuals say their households don't have enough to eat.
Health officials say do-it-yourself tracing is not ideal, but as infections and hospitalizations soar, it's likely the most effective way to reach people who may be at risk.
Half of US households told Bankrate their income has taken a hit at some point during the pandemic. Yet, only 17% of those who suffered an income drop reported that their earnings have returned to the levels they had prior to the pandemic.
"They don't like having to depend on China. They would maybe like to bring back manufacturing to Mexico or the U.S. But because of the uncertainty, they can't tell me their requirements. They don't know how much they're going to sell. And given how much they don't know, this probably isn't the best time to make any major capital investments."
Inspired by the historic Finnish trading schooner Ingrid of the Aland Islands, the firm Sailcargo Inc says it designed the vessel named Ceiba "to be the first of its kind in the world." It will rely mostly on wind power with two auxiliary electric engines for maneuvering in ports and low winds.
Read more at VicNapier.com and my Medium.com page.
Links may lead to sites where the author has an affiliate relationship.
December 18, 2020
"That's a lot of individuals whose lives are on hold, whose career and educational aspirations are suspended…You can almost think of this as an entire generation that will enter adulthood with lower education, lower skills, less employability, ultimately lower productivity."
With layoffs still elevated and new confirmed viral cases in the United States now exceeding 200,000 a day on average, the economy's modest recovery is increasingly in danger. States and cities are issuing mask mandates, limiting the size of gatherings, restricting restaurant dining, closing gyms or reducing the hours and capacity of bars, stores and other businesses.
Indecision remains over how to distribute stimulus checks — they're expected to be about $600. The final bill is also expected to include boosted unemployment benefits of $300 per week, and $325 billion in aid for small businesses, reports Axios.
The coronavirus pandemic has hammered Coke's business, as sales at places like stadiums and movie theaters dried up due to lockdowns. Its revenue fell 9% to $8.7 billion in the July-September period.
With all of these events adding up, over half of respondents have felt too overwhelmed throughout the year to take proper care of their health and wellness. Fifty-six percent said they've been struggling now more than ever to find a wellness routine that works for them.
45 of America's 50 biggest publicly traded companies have turned profits since March, while nearly 8 million Americans have fallen into poverty since June.
About one-third of U.S. households say they're behind on rent or mortgage payments and likely to face eviction or foreclosure in the next two months, according to data collected by the U.S. Census Bureau.
A whopping 80% of New York City's income tax revenue, according to one estimate, comes from the 17% of its residents who earn more than $100,000 per year. If just 5% of those folks decided to move away, it would cost the city almost one billion ($933 million) in lost tax revenue.
The state's population, notes demographer Wendell Cox, is now virtually stagnant, with more people leaving and fewer people coming. Today, suggests Cox, California, once the ultimate land of youth, is now aging far faster than the rest of nation.
Read more at VicNapier.com and my Medium.com page.
Links may lead to sites where the author has an affiliate relationship.
December 16, 2020
The poverty rate jumped to 11.7 percent in November, up 2.4 percentage points since June, according to new data released Wednesday by researchers at the University of Chicago and the University of Notre Dame.
Last year, more than 35 million people experienced food insecurity. But because of the pandemic, that number could be as high as 50 million for this year, according to the hunger relief organization Feeding America.
A new U.S. Chamber-MetLife poll of small businesses taken from Oct. 30-Nov. 10 showed that 74% of the owners said they need further government assistance to weather the pandemic. That percentage rises to 81% for minority-owned businesses.
"We're so excited! Imagine having this robot making deliveries to your door…I've been in the delivery business for over 20 years and this is the most revolutionary thing yet. This is the future."
School districts are recruiting parents as substitute teachers, online class sizes are soaring to 50 children or more and bus drivers are baby-sitting classrooms. Some are considering allowing asymptomatic teachers who were exposed to Covid-19 to continue to show up.
Several tech firms have said they'll give employees the option to permanently work from home even after the pandemic ends. But the relocation of corporate headquarters, company founders and big-name VC investors points to a corporate diaspora of the tech industry — and what some have called a "tech exodus" from the Bay Area.
As people of many professions increasingly telecommute during the age of the pandemic, many are relocating to small or medium-sized cities, either close to their original homes or in low tax states. Places like Louisville, Buffalo, Burlington, Little Rock, Tulsa, Greenville, Knoxville and Syracuse are all seeing population influxes of nearly double their 2019 rates or better.
"We found that the importance of college quality as a determinant of graduation rates and post-college earnings increased, while the importance of aptitude test scores declined."
Presently, domestic revenue for 2020 stands at around $2.2 billion, according to Comscore. That's down roughly 80 percent from 2019, which ended up at $11.4 billion.
"The COVID-19 pandemic has had a dire impact on civic freedoms globally…Our research shows that governments … are using the pandemic as an opportunity to introduce or implement additional restrictions on civic freedoms."
The vehicle is similar in concept to the General Motors-owned six-passenger Cruise Origin that debuted in January, but is narrower and about three feet shorter in length at under 12 feet.
The stigma of "shirking from home" has disappeared, the technology has improved quickly, and companies and employees have adapted, the research concluded. Firms have changed their tech infrastructure to accommodate, and the average worker, the study found, has spent about $660 outfitting their home set up.
Read more at VicNapier.com and my Medium.com page.
Links may lead to sites where the author has an affiliate relationship.
December 15, 2020
"The plan is alive and well and there's no way, no way that we are going to leave Washington without taking care of the emergency needs of our people."
The data dump showed that more than half of all PPP funds went to only 5% of recipients, while more than a quarter of all funds went to only 1% of borrowers. The program cost nearly $225,000 for each job that it saved.
These measures have nothing to do with the current economic and public health crisis and would be on top of a possible $900 billion COVID relief package.
Belgian-born van Raemdonck stands to reap a reward of as much as $6 million as a result on top of the $4 million bonus he earned earlier this year.
The supply of available holiday jobs in U.S. customer-facing retail fell by a third to 302,100 this year from around 466,400 jobs last November…Meanwhile, applications for U.S. storefront retail positions have jumped by around 34%.
"Disney increasing its content budget is a big deal for the whole industry, including Netflix. It is effectively raising the bar to compete…If Disney needs to spend $14 billion to $16 billion on content, then Netflix likely needs to spend well over $20 billion to achieve the same subscriber scale globally."
Permanent conversions are a financial bet that air freight demand, which was weak before COVID-19, will remain strong for years to come as shoppers turn to e-commerce.
"I've seen how it's been a matter of economic life or death for so many of my constituents who did not create COVID-19, who did not ask to be laid off from their job, who did not ask for their hours to be cut and just need a little bit of help to do what's necessary to stay healthy."
For communities of faith, Covid-19 has upended traditions and placed annual festivities at churches and synagogues on hold, forcing rabbis, pastors and priests to reimagine Christmas and Hanukkah celebrations and rethink their messages to the faithful.
"When we come out of this crisis and labor is cheap again, firms will not necessarily roll back these inventions…These are kind of one-way transitions."
Read more at VicNapier.com and my Medium.com page.
Links may lead to sites where the author has an affiliate relationship.
December, 14, 2020
Asked how history will judge Trump, 42 percent said he will be viewed as one of the worst presidents in history, 22 percent said he will be remembered as one of the greatest and 26 percent said he was average or above average.
The number of U.S. residents is likely to increase by just 700,000, or 0.2%, this year, the slowest pace since 1918, when the Spanish Flu and World War I combined to shrink America's population, according to estimates by Moody's Analytics.
Based on an average daily rate of $131, hotel owners have seen about $46 billion in lost revenue. The result, industry groups warn, is that many properties will close without a new round of stimulus from the federal government.
"Vaccines should drastically decrease the numbers of covid cases, but it's likely doctors will still be treating the disease in intensive care for a number of years around the world, so there is an urgent need to find new treatments."
If Canada were to create such a program — requiring cooperation with the provinces and territories — we would join just 19 other countries around the world that have some variety of a vaccine compensation policy.
In recent months, established dailies such as the New York Daily News, Miami Herald and Baltimore Sun have joined other news outlets abandoning their headquarters, amid pandemic workplace restrictions that had already left them empty.
TV networks are feeling the strains of disappointing NFL ratings, as they are forced to restructure deals with advertisers to make up for the smaller audience, and their opportunity to make money off remaining games during the lucrative holiday season narrows.
Both public schools and transit face what some experts have called a "death spiral." As frustrated parents and scared passengers withdraw from the public system, they take tax dollars and fares with them, which means schools and transit services worsen.
Between 2.4 million and 5 million American households are at risk of eviction in January alone, and millions more will be vulnerable in the months after, according to estimates from the investment bank and financial-advisory firm Stout Risius Ross.
Over 8,700 students have been withdrawn from the Fairfax County school system, with parents preferring to send them to private schools or homeschool them—an eye-opening 5 percent decline in the past year.
Read more at VicNapier.com and my Medium.com page.
Links may lead to sites where the author has an affiliate relationship.
December 11, 2020
The government stimulus that kept millions of Americans from falling into poverty earlier in the pandemic is long gone, and new aid is still a dot on the horizon after months of congressional inaction. Hunger is chronic, at levels not seen in decades. The result is a growing subset of Americans who are stealing food to survive.
If the ultrarich were to share their "pandemic profits," research shows, they could give everybody in the country a one-time $3,000 stimulus check and still be wealthier than they were back in March.
"President Biden can undo this debt — can forgive $50,000 of [student] debt — the first day he becomes president…You don't need Congress. All you need is the flick of a pen."
This was the highest weekly total since Sept. 19 and reflects the job market's struggles lately as coronavirus cases have spiked and local and state governments have imposed restrictions on some activities. Continuing claims increased by 230,000 to 5.76 million.
From Brooklyn, New York, to Minneapolis, restaurants are turning suites into private dining rooms for small groups. This comes at a time when the country's hotel occupancy rates remain at historic lows—65% are below 50 % occupancy—and the restaurant industry faces continued job and revenue loss.
Treasury yields fell following a report that showed 853,000 U.S. workers applied for unemployment benefits last week. It's also the latest reminder that the pandemic is doing more damage to the economy in the near term, even if prospects are rising that a COVID-19 vaccine will get the economy healthy in the longer term.
The latest weekly initial jobless claims rose sharply, and continuing claims also rose for the first time in months. But those signs of recent economic weakness might spur Congress to act on a proposed $916 billion fiscal stimulus bill, the thinking goes.
In its Job Openings and Labor Turnover Summary (JOLTS), the Labor Department reported that companies and government agencies laid off or fired 1.68 million workers, up from 1.44 million in September.
Read more at VicNapier.com and my Medium.com page.
Links may lead to sites where the author has an affiliate relationship.
December 10, 2020
In 2019, salaries averaged $38,923 for the bottom 90%; $320,096 for the top 5%; $758,434 for the top 1%; and $2,858,981 for the top 0.1%.
More than half of U.S. employees currently working from home say they'd like to keep their remote arrangements beyond the pandemic, according to a Pew Research Center survey released Wednesday.
Pensions and other retirement-benefit programs have struggled for years to figure out how to close the gap between the assets they have on hand and the cost of benefits they have promised to pay out in future decades. Their concerns continued to grow as investment returns fell.
It is not just that this bill will do little to provide additional net revenue to a city facing financial ruin; it is that this bill will surely do the exact opposite. Even critics of modern income inequality see policy prescriptions such as this as counterproductive
A proposal for $908 billion in relief – put forward by a bipartisan group of lawmakers last week and endorsed by Pelosi, a Democrat, as a basis for negotiations – does not include funding for another round of $1,200 stimulus checks like the ones included in a previous COVID-19 aid package last spring.
Democrats are rejecting a White House proposal to fund new a new round of direct payments to Americans by slashing money for the unemployed.
A bipartisan effort to deliver an infusion of COVID-19 relief to families and businesses is hung up over provisions to help state and local governments, which Democrats want, and protecting businesses from coronavirus-related lawsuits, a top Republican priority.
These workers plan to spend more time than usual checking in with the office. For this large slice of us, the holiday season is likely to be defined by a mantra of "less fun, more work." Even family movie time might turn into a few disjointed glimpses of the big screen while scrolling through email or text messages.
Read more at VicNapier.com and my Medium.com page.
Links may lead to sites where the author has an affiliate relationship.
December 9, 2020
Mothers are three times as likely as fathers to be responsible for a majority of housework and child care during Covid-19, and twice as likely to worry that their work performance is being judged negatively because of their caregiving responsibilities during the pandemic.
"The risk that societies are entirely torn apart results in the realisation that the Covid-19 measures weren't a mere panic response, but the start of a permanent new universal basic income (UBI) reality,"
Friday's report provided the latest evidence that the job market and economy are faltering in the face of a virus that has been shattering daily records for confirmed infections. Economic activity is likely to slow further with health officials warning against all but essential travel and states and cities limiting gatherings, restricting restaurant dining and reducing the hours and capacity of bars, stores and other businesses.
Since the Great Recession more than 10 years ago, few mainstream credit card companies have put effort into lending to subprime borrowers or to the poor. Credit card companies are now focusing most of their attention on middle- to upper-class borrowers, who typically have jobs allowing them to work remotely and are not in businesses that have been shut down due to the virus.
Self-driving vehicle technology company Aurora will acquire the employees and technology behind Uber's Advanced Technologies Group in an stock transaction, the companies said Monday. Uber will also invest $400 million into Aurora, and Uber's CEO Dara Khosrowshahi will join Aurora's board of directors.
The team finds binge drinkers consume around four alcoholic beverages per occasion during the pandemic. That's double what non-binge drinkers are consuming. Adults who report drinking harmful levels of alcohol during their isolation are having as many as seven drinks at one time.
Business relocations to Austin announced this year are expected to create nearly 10,000 jobs. Austin has also managed to remain cheaper than San Francisco, Brooklyn and Manhattan by building tens of thousands of apartments over the past decade.
Read more at VicNapier.com and my Medium.com page.
Links may lead to sites where the author has an affiliate relationship.
December 8, 2020
"The restaurant industry simply cannot wait for relief any longer…What these findings make clear is that more than 500,000 restaurants of every business type — franchise, chain and independent — are in an economic free fall."
"Colleges and universities get very high premiums on their housing. It's a big revenue space for them…But for many, many schools right now, they just can't operate in person."
Hunger is a harsh reality in the richest country in the world. Even during times of prosperity, schools hand out millions of hot meals a day to children, and desperate elderly Americans are sometimes forced to choose between medicine and food.
The average cost of child care for a child under 4 is $9,589 per year, according to New America's Care Report — more than the average cost of in-state college tuition. It's much more expensive in big cities: In Washington, D.C., the average cost of care for an infant is more than $24,000.
And grades in North Carolina paint a bleak picture as well. In Wilson County, 46 percent of students in grades 3-12 failed a class this fall while learning virtually.
Ricketts and Boshara found the most important predictor of serious delinquency is whether a family has at least two months' worth of income in the form of liquid assets, such as cash and checking and savings accounts. If they don't, they're about 300% more likely to become seriously delinquent than those who have at least that much.
As the company continues to chase profitability, it appears to be refocusing attention on its core businesses — ride-hailing and food deliveries. Earlier this year, it sold its scooter and electric bike division to a micromobility company.
The FCC said the funding would grant broadband access to over 10 million people, adding that the minimum speeds offered will be 100 Mbps, with 85% of users getting gigabit speeds.
Read more at VicNapier.com and my Medium.com page.
Links may lead to sites where the author has an affiliate relationship.
December 7, 2020
If no agreement is reached in negotiations taking place on Capitol Hill, more than 9 million people will lose federal jobless aid that averages about $320 a week and that typically serves as their only source of income.
Sixty-four percent are cutting down on dining out or ordering takeout. Another 61 percent add they're seeing fewer movies, 55 percent are buying less clothing, and 52 percent are traveling less. Nearly two in three (63%) say they're going paycheck-to-paycheck since March 2020.
Big business, investors, and the wealthy are thriving. But restaurant and bar employees, hotel and airline staff, and other service workers are in a pretty hopeless situation right now: A "depression" is an apt description of what they're facing …700,000 Americans have been filing unemployment insurance claims every week for 37 weeks — nine months. Plus, 20 million people are still on the pre-pandemic unemployment rolls.
The news comes on the same day as cuts to Disney's television arm under general entertainment content chairman Peter Rice, which saw the departures of a number of longtime executives from the ABC Entertainment broadcast network and 20th TV studio unit. Separately, Radio Disney disclosed Thursday that it would shut down operations early next year.
But what makes me really uncomfortable is watching nothing emerge from Our Nation's Capital to help people clobbered by covid-19 while those of us fortunate enough to have substantial stock holdings have seen the value of our portfolios rise sharply since March.
Even as New York City's businesses — restaurants, bars, gyms, retail — have been slammed by the pandemic, New York University's Langone Fertility Center has seen a 41 percent increase in women freezing their eggs
Under the kindly eyes of Uncle Joe, we soon may find ourselves living under an updated version of the fascist "corporate state"— an alliance between political leaders and a handful of ultra-rich, ultra-powerful companies that increasingly dominate the economy and culture.
Read more at VicNapier.com and my Medium.com page.
Links may lead to sites where the author has an affiliate relationship.
December 4, 2020
The proposal includes enhanced federal unemployment benefits of $300 per week; $160 billion in financial aid to state and local governments; $288 billion to renew the Paycheck Protection Program and help small businesses; and $25 billion in rental assistance.
Skills erode over time, the theory goes, and extended unemployment may carry a stigma. That means a large group of Americans may have less income and spending power for years, even after the pandemic and its short-term economic effects are over.
The unemployment rate met expectations, though it fell along with a drop in the labor force participation rate to 61.5%. A more encompassing measure of joblessness edged lower to 12% while the number of Americans outside the labor force remains just above 100 million.
Roughly 35 to 40% of employees in developed economies have reported working from home most or all of the time during the pandemic, a marked increase from the past.
The Houston-based clothing chain is the latest retailer to file for bankruptcy during the coronavirus pandemic, joining Guitar Center, New York & Company, J.C. Penney, Stein Mart, Sur La Table, Ascena Retail Group, Tuesday Morning and several others.
The order would be worth more than $9 billion at list prices, although airlines routinely receive deep discounts. Financial terms of the deal were not disclosed.
The retail giant said it will provide some $315 million in "special" cash payments paid to workers in their Nov. 25 paycheck, and another tranche of bonuses totaling $388 million that will be paid on Dec. 24.
The warnings went to 6,828 employees including more than 2,500 ground workers and 1,500 flight attendants represented by the Transport Workers Union and 1,221 pilots, who have their own union. As of the end of September, Southwest had about 58,000 employees, including 11,000 on long-term leave.
"This is the game-changing moment that theaters have feared the most. It's seismic…It's a complete change to the Hollywood paradigm as we know it. You cannot put the genie back in the bottle. This is unprecedented."
The authors found that nonessential contact-intensive industries were hit hardest in April, losing about 35% of their employment relative to February. Employment declined by about 10% for the other two groups, as shown in the figure below.
Read more at VicNapier.com and my Medium.com page.
Links may lead to sites where the author has an affiliate relationship.
December 3, 2020
"Here in the Senate, I put forward a serious and highly targeted relief proposal including the elements that we know President Trump is ready and willing to sign into law. Why should these impactful and non-controversial life preservers be delayed one second longer?"
"In the spirit of compromise we believe the bipartisan framework introduced by Senators yesterday should be used as the basis for immediate bipartisan, bicameral negotiations…Of course, we and others will offer improvements, but the need to act is immediate and we believe that with good-faith negotiations we could come to an agreement."
U.S. President Donald Trump. said on Thursday he would support a coronavirus relief bill, as lawmakers in Congress seek to hammer our an agreement to help Americans hit by the economic fallout of the deadly disease before the end of the year
"As we look to the future, our business needs, opportunities for cost savings, and team members' preferences about the future of work, we are excited to relocate HPE's headquarters to the Houston region."
The pandemic and almost depleted coronavirus relief package are hampering the economic recovery, with services industry activity slowing to a six-month low in November, other data showed.
One hopes shipping companies will eventually figure out better ways to serve their customers. But theirs is a slow-moving industry subject to all sorts of non-market-driven incentives. It could take a while. In the meantime, the world seems to be moving on to new things.
Four districts reported "little or no growth" during November, while five others reported that activity remained well below pre-pandemic levels in some sectors.
A working paper published Monday…shows that erasing all student loan debt would distribute $192 billion to the top 20% of earners in the U.S., but just $29 billion to the bottom 20% of U.S. households.
It's a risk especially present in the U.S., where corporate indebtedness has surged as businesses tapped bank credit lines and raised as much cash as they could in an effort to get to the other side of the COVID-19 pandemic.
Read more at VicNapier.com and my Medium.com page.
Links may lead to sites where the author has an affiliate relationship.
December 2, 2020
"It's simply unacceptable for us to not help in this circumstance," Romney told reporters, "I happen to be a deficit hawk…But the time to borrow money, maybe the only time to borrow money, is when there's a crisis. And this is a crisis."
Overall, Mr. Biden's chosen advisers favor a bigger government role in raising wages and employment.
According to data on the government's Paycheck Protection Program, about 600 mostly larger companies, including dozens of national chains, received the maximum amount allowed under the program of $10 million.
The nonpartisan Congressional Budget Office projects that in the aftermath of the pandemic, the trust fund will deplete its $2.8 trillion reserve over the next decade unless changes are made. Inaction would lead to cuts of 20 percent or more to benefits starting in 2031.
Payrolls grew at their slowest pace since July amid a deceleration in large business hiring for November, ADP's monthly payrolls report said Wednesday.
"This team is comprised of respected and tested groundbreaking public servants who will help the communities hardest hit by Covid-19 and address the structural inequities in our economy."
The office return rate climbed steadily during the summer and early fall, but it has flattened out after reaching a high point of 27%…Floor after floor of empty office space is a source of great frustration for landlords and companies, which have invested millions of dollars…to make employees comfortable with a shared location.
"The numbers we're looking at now are [far higher than] anything we've seen before…We've never seen a shock like this."
This year's Black Friday saw the fourth most gun-related background checks in a single day since 1998, according to data released by the FBI. Five of the top 10 busiest single days in the history of the background-check system have occurred in 2020, which has already set the record for most gun sales in a year.
Read more at VicNapier.com and my Medium.com page.
Links may lead to sites where the author has an affiliate relationship.
December 1, 2020
This spring, when many were graduating from college, unemployment for 20- to 24-year-olds was above 20%…About 25% of employers said they closed their open positions or rescinded offers made in the spring to new graduates."
"We knew Black Friday [traffic] was going to be down, we just didn't know how much it was going to be down…Shoppers are spreading out their shopping throughout the holiday season because of concerns about social distancing and the pandemic."
"In total, we think there is going to be at least 25,000 of those 110,000 stores closed from now through the time COVID-19 ends and we get to the other side of it…So in the malls…we could see half of those go dark or be changed dramatically in nature."
"The question is no longer whether the recovery will slow, it will…The real issue is by how much will it decelerate."
The Pandemic Unemployment Assistance (PUA) program and the Pandemic Emergency Unemployment Compensation (PEUC) program…will expire at the end of the year if Congress does not act. If the programs expire, about 12 million people could lose unemployment aid.
"This disruption is hitting every level of employee, and it is compounded by the perception that once you hit a certain number of years of experience, it's harder to find the next opportunity."
As part of these actions, the employment of approximately 32,000 employees primarily at Parks, Experiences and Products will terminate in the first half of fiscal 2021…Additionally, as of October 3, 2020, approximately 37,000 employees…were on furlough…"
"Over the last four decades, we've had a lot of economic growth, but it hasn't really reached the median worker…It's been very concentrated at the top, If we do that for the next four decades, it will not be a good outcome and most of us will not benefit."
But growth prospects remain "exceptionally uncertain" and increased fiscal support through public spending will remain necessary.
According to Adobe, Cyber Monday sales reached $10.84 billion, rising more than 15% year over year. That is at the low end of the 15% to 35% range the firm projected, but still makes it the largest online shopping day in U.S. history.
Read more at VicNapier.com and my Medium.com page.
Links may lead to sites where the author has an affiliate relationship.
November 25, 2020
Treasury Secretary Steve Mnuchin told CNBC on Friday that Republicans want to sit down soon with members of the opposing party to draft a bill "for the people that really need it." Mnuchin negotiated nearly nonstop with House Speaker Nancy Pelosi before the election, but they couldn't reach a deal.
About 5.8 million adults say they are somewhat to very likely to face eviction or foreclosure in the next two months, according to a survey completed Nov. 9 by the U.S. Census Bureau. That accounts for a third of the 17.8 million adults in households that are behind on rent or mortgage payments.
Instead of giving the average household an extra $15,000 to spend, it would relieve them of their monthly interest payments, freeing up about $200 per month for the typical borrower. "In other words, because borrowers often pay back their loans over 10, 15, or even 30 years, debt cancellation will increase their available cash by only a fraction of the total loan forgiveness,"
"Janet Yellen is brilliant and has a track record for being unflappable…She seems to be popular in all factions, from the financial markets to Main Street."
Heading into the weekend, 646 movie theaters in the U.S. closed down again virtually overnight amid an alarming surge in COVID-19 cases, according to Comscore. There were also 60 cinema reclosures in Canada, meaning that in the span of several days, the North American box office lost 706 locations compared to a week ago.
NIF researchers believe they are close to an important intermediate milestone known as "burning plasma": a fusion burn sustained by the heat of the reaction itself rather than the input of laser energy.
"Hydrogen drives are an advanced, emission-free form of propulsion that will help decarbonize rail transport and make a significant contribution toward achieving our climate targets."
"We started with the goal to introduce Tulsa to the nation and create a vibrant and diverse talent ecosystem within our community…We seek to bring people from diverse industries and skill sets that bring jobs with them into our economy, and at the same time, population growth is always important."
Read more at VicNapier.com and my Medium.com page.
Links may lead to sites where the author has an affiliate relationship.
November 23, 2020
Millions of jobless Americans could suddenly be cut off from their unemployment benefits the day after Christmas if Congress fails to extend relief programs, with many facing lasting scars as the worst pandemic in a century threatens to deepen their economic pain.
A McKinsey report last month predicts a big shakeout across the construction industry over the next decade, with companies adopting technologies and methodologies from the manufacturing world.
It's no wonder Fed Chairman Jerome Powellsaid on Tuesday, "We're not going back to the same economy—we're recovering, but to a different economy."
"The wider the assortment, the more confused the customer is…Customers want something that is digestible. They want retailers to edit down the choices."
"We need to guard against doing too little now, and then suffering disorderly defaults and repeated debt restructurings as in the 1980s."
Earlier this month the company reached a restructuring agreement with key stakeholders that includes debt reduction by nearly $800 million and new equity investments of up to $165 million to recapitalize the company.
Households varied significantly in their recovery after the Great Recession. Within four to five years after the recession started, all but the bottom half of households had rebuilt their nominal net worth to pre-recession values. The bottom 50% took nearly a decade to return to their pre-recession mark.
"It's important for me that any discussion of a basic income is grounded in those roots, and understand that it's not a new conversation…With the twin pandemics of racism and Covid-19, it's time for us to extend the social safety net."
November 20, 2020
Warren, who alongside Senate Minority Leader Charles Schumer (D-N.Y.) is calling on Biden to cancel $50,000 of student debt through executive fiat, upped the pressure this week by characterizing student loan cancellation as the "single biggest stimulus we could add to the economy."
The surge in demand for benefits throughout the pandemic — especially in the spring — has put a huge strain on states' unemployment insurance systems. Some experts and lawmakers say the pandemic has highlighted the need for changes to U.S. unemployment benefits.
In October alone, 1 million more Americans fell below the poverty threshold, a study from the University of Chicago found. A total of 7 million Americans have entered poverty since May, with Black Americans falling into poverty in the greatest numbers.
Fifty-nine members of Congress reported owing student loans in their latest financial disclosures published last year, including Reps. Alexandria Ocasio-Cortez, D-N.Y., Ilhan Omar, D-Minn., and Rashida Tlaib, D-Mich. Collectively, the 59 lawmakers with student loan debt owe at least $2.4 million.
Following a speech on the economy Monday, Biden told reporters that student-debt cancellation "does figure in my plan," after being asked about it. Indeed, on the campaign trail, Biden proposed cancelling $10,000 in student debt as a coronavirus relief measure.
"You don't have to warn the jobless that momentum is fading and the risks are high, they are living it every day without a paycheck and with employment opportunities in increasingly short supply…The blame falls squarely on Washington where there is no attempt to fight the virus in a coordinated manner or to fight the recession by renewing and extending the unemployment benefits to the millions of jobless workers in the country."
"It is possible we could have negative growth if this resurgence gets bad enough and mobility falls off enough…The next couple of quarters is going to be very challenging."
The thing to realize is that we don't have a skills gap; we have a jobs gap. The unemployed in retail do not need to go to coding camp, as Rahm Emanuel, a high-ranking adviser in the Barack Obama administration, said recently.
Read more at VicNapier.com and my Medium.com page.
Links may lead to sites where the author has an affiliate relationship.
November 19, 2020
Pandemic Unemployment Assistance has been a safety net for those who aren't typically eligible for jobless benefits, like self-employed and gig workers. As many as 9.4 million people were claiming PUA in late October. The final payable week is currently the second-to-last week of December.
USA TODAY recently checked back in with some of the dozens of Americans who spoke to us earlier this year after losing jobs because of the COVID-19 pandemic, and found that many have edged closer to financial calamity.
New unemployment claims held below the 1 million mark for a twelfth straight week. New claims also rose for the first time in five weeks, however, though they have moved steadily lower from a pandemic-era peak of nearly 7 million.
Homebuyers are leveraging the near-constant new lows in rates. At the beginning of this month mortgage rates fell to a record low — the 12th record low in 2020. So it's no surprise that Americans are out buying houses. Between July and September, mortgage debt increased by $85 billion to a total of $9.86 trillion.
The potential impact of Amazon's arrival in the pharmaceutical space rippled through that sector immediately. The stocks of CVS Health Corp., Walgreens and Rite Aid all tumbled Tuesday. "The news represents a disruption to the system and competitive threat that will likely shift scripts away from the retail channel," analysts at Citi Research said in a note.
Walmart's profits came in well above forecasts with a surge to $5.1 billion — 56.2 percent more than the year-ago period — based largely on the strength of its online sales.
Millennials, age 24 to 39, graduated from college just as the Great Recession of 2007-09 was upending the economy, setting back their careers and salaries. They took on hundreds of billions of dollars in student debt. And now, as a result of the COVID-19 pandemic, they're suddenly becoming the largest contingent of the "sandwich generation," the cohort of adults providing financial and other support to both children and elderly parents.
Among advanced nations, debt surged above 432% of GDP in the third quarter — a 50 percentage points increase from 2019. The United States, which has implemented one of the biggest stimulus packages in the world, accounted for almost half of this rise.
While the US continues to experience elevated unemployment, Americans who still have jobs and high credit scores are clearly driving the trend. Many people moved from dense cities to suburban and rural areas during the pandemic. Some are still renting in their new locales arrangement, but the homebuyers are common in this group.
Read more at VicNapier.com and my Medium.com page.
Links may lead to sites where the author has an affiliate relationship.
November 18, 2020
Many of the companies, which employ a total of about 23,400 workers, say the funds from the Paycheck Protection Program weren't enough to keep them going as the coronavirus and lack of additional stimulus payments weighed on their businesses.
Even as recent positive news on experimental coronavirus vaccines has raised the prospect of a fuller economic recovery next year, the next few months could be "challenging" the Fed chief said at a virtual event hosted by the Bay Area Council in California.
But if the concern is the possibility of major economic disruption—rather than just whether houses are good investments at current prices— the focus should be on long-term macroeconomics.
"This was another strong quarter on the top and bottom line…We think these new customer behaviors will largely persist, and we're well positioned to serve customers."
To provide more support to the economy, officials could give more detail around how long those purchases might last or they could increase the share of long-term securities they are buying. Mr. Clarida didn't indicate Monday whether he favored any changes or whether any were imminent.
Weaker momentum in consumer spending — which accounts for two-thirds of the economy — indicates growth could slow more sharply following the third quarter's record jump in gross domestic product.
The number of people claiming benefits in all unemployment programs during the week ended October 24 was 21.16 million, the Labor Department said.1 There were 1.45 million people claiming benefits across all programs during the comparable week in 2019.
But in Washington, both parties have been more concerned with winning arguments than actually solving problems.
The needs have become more urgent as the virus rampages across virtually every state. California and Texas each have exceeded 1 million cases. California Gov. Gavin Newsom this week barred indoor restaurant dining and imposed other restrictions. As intensive care units fill up, some Republican governors once reluctant to impose mask mandates have reversed course, and some cities and states are threatening fines against businesses that violate restrictions on social gatherings.
Read more at VicNapier.com and my Medium.com page.
Links may lead to sites where the author has an affiliate relationship.
November 17, 2020
The food bank distribution event, held by North Texas Food Bank (NTFB) in Dallas on Saturday, saw 600,000 pounds of food given away – including 7,000 turkeys. It is hoped enough food was given out to feed around 25,000 people.
Every ranger understood that feeding the animals only turned them into pets, wholly dependent on human charity and unable to fend for themselves when humans went home. Come to think of it, maybe the same logic could be applied to government handouts of the inedible variety.
These are the 25 fastest disappearing jobs according to government data projections on the percentage decline in employment expected from 2018 to 2028.
The number of people receiving extended benefits is expected to rise in coming weeks as more workers—many of them jobless since the pandemic began—exhaust their regular benefits.
From just March through July, there were 244,895 change of address requests to destinations outside the city, more than double the 101,342 during the same period in 2019. The escape from New York is fueled not only by coronavirus concerns but economic worries, school chaos and rising crime, experts say.
A survey from the U.S. Bureau of Labor Statistics found that close to 60% of Americans used their first stimulus checks to pay for basic expenses like groceries and utilities.
The absence of the U.S. as a member of RCEP or other regional trade pacts, such as the Obama-era Trans-Pacific Partnership, from which President Donald Trump withdrew in 2017, leaves China in a position to sell itself as a champion of multilateralism and free trade.
"Right now, we don't have a standardized set so you're hearing all these governors and mayors are scrambling to try to find what is the right answer for us, and it would surely help all of them, and that's what I'm hearing from them, that we have a standardized set of recommendations and protocols."
Uber has been seeking options for its autonomous vehicle divisions, a heavy cash burn machine, including seeking more outside investment, as Chief Executive Officer Dara Khosrowshahi refocused on core businesses including ride-hailing and food delivery since the pandemic hit.
Read more at VicNapier.com and my Medium.com page.
Links may lead to sites where the author has an affiliate relationship.
November 16, 2020
Dr. Wittern's 37-year-old husband worked in a warehouse for several years before becoming an apprentice electrician. He expects to earn comparable money when he's finished—minus the debt. When and if they have children, Dr. Wittern says her advice will be to follow her husband's path and avoid a four-year degree.
"We're not just going to snap right back to the previous economy," Harker said. "I think that's unrealistic." Harker repeated his view that some low-income workers will need help training for better-paying jobs. Hiring in some sectors, including retail, is unlikely to fully return to prior levels now that some companies are relying more on technology, he said.
Randy Quarles, the vice chair for supervision at the Federal Reserve, said this week that it could be as late as 2023 before the economy returns to pre-Covid levels. He added his voice to a number of others who keep pushing the horizon for recovery further and further away.
U.S. business investment soared over the summer and early fall, defying the pattern of the last two economic recoveries and bolstering the nation's comeback from the pandemic-induced downturn.
As it stands now, nearly 20% of all hotel loans and slightly more than 14% of all retail loans originated by commercial real estate lenders and packaged into securities that are sold to investors are now delinquent.
US piles up record October budget deficit of $284.1 billion
The October deficit, while a record for the month, was far below the all-time monthly record of $864.1 billion set in June as the spending on the $3 trillion in coronavirus support measures passed by Congress ramped up. In a September report, the CBO forecast annual deficits will remain above $1 trillion through 2030.
"The industry has changed significantly as far as the technology and also the companies that are involved…We have to be involved in a technology that is proven…There has to be a commercial viability so we can underwrite it to get to this reasonable assurance of repayment."
"No industry has benefited more than food delivery…In a horrific backdrop, a silver lining has been, from an economic perspective, it's been a huge positive for these workers, drivers and restaurants that could utilize companies like DoorDash in this environment."
Read more at VicNapier.com and my Medium.com page.
Links may lead to sites where the author has an affiliate relationship.
November 13, 2020
The so-called vertiport is scheduled to be completed in 2025 and will enable passengers to bypass Florida's notoriously congested highways, the city and the hub's developers contend. The electric-powered aircraft will be capable of taking off vertically from the ground-based hub and reaching a top speed of 186 miles per hour
Red flags are appearing across a range of high-frequency measures of retail foot traffic, small business hiring and other data, and even previously bullish forecasters are increasingly concerned consumers may buckle in the face of rising health risks.
"I gather she (Pelosi) and the Democratic leader in the Senate still are looking at something dramatically larger. That's not a place I think we're willing to go…But I do think there needs to another package…Hopefully we can get past the impasse."
The next "gold rush" will be for lunar resources to enable an energy rich economy in Earth-moon space. This new wealth will make the human exploration and settlement of more distant Mars practical.
If U.S. banks absorb big losses on their $2 trillion in commercial real estate loans, the entire economy will suffer. Just the fear of looming bankruptcies and defaults has prompted banks in recent months to restrict new lending, at a time when the virus-ravaged economy needs all the help it can get.
"Our calculations suggest the amounts raised could fund material income subsidies for low-income earners who are unable to work remotely and thus assume more 'old economy' and health risks."
"While the latest news on a vaccine looks encouraging, we could still face recurring cycles of accelerating viral spread and tightening restrictions until widespread immunity is achieved…the recovery may not be linear, but rather unsteady, stop-start and contingent on the pace of vaccine roll-out. In the interim, output in the services sector may struggle to fully recover."
The U.S. budget gap rose 111% in October, due to higher federal spending last month on health-care and safety-net programs, and lower federal tax collection, according to monthly Treasury data. Government outlays rose 37% to $522 billion, while revenue declined 3.2% to $238 billion.
Read more at VicNapier.com and my Medium.com page.
Links may lead to sites where the author has an affiliate relationship.
November 12, 2020
"I have a proposal with Elizabeth Warren that the first $50,000 of debt be vanquished," Senate Minority Leader Chuck Schumer (D-NY) asserted recently, "and we believe that Joe Biden can do that with the pen as opposed to legislation."
"We are watching the trend in weekly initial claims for any reversal of the recent modest declines…Against a backdrop of a raging pandemic, risks are skewed to the downside for the labor market."
The picture looks bleak. Since the outbreak began, the condition for democracy and human rights has grown worse in 80 countries. The report points to clear cases where governments have used COVID-19 as a pretext to shut down opposition, marginalize minority groups and control information.
In the coming months, particularly after Trump likely loses the White House, there will be a massive campaign—already starting from office owners like Related—to force people back into their cubicles.
The sale of the Remington plant in Ilion to Roundhill Group, LLC was approved late last month in federal bankruptcy court as part of the Remington Outdoor Company bankruptcy case, according to court documents.
"As it was the case with the Spanish flu, we now also have to expect that the second wave will be more severe."
Yale owns about a quarter of the town of New Haven, Connecticut, but the school pays little property tax. It even has a golf course that's half tax-exempt.
"Maybe it's just the acceptance of the new normal. I have all of the resources necessary to be on the calls, all of the communicative devices to make sure I can do my job…There's an element of of face-to-face that's necessary, but I would be OK without it."
Read more at VicNapier.com and my Medium.com page.
Links may lead to sites where the author has an affiliate relationship.
November 11, 2020
Nearly 3.6 million Americans were out of work for at least 27 weeks in October, a stunning jump of nearly 50% from September, according to the jobs report released Friday by the Bureau of Labor Statistics. They now account for one-third of the unemployed, up from less than one-fifth a month earlier.
Still, the retailer faces an uphill battle to attract shoppers this holiday season as they stay away from the malls and stores for safety reasons and shop online more. Meanwhile, Amazon and big discounters like Walmart and Target are only getting stronger as they offer low prices and one-stop shopping.
The percentage of business owners who now expect the economy to improve in the next few months dipped by five percentage points to 27% in October following an eight-point gain in September and a dip of one point in August.
"We need to think about, if we're gonna come up with a bipartisan package here, about what size is appropriate…It seems to me that snag that hung us up for months is still there. I don't think the current situation demands a multi-trillion dollar package. So I think it should be highly targeted, very similar to what I put on the floor in both October and September."
"We are going to need extended unemployment insurance, likely some additional funding in the PPP program or a different program that's directed at those kinds of small businesses, but additional ways to bridge those individuals through the pandemic and put them in a good position to recover once the economy is fully back,"
The situation speaks to the uneven economic recovery. Multitudes of Americans remain unemployed and without the means to make up for missed rent payments once eviction moratoriums are lifted. Meanwhile, work-from-home professionals have kept earning and are looking for more living space.
"I think many of these companies will file [for bankruptcy], and it's not a handful. It's several dozen. And that's a scary number…We will see some major chains go away and not come back…These are chains that were struggling before the situation. COVID-19 will put them over the ledge."
Read more at VicNapier.com and my Medium.com page.
Links may lead to sites where the author has an affiliate relationship.
November 10, 2020
The main issue is that the vaccine, which is based on a novel technology that uses synthetic mRNA to activate the immune system against the virus, needs to be kept at minus 70 degrees Celsius (-94 F) or below.
"Customers can place an order from their local store and have it delivered, contact-free, via one of Cruise's all-electric self-driving cars…Technology that has the potential to not only save customers time and money but also be helpful to the planet is technology we want to learn more about."
"A divided government, with Democrats controlling the White House and Republicans the Senate, is likely to mean a smaller fiscal stimulus package than had been anticipated."
"The fact that there are any help-wanted signs posted at all is remarkable given the severity and depth of this economic downturn…Happy days aren't here again for jobless workers but the labor market is slowly healing day by day."
"As many households continue to struggle, loan defaults may rise, leading to material losses…" Business debt "has risen sharply as businesses increased borrowing to weather the period of weak earnings. The general decline in revenues associated with the severe reduction in economic activity has weakened the ability of businesses to services these obligations."
But the posturing continues, since two runoff races for Senate seats in Georgia on Jan. 5 are now set to determine the makeup of the Senate. This new political landscape is likely to push a fourth stimulus bill into 2021 and make it considerably smaller than many investors would like.
"Today, the entirety of economic and military space activities is confined to the geocentric regime; however, commercial investments and new technologies have the potential to expand the reach of vital National space interests to the cislunar regime and beyond in the near future."
On Wednesday, Brooks Brothers, the 202-year-old menswear retailer that has dressed 40 US presidents and is synonymous with the classic Wall Street banker look, filed for bankruptcy as demand for suits plummeted amid the pandemic.
The automat, a concept developed more than a century ago in which customers could buy a hot meal offered from a vending machine's glass locker, is getting a reboot, with two modern takes on the idea opening in Jersey City, N.J., and Manhattan.
Read more at VicNapier.com and my Medium.com page.
Links may lead to sites where the author has an affiliate relationship.
November 9, 2020
That doesn't mean they're shutting off the lights and calling it a day. Instead, these so-called "dark stores" are attempting to stay open by closing their doors to shoppers and transforming their spaces to order fulfillment centers.
Whereas Dollar General stores focus on consumer staples, popshelf will feature home decor, party supplies, entertainment goods, and other non-consumables that "bring joy" to shoppers.
College football in parts of the United States has been cancelled, leaving towns that normally swell to 100,000 or more on game day empty. Teams in the U.S. Big Ten Conference, home to storied football schools like Ohio State and Michigan, started its schedule last weekend, several weeks late, with fewer fans.
Banks and the government allowed companies to self-certify that they needed the funds, with little vetting. The Small Business Administration's inspector general, an arm of the agency that administers the PPP, said last month there were "strong indicators of widespread potential abuse and fraud in the PPP."
As of last week, "85 percent of companies had beaten expectations by an astounding 19 percent on average" in the third quarter, a great sign of economic strengthening. Then soaring coronavirus case numbers in France and Germany prompted both countries to close bars, restaurants, and theaters for a month.
But for many of those who are still employed — or who have a spouse who still is — it has changed how they use their money. Some have cut expenses and increased savings, paid off debt, or donated more to help those in need. Others have spent more on impulse purchases, made big life moves or postponed them. CNN Business asked readers how the pandemic has changed their spending and saving habits. Here's what some of them had to say.
President-elect Joe Biden ran on one of the most progressive Democratic platforms in decades. It envisions increased taxes on investors and businesses, a public health insurance option for Obamacare, lower prices on drugs and bold plans to confront climate change and empower unions.
Strict enforcement of U.S. sanctions on Iran and Venezuela has kept millions of barrels of oil per day off the market, and if Biden should relax measures on either in years to come an increase in production could make it harder for OPEC to balance supply with demand.
Read more at VicNapier.com and my Medium.com page.
Links may lead to sites where the author has an affiliate relationship.
November 6, 2020
Thanks to a divided Congress, and with Republicans unwilling to spend as much as Democrats, this scenario would likely result in the smallest of economic rescue packages and it probably wouldn't pass until February.
Initial jobless claims in regular state programs totaled 751,000 in the week ended Oct. 31, down from an upwardly revised 758,000 in the prior week, Labor Department data showed Thursday. On an unadjusted basis, the number of applications was little changed.
As more retailers continue to struggle, commercial landlords will need to brace for withheld rent and lease negotiations. And as stores close, vacancies will increasingly become an issue in both malls and outdoor shopping centers.
England re-entered a national lockdown on Thursday, with restaurants, bars and non-essential businesses closed until December 2.
"This forecast comes as a second wave of the pandemic is unleashing yet more uncertainty and dashing our hopes for a quick rebound… But through this turbulence, we have shown resolve and solidarity."
The initiative's passage means that car manufacturers will be required to provide vehicle diagnostic data to consumers and independent mechanic shops.
Investors leapt on the prospect of gridlock in Congress and the notion Silicon Valley will be spared greater oversight if the Democrats in fact are unable to control the Senate.
The retailer said Wednesday that it will close its 358 locations and its office in Wayne, Pennsylvania. Liquidation sales are expected to begin "in the coming days."
A president Joe Biden working alongside Republicans in the Senate and Democrats in the U.S. House of Representatives could mean no major tax hikes, no progressive green agenda, no public option for health care and not much of anything else large on the political front.
The EIB last year rewrote its energy lending rules to stop funding unabated fossil fuel power plants from the end of 2021, with certain exemptions. Now it is turning to other sectors, in a "climate roadmap" that will impose tighter criteria on projects seeking support from the end of 2022.
Read more at VicNapier.com and my Medium.com page.
Links may lead to sites where the author has an affiliate relationship.
November 5, 2020
The higher spending could offset any additional revenue that comes into the government's coffers if Biden claws back some of Trump's tax cuts. That would likely keep a lid on the dollar.
As the economy has evolved toward services industries such as health care and education, though, and as private equity funds have grown to become a larger force, the stock market has become even less representative of current economic activity.
But for many of those who are still employed — or who have a spouse who still is — it has changed how they use their money. Some have cut expenses and increased savings, paid off debt, or donated more to help those in need. Others have spent more on impulse purchases, made big life moves or postponed them.
"I find the market a little bit too sanguine at the moment as we could well be on the brink of a very protractive, painful, process that will make the year 2000 election look like a walk in the park."
Australia's stance reflects a new global monetary-policy paradigm in which reviving the labor market has supplanted inflation as the primary concern.
Because if there's one thing Democrats and Republicans can agree on, it's that Big Tech needs a gut check. That could come in the form of an antitrust crackdown, an overhaul of Section 230, a law that gives internet giants broad protections from legal liability, or both. Big Tech is in trouble no matter who takes office in January.
A key development last month was the announcement by the Air Force Research Laboratory's Space Vehicles Directorate that it will embark on an experiment to investigate technologies to monitor cislunar space.
About 60% of business closures are now permanent, according to recent data from Yelp. Our cities won't revive until we create new businesses to replace those lost.
Consumers should have the right to control the data created by the products they own—and that's true not only for automobiles. Consider the outcome of this expensive ballot initiative fight in Massachusetts to be one more small victory for freedom on an Election Day where that was an under-the-radar trend.
Read more at VicNapier.com and my Medium.com page.
Links may lead to sites where the author has an affiliate relationship.
November 4, 2020
Facebook expects to make 10,000 global engineering and product hires for the year, many of them remote. The giant accelerated hiring for permanently remote positions on July 1, focusing on making the U.S. remote hires in extended areas surrounding Facebook's existing offices.
In Bozeman, Mont., with a population around 50,000 as of 2019, the median home price has risen to $515,000 from around $432,500 in a year, with inventory shrinking sharply.
The layoffs come in response to the coronavirus pandemic's ongoing effects on Nike's businesses. In its fiscal fourth quarter that ended May 31, Nike reported an unexpected loss. Its revenue fell 38% after digital sales failed to make up for losses in physical stores shuttered to combat the spread of the virus.
Even if US oil prices stay at $45 a barrel until the end of 2021, 70% of the jobs lost during the pandemic in the oil, gas and chemicals industry may not come back by the end of next year.
Based on the Back-to-Normal Index that we constructed, the US economy was operating at only 78% of normal as of August 19. "Normal" for our purpose is the economy as it stood prior to when the pandemic struck in early March.
Uber, Lyft, Doordash, Instacart and Postmates, some of whom threaten to shut down in California if they lose, have poured more than $205 million into what has become the most expensive ballot campaign in state history.
Since a recent peak in the summer of 2019, steel jobs fell more than 10% to a new low of 78,000 in July, according to Bureau of Labor Statistics data, as producers shuttered at least 10 blast furnaces amid the pandemic.
The growing danger, however, is that the country is facing a set of challenges that could set it back on its heels. To begin with, there is the challenge that never left: Covid. After a period during the summer that suggested the virus might be coming under some semblance of control, it is extending its grip once again.
"August was the tail end for financial support provided by the CARES Act… By the time we came back to talk to individuals in September and October, that money was gone and their fragility had risen significantly."
Read more at VicNapier.com and my Medium.com page.
Links may lead to sites where the author has an affiliate relationship.
November 3, 2020
"Manufacturing rebounded strongly with fewer restrictions on economic activity and stimulus efforts, but the path forward will be more difficult as the economy continues to cope with the pandemic."
This quarter, 11% of businesses plan to reduce bonuses, 8% expect to defer raises or bonuses, and 12% say they'll freeze hiring or restrict it to critical roles – adding to the 15%, 31% and 77%, respectively, that took those actions earlier this year, according to the survey.
"One of the reasons I wrote the book was to help provide some context for people to understand how we've stigmatized other types of housing, whether it's calling co-living 'adult dorms' or calling multigenerational living 'doubling up'".
One FedEx development eliminates the need for a van with a driver entirely for certain deliveries. Roxo, FedEx's autonomous robot, will be used for same-day, on-demand delivery of small orders. Its "sweet spot" is deliveries within a 3-to-5-mile radius, said FedEx Office CEO Brian Philips.
President Trump, after all, succeeded in making the old media great again, in part through his obsession with it. His riveting show allowed much of the television news business, in particular, to put off reckoning with the technological shifts — toward mobile devices and on-demand consumption — that have changed all of our lives. But now, change is in the air across a news landscape that has revolved around the president.
AMC and its rivals have no choice but to retreat from areas where the box office shows low odds of recuperating. Even then, how many theaters that remain can survive a streamer's world?
"We're not in a 2008 situation where major banks are facing collapse, but we're going into an uncertain future due to the pandemic, and the big banks aren't in as good a shape as they appear."
In the last few days, ExxonMobil, Chevron (CVX), Charles Schwab and Raytheon have announced plans to cut thousands of white-collar jobs. That's on top of major layoffs already announced or reported in the press at Wells Fargo, Goldman Sachs, Salesforce (CRM), Allstate (ALL) and CNN owner WarnerMedia.
Read more at VicNapier.com and my Medium.com page.
Links may lead to sites where the author has an affiliate relationship.
November 2, 2020
Nationwide, millions of people including hotel workers, retail clerks, waiters, bartenders, airline employees and other service workers have lost jobs as COVID-19 fears crushed consumer demand.
Many have lost their jobs or had their hours sharply reduced and now are struggling to make rent and pay other bills. A large share are Black or Latino workers. The majority are women.
Looking at annualized growth reveals how much bigger the economy would be if it "grew at this rate for the next three quarters," Wolfers tweeted. "But there's no chance that will happen, so the annualized rate answers a question no one is asking."
The exodus has pushed rents in the prohibitively expensive city to their lowest in years. Tourists are scarce, and the famed cable cars sit idle.
Around 751,000 Americans filed unemployment claims for the first time last week, Labor Department numbers released Thursday revealed. That's down 40,000 from the week before, marking a continuing slide in the final jobs report before the election.
"Given the impact of the pandemic on individual restaurant-level economics, the Company is evaluating the viability of greatly underperforming domestic IHOP restaurants."
Even before the pandemic, our country's market approach to child care was broken, and it hurt everyone it touched. Infant care can cost families more than college tuition even while more than half of our child care workers must supplement their wages with public assistance.
"When there is a general change in conditions, it is as if the entire creation had changed, and the whole world altered." —Ibn Khaldun, 14th century Arab historian
Nearly 51% of shoppers feel anxious about shopping in-store during the holidays and 64% of their budget is expected to be spent online, according to a new shopping survey from Deloitte.
Read more at VicNapier.com and my Medium.com page.
Links may lead to sites where the author has an affiliate relationship.
October 30, 2020
Driven by a combination of social unrest fears and the prospects of a Democratic sweep that might lead to stricter gun laws and legalization of marijuana coast to coast, both gunmakers and cannabis companies have seen their stock prices trade higher.
Even if the Fed did more — much more — it would not provide much additional support to the economy. Interest rates are already about as low as they can go, and financial conditions are extremely accommodative.
"I've raged against my own party not genuinely fighting to rein in spending and deficits and debt."
Getting financing for a new business is far easier than it was a decade ago. And because of the huge changes in economic behavior brought on by the pandemic, a lot of people have ideas for new businesses.
But the national eviction ban and some state and city protections are set to expire by January or sooner. Renters then will be on the hook for months of missed payments, which even those who have jobs could struggle to pay.
Theory and evidence both come down strongly against cutting spending in a downturn. And although government borrowing can be bad in some situations, now is not one of those times.
As bipartisan support for legalization grows in states across the country, there's increased likelihood of change at the federal level, too. First up might be the STATES Act, which wouldn't legalize cannabis but would defer authority to states.
The drop in tax revenue has led to a total shortfall expected in the hundreds of billions of dollars—greater than 2019's K-12 education budget for every state combined, or more than twice the amount spent that year on state roads and other transportation infrastructure
The continent now accounts for 46% of global coronavirus cases, and nearly a third of total related deaths. This month, both France and Spain have declared states of emergency, imposing more restrictions to try to ease up pressure on hospital ICU departments.
However, while up 2% from this year's Game 5 in initial audience, last night's game is down a hard 37% in sets of eyeballs from Game 6 of the 2019 World Series on October 29 last year. It is also an audience drop of 55% from last year's Game 7 of October 30, 2019.
Read more at VicNapier.com and my Medium.com page.
Links may lead to sites where the author has an affiliate relationship.
October 29, 2020
"I think it will be easily by the end of 2021 and perhaps into the next year before we start having some semblance of normality."
His conclusion based on his own case is that collective or herd immunity is a forlorn hope. The virus is here to stay, and while vaccines may give immunity this is likely to be temporary.
The new cuts mean Boeing will have cut its workforce by about 20% by the end of next year compared to the start of 2020, reductions amounting to about 30,000 jobs.
Restaurant Brands International, which owns the three brands, said Tuesday that it is planning to modernize and speed up the drive-thru experience at over 10,000 restaurants in North America by the middle of 2022.
But the national eviction ban and some state and city protections are set to expire by January or sooner. Renters then will be on the hook for months of missed payments, which even those who have jobs could struggle to pay.
Despite key factors working in Melbourne's favor, including closed borders, an infection count that was tiny by international standards, and a state government with strong public backing, it still took twice as long as anticipated to crush the curve.
"CNN is an asset that does make money, although it's in third place in terms of ratings, from what I understand it's profitable…Also, there's a lot of talk inside AT&T that they're a little uncomfortable with having content — if they're going to keep content and distribute it through their wireless networks that they run right now — that they would like less controversial content."
"These new seasonal employees will help pick, pack, and ship customer orders this holiday season…These new seasonal jobs offer opportunities for pay incentives, benefits, and a path to a longer-term career, or can simply provide extra income and flexibility during the holiday season."
Read more at VicNapier.com and my Medium.com page.
Links may lead to sites where the author has an affiliate relationship.
October 28, 2020
This climb back up from the coronavirus crash, the worst slump since the 1930s, will be arduous. Deep contractions in gross domestic product will turn to more shallow ones. The lucky countries that do show absolute growth won't return to their former grandeur for a while.
A large number of renters have been unable to pay some or even all of their rent since March, when the pandemic temporarily shut down most businesses. Many businesses remain closed or only partially open, pushing renters into unemployment and draining their savings.
The path toward recovery continues to be inherently antisocial and runs counter to how humans interact, live lives and conduct their business. This unwelcome policy — which has already harmed families, societies and economies — has the potential to lead to a tectonic shift in how the world functions in the foreseeable future.
Since the pandemic took hold in March, at least 18 large companies have rewarded executives with six- and seven-figure payouts before asking bankruptcy courts to shield them from landlords, suppliers and other creditors while they restructured, the Post review found. They collectively meted out more than $135 million, documents show, while listing $79 billion in debts.
Now, with confirmed COVID cases surging across the United States, so is the risk that the economy could weaken again as more people choose to hunker down at home — and that even more stimulus might be needed next year than negotiators in Washington are contemplating.
USA TODAY recently checked back in with some of the dozens of Americans who spoke to us earlier this year after losing jobs because of the COVID-19 pandemic, and found that many have edged closer to financial calamity.
Living next to a highway with trucks could eventually become a much more pleasant experience – but only if the promise of hydrogen fuel cells finally pays off after decades of development.
"While the September data are positive, the risk to the manufacturing sector now comes from surging virus cases that could result in supply chain disruptions, weigh on demand and slow the pace of rebound going forward."
The London-based oil company said Tuesday that profits, excluding one-time items and changes in the value of inventories, dropped to $86 million from $2.25 billion in the same period last year.
Students and their families are struggling with the impact of campus shutdowns and questioning whether it is worth it to pay for an on-campus experience when much of the instruction is being done remotely. Under these circumstances, the risk of outcome inequities—from completion to employment to lifetime earnings—could worsen.
Read more at VicNapier.com and my Medium.com page.
Links may lead to sites where the author has an affiliate relationship.
October 27, 2020
And when high-income workers become accustomed to staying home and ordering online instead of going out to eat and shop, it's lower-earning local service workers who bear the brunt of the shift in demand.
With much of the workforce cooped up at home for eight months or so, many of us have had to get increasingly tech-savvy in a hurry. There is even a term for it: "Digital upskilling".
But the pandemic-powered surge in usage is challenging some cities' long-term goals for air and noise pollution, as well as safety. While motorcycles emit less carbon than cars mile to mile, they can give off a disproportionate amount of traffic-related pollutants, and make their presence known with a piercing howl that does not go unnoticed amid the silence of lockdowns.
What a difference a few months can make. It turns out that people are much more open to change than businesses expected. They've rushed online to shop. They are experimenting freely to find what works best for them. And they are proving remarkably adept with technology tools.
"The question now is whether another reminder of crashes past could emerge to create a psychological sense of the risk…A further pickup in coronavirus cases, a chaotic or violent election or any number of other events could well shake people up."
Desperate to generate higher returns during a decade of rock-bottom interest rates, money managers bargained away legal protections, accepted ever-widening loopholes, and turned a blind eye to questionable earnings projections. Corporations, for their part, took full advantage and gorged on astronomical amounts of debt that many now cannot repay or refinance.
The primary challenges impacting coastal cities today, like astounding housing unaffordability, the depletion of the middle class, and widening economic and social disparities, are a result of their strengths, not their weaknesses.
The decrease in sales reported by the Commerce Department on Monday followed data last week showing single-family homebuilding and permits racing to levels last seen in 2007 in September.
This was the 100th successful launch in the company's history. That total includes 95 Falcon 9, three Falcon Heavy and two Falcon 1 launches.
Read more at VicNapier.com and my Medium.com page.
Links may lead to sites where the author has an affiliate relationship.
October 26, 2020
"I sent over on Friday the list of concerns we still had … and my understanding [is that] he will be reviewing that over the weekend and we will have some answers on Monday…We're still waiting for the final OK."
The amount of time consumers spend streaming TV, gaming and using Zoom or other videoconference platforms substantially increased since the start of the pandemic, activities that often eat up large amounts of data. The practice of limiting the internet usage of customers and charging heavy users more is common among many of the nation's internet providers.
"Every small business I think across America is hurting at some level…But there are very few other industries that are almost completely shut down with no hope of coming back for at least six months, next year, and then it'll be a slow recovery."
Between Jan. 1 and Sept. 30, about 15.4 million background checks were conducted nationally. That's more than all of 2019, and quickly approaching the all-time record of 15.7 million checks in 2016, when Hillary Clinton was running for president.
The projected decline in subscribers will mean a drop of about $25 billion in cable subscription revenue plus associated advertising losses for the largest U.S. media companies, including Disney, Comcast's NBCUniversal, AT&T's WarnerMedia, ViacomCBS, Fox, Discovery, Sinclair and AMC Networks.
Among respondents saying the government should play a stronger part in American life, 88 percent want two-weeks paid sick leave. Four in five supported an increased minimum wage and 73 percent favored universal health insurance.
Economists say the longer that young people are forced to delay their careers, the worse their prospects will be in the future to hold a job, accumulate wealth, or even get married or start a family.
But a turbulent 2020 has added new motivations for migration. Amid coronavirus shutdowns, wildfires, street protests and a tense election-year political environment, some say California's "charm" has finally worn too thin.
Read more at VicNapier.com and my Medium.com page.
Links may lead to sites where the author has an affiliate relationship.
October 23, 2020
Trump, who has recently called for more stimulus as he trails in national opinion polls ahead of next month's election, blasted House of Representatives Speaker Nancy Pelosi in a tweet after she pushed for a roughly $2 trillion proposal with Treasury Secretary Steven Mnuchin.
In an interview with Bloomberg TV, Pelosi said final areas that needed more work to bring the sides together included aid for state and local governments and liability protection for companies. Speaking after Pelosi, Senate Majority Leader Mitch McConnell (R-KY) said he would bring a comprehensive stimulus bill to the floor for a vote…
The General Social Survey, which has been measuring social trends among Americans every one or two years since 1972, shows a long-term, gradual decline in happiness—and rise in unhappiness—from 1988 to the present.
Last spring, one in four women nationwide who'd either quit their jobs or were laid off blamed the difficulties of working after the schools closed or they lost child care to COVID-19, a Northeastern survey found.
They are starting to evolve, however, thanks to the immense competition among the different platforms and the critical factor that programmers who are creating these tools have to use them extensively as well.
This robot isn't out front, wowing customers. No, it is in the back, doing the unglamorous job of keeping shelves stocked. It has broad shoulders, wide eyes, a boomerang-shaped head and strange hands, capable of grabbing objects with both suction and a trio of opposable thumbs.
Featuring rows and rows of voting machines, ample space for social distancing and staff accustomed to large crowds, these mega voting sites are proving attractive to voters looking for the best way to cast their ballots amid the coronavirus pandemic.
Economists welcomed the declines as evidence that the job market is still recovering from the pandemic recession. But some cautioned that the improvement could prove short-lived.
The survey said information technology decision-makers expect permanent remote work to double to 34.4% of their companies' workforces in 2021, compared with 16.4% before the coronavirus outbreak, a result of positive productivity trends. About 72% of their companies' total global workforce is currently working remotely, according to the CIOs.
Read more at VicNapier.com and my Medium.com page.
Links may lead to sites where the author has an affiliate relationship.
October 22, 2020
Cruise unveiled the Origin, which only has two long seats facing each other that can comfortably fit four passengers, in January. GM plans to begin building the Origin in Detroit in late 2021 or early 2022.
"The recovery remains highly uncertain and highly uneven — with certain sectors and groups experiencing substantial hardship. These disparities risk holding back the recovery…Apart from the course of the virus itself, the most significant downside risk to my outlook would be the failure of additional fiscal support to materialize."
The report, known as the beige book, said that the outlook among the central bank's business contacts remained generally optimistic but that respondents expressed "a considerable degree of uncertainty" about the future.
Fifty-five percent of millennials — compared to 45% of Generation X'ers and a small minority of Baby Boomers surveyed at the same age — are unhappy with democracy.
The number of unbanked households has been significantly higher in households with volatile income, the FDIC said, adding that the unbanked rate is likely to rise due to the pandemic. Nearly half of the unbanked households in the survey were unbanked because they did not have enough money to meet minimum balance requirements, the FDIC said.
"What would be the one thing that the government could do, the one big lever that it could pull to stimulate economic activity in cislunar space? The answer, we believe, is the establishment of a strategic propellant reserve."
Instead of a traditional Black Friday sale, Lowe's will have daily one-day, online-only "Cyber Steals" from Oct. 22 through Dec. 2 on tools, generators, pressure washers, patio sets, electronics, small appliances, floor care, lighting, decor and more at Lowes.com/CyberSteals.
The company will plead guilty to three counts, including conspiracy to defraud the United States and violating federal anti-kickback laws, the officials said, and the agreement will be detailed in a bankruptcy court filing in federal court.
"We have made the emotional appeal…We have demonstrated the statistical uptick [in violence], and now, this is the legal action we are exercising because it seems as if the City Council cannot hear us and doesn't feel what we feel."
Read more at VicNapier.com and my Medium.com page.
Links may lead to sites where the author has an affiliate relationship.
October 21, 2020
Amid the coronavirus pandemic, the hottest deals this holiday shopping season will be available online to reduce crowds and to eliminate the need to rush into a store. The sales also are starting earlier than in past years and lasting longer to spread out demand in a season retailers say is unlike any other they have experienced.
Each selected family will receive at least a few hundred dollars on a recurring basis, as well as tools that will help them access financial guidance…Parents or other residents caring for dependents may receive more. Anonymous researchers will track the participants' spending and well-being.
It could be an opening salvo ahead of other major government antitrust actions, given ongoing investigations of major tech companies including Apple, Amazon and Facebook at both the Justice Department and the Federal Trade Commission.
As U.S. families continue being forced from their homes, renters' advocates and lawmakers are calling for "right to counsel" policies to give all tenants legal representation in eviction court or help navigating the protections open to them.
But the CEO said tech giants like Amazon.com Inc. and Apple Inc. should be scrutinized for their power to restrict the kinds of apps and services allowed on their platforms.
"This is what totalitarianism looks like in our century…Not men in darkened cells driving screws under the fingernails of dissidents, but Silicon Valley dweebs removing from vast swaths of the internet a damaging exposé on their preferred presidential candidate."
The Gulf Cooperation Council, Czech Republic, Slovakia and Japan are most vulnerable to disruption from automation, they wrote. That's because those countries have a large segment of the workforce in the kind of simple, routine roles that can be most easily replaced by machines or already rely on cheap labor for tasks.
WHO emergencies director Michael Ryan linked soaring transmission rates in the northern hemisphere to the failure to implement the vital step rigorously.
Read more at VicNapier.com and my Medium.com page.
Links may lead to sites where the author has an affiliate relationship.
October 20, 2020
Employment and labor force characteristics among householders and spouses in same-sex married households differed in key ways from those of their opposite-sex married peers and varied across states and metropolitan areas.
United Airlines doesn't anticipate business demand getting back to "normal" until 2024, CNBC's Carl Quintanilla reports
At the start of the 2020 fiscal year ended Sept. 30, the U.S. government had been forecast to rack up a $1 trillion deficit before coronavirus lockdowns began in March, shutting down large portions of the travel, retail and small business sectors of the economy.
Landlords, most of whom are mom-and-pop operators with mortgages to pay, say they, too, are under unprecedented financial strain, as many move into the eighth month of nonpayment.
Robots like Flippy in the kitchen could keep fast food locations competitive despite "smaller margins, less foot traffic and new health and safety concerns."
Kitchen United, one such virtual kitchen, allows customers to order meals from more than a dozen brands ranging from P.F. Chang's and Baja Fresh to Boston Market and White Castle. Kitchen United offers a dining-hall experience at its Scottsdale, Arizona, location, one of four nationally, along with pick-up and delivery options.
About 7 in 10 workers cited juggling their jobs and other responsibilities as a source of stress. Fears of contracting the virus also was a top concern for those working outside the home.
The statistics are headed the wrong way: More than 70,450 new coronavirus cases were reported in the United States on Friday, the highest figure since July 24.
While 99% of dentists have reopened, the number of patients visiting offices remains about 20% below usual levels, according to the American Dental Association.
Read more at VicNapier.com and my Medium.com page.
Links may lead to sites where the author has an affiliate relationship.
October 19, 2020
"It's not a situation I would wish on anybody, to be constantly stuck in this with no foreseeable end to it…I don't know when I'm going to get a job again. Hopefully, it will be soon. But until then, it's just constant stress for everybody."
The longer the pandemic paralyzes hotels, retailers and office buildings, the more difficult it is for property owners to meet their mortgage payments — raising the specter of widespread downgrades, defaults and eventual foreclosures.
Not only do you pay interest fees, borrowing of any kind requires you to make your payments on time in order to keep your account and credit score in good standing.
From 2017 to 2018, the number of people employed in manufacturing went up 1.7%, to 11.7 million. The value of shipments rose 9.1% to $6 trillion from 2017 to 2018.
Even after adding 66,000 manufacturing jobs in September, the sector is still 647,000 jobs short of where it was in February before the pandemic hit the US. In the meantime, nearly 1,800 US factories disappeared between 2016 and 2018.
"Although sales growth is strong, it will slow through the rest of this year and into next year. The slowing will be even larger if Congress does not pass another stimulus bill. Unemployment remains pervasive throughout the U.S. economy."
Households face the prospect of Halloween without trick or treaters, Thanksgiving without family travels, Black Friday without crowds, and a December without parties and in-person gift-giving.
"COVID-19 is a pandemic that robots were built to help navigate…Contactless food prep is now a necessity, and it is something that robots inherently deliver. Blendid has seen a tremendous rise in demand since COVID-19 started — and we're grateful to be in a position to help."
Read more at VicNapier.com and my Medium.com page.
Links may lead to sites where the author has an affiliate relationship.
October 16, 2020
If ever there were a year when people could use the comfort of a big holiday dinner, this is it. Yet in 2020, a joyful, multigenerational meal around a crowded, indoor dinner table is a potentially high-risk activity.
"Most of them think they've only got maybe a month or two left before they have to decide whether they want to close permanently or not."
Cruise CEO Dan Ammann said in a statement that the company got a permit Thursday from California's Department of Motor Vehicles to let the cars travel on their own. The move follows last week's announcement from Waymo that it would open its autonomous ride-hailing service to the public in the Phoenix area in vehicles without human drivers.
"Almost all of our friends have left the city…It's sad because there's no celebration of the departure. It's almost like a slow slink away."
Most people in "white-collar" jobs are working from home, with a newfound love of sweatpants, a trend that some experts expect to outlive the pandemic. This seismic shift in behaviour is having profound repercussions across the supply chain for suits and formal wear, upending a sartorial sector spanning every continent.
"If you can't pay your bills, more quantitative easing is a poor substitute for extended unemployment insurance…Only Congress has the ability to get that direct fiscal aid to the small businesses and to the Americans who have lost their jobs and who are facing real hardship."
"This did not start as a financial crisis but it is morphing into a major economic crisis, with very serious financial consequences…There's a long road ahead…"the longer the uncertainty, the longer the pandemic works its way through the global economy, the bigger the balance sheet damage."
The largest declines of all are in first-year students. Just over 16 percent fewer freshmen have enrolled this fall compared to last year. Graduate enrollment was trending upward earlier. While it's still an increase over last year, that gain has slipped by 1.3 percentage points.
Read more at VicNapier.com and my Medium.com page.
Links may lead to sites where the author has an affiliate relationship.
October 15, 2020
This year, we have seen more than 63 million Americans file new claims for unemployment benefits as the U.S. economy has imploded during this pandemic, and so the final wage numbers for 2020 could be quite a bit worse than the numbers for 2019 were.
The number of poor people has grown by eight million since May, according to researchers at Columbia University, after falling by four million at the pandemic's start as a result of an $2 trillion emergency package known as the Cares Act.
The total for the week ended Oct. 10 was the highest number since Aug. 22 and another sign that the labor market continues to struggle to get back to its pre-coronavirus pandemic mark as cases rise and worries increase over a renewed wave in the fall and winter.
The Geneva-based Small Arms Survey estimated the number of U.S. guns at 393 million in 2017. That dwarfed the next highest totals of 71 million in India and nearly 50 million in China – countries that both have populations four times the size of the United States.
Preliminary Centers for Disease Control and Prevention data show that overdose deaths rose about 5.6% in 2019 to 71,148. The increase follows a decline of 4.1% in overdose deaths in 2018.
"If you look at 1791, at the moment of the Bill of Rights…impenetrably private conversations dominated…Public-key cryptography gives you a mechanism whereby you can recover this ability to have an impenetrably private conversation between two people."
"The pandemic is accelerating society's reliance on digital technologies at a time when the internet is becoming less and less free..Without adequate safeguards for privacy and the rule of law, these technologies can be easily repurposed for political repression."
"Our goal is to help messages about the safety and efficacy of vaccines reach a broad group of people, while prohibiting ads with misinformation that could harm public health efforts."
"Drawing the right lines between what is and isn't acceptable speech isn't straightforward, but with the current state of the world, I believe this is the right balance."
Read more at VicNapier.com and my Medium.com page.
Links may lead to sites where the author has an affiliate relationship.
October 14, 2020
"It's really hard to say when a recovery is going to be. This situation we are in now, it's not sustainable. It's really bad…As people use up all their savings and reserves, they're going to default on their loans. And then what?"
A person who is looking for a full-time job that pays a living wage — but who can't find one — is unemployed. If you accept that definition, the true unemployment rate in the U.S. is a stunning 26.1%.
"It could be recycled, since removal doesn't damage the device…And, importantly, removal doesn't damage the skin, either. That's especially important for people with sensitive skin, like the elderly and babies. The device can be useful without being an extra burden to the person using it or to the environment."
According to a recent article in the New York Times, 145 coal-burning units at 75 power plants have been idled during Trump's time in. Power generated from coal has dropped from 31% to 20%. Coal production is down 34%. And some 5,000 coal miners have lost their jobs while Trump has been president.
In such a case, the IEA predicts "a deeper near-term slump erodes the growth potential of the economy, high unemployment wears away human capital, and bankruptcies and structural economic changes mean that some physical assets become unproductive as well."
The World Health Organization has long favored interventions that come with less economic and social disruption than lockdowns, recommending that governments pursue a strategy called "test, trace, isolate," of sequestering people exposed to the virus.
As the Nov. 3 general election draws nearer, each side in the negotiations – House Democrats, Senate Republicans and the White House – wants to avoid blame for there being no large follow-up to the $1.7 trillion CARES Act passed in March, but with talks dragging on for weeks the outline of a common approach becomes harder to see.
To be sure, he notes that further expansive government spending is required to help individuals, businesses and cities emerge from the worst pandemic in at least 100 years, but managing the spread of the illness means that injecting fresh funds to help the economic malaise will prove no immediate panacea.
Read more at VicNapier.com and my Medium.com page.
Links may lead to sites where the author has an affiliate relationship.
October 13, 2020
A person who is looking for a full-time job that pays a living wage — but who can't find one — is unemployed. If you accept that definition, the true unemployment rate in the U.S. is a stunning 26.1%.
"These safety measures have directly affected many businesses, particularly those that involve direct contact with customers or clients, such as those in the leisure and hospitality sector, but also indirectly through lower demand."
Politics has thoroughly contaminated the scientific process in 2020. The result has been an epidemic of distrust, which further undermines the nation's already chaotic and ineffective response to the novel coronavirus, which causes the illness covid-19.
Over the past few years, we have seen established companies and start-up-made debut machines that can move like us, and even talk like us. Sophisticated manufacturing processes and increasingly powerful artificial intelligence has opened the gates to a new age in the field, moving far beyond their ancestors, which were mostly immobile and focused on one task.
The billionaire banking boss, in comments cited by Bloomberg News this weekend, told a conference on Friday that he doesn't expect normality to return until the summer of 2021. Dimon said that it'll take that long before there's any chance that his bank's offices will be full staffed due to local rules, a lack of a vaccine and the personal preferences of his workforce.
Hospitalizations, which peaked at nearly 60,000 across the nation in July, had fallen by more than half last month. But since dipping below 29,000 on Sept. 20, the number of people being treated in hospitals each day has crept higher, to almost 35,000.
Tensions over the coronavirus pandemic have exposed Trump's claims of friendship with Xi, the most ruthless leader since Mao Zedong, as expedient and hollow.
Over the past 20 years, virtually all the most progressive large states—New York, New Jersey, Illinois, and California—have suffered massive outmigration, while red or purplish states like Florida, Texas, the Carolinas, or Arizona welcome more and more Americans to resettle there.
Read more at VicNapier.com and my Medium.com page.
Links may lead to sites where the author has an affiliate relationship.
October 12, 2020
A similarly uneven recovery is unfolding across the business world as big firms have tended to fare far better during the pandemic than small rivals, thinning the ranks of entrepreneurs who could eventually become major U.S. employers. In the retail world, bigger chains like Walmart Inc. and Target Corp. are posting strong sales while many small shops struggle to stay open.
Sales of marijuana for recreational use began Friday in the state, one of 11 that have made it legal for adults, 21 and older, to possess small amounts for non-medical purposes. Washington D.C. has also legalized the recreational use of weed.
"Before COVID-19, a work-from-home dress-code policy would have seemed like a strange concept…But, with the recent increase of remote workers and videoconferences, this has become a real issue for some employers."
"Despite my worst fears, we seemed to have rolled through this whole COVID thing with not nearly the amount of damage I thought we could have sustained."
"Our data is showing that, because of the COVID recession, about 50% of workers over the age of 55 will be poor or near-poor adults when they reach 65."
Now, some of the Chinese factories supplying thousands of kilograms of hair to the American market are under scrutiny by the United States government, which is alleging the use of forced labor in the country's far western region of Xinjiang — where rights groups say up to 2 million Uyghurs and other ethnic minorities have been detained in internment camps since 2016.
Epidemiologists and residents alike are pointing the finger at governments for having failed to seize on the summertime lull in cases to prepare adequately for the expected autumn onslaught, with testing and ICU staffing still critically short.
"We will offer as much flexibility as possible to support individual workstyles, while balancing business needs, and ensuring we live our culture."
One of the scenarios would be to establish a space transportation surge capability, similar to the existing Civil Reserve Air Fleet (CRAF) emergency preparedness program where civilian airlines commit to augmenting DoD airlift capability during emergencies.
Read more at VicNapier.com and my Medium.com page.
Links may lead to sites where the author has an affiliate relationship.
October 9, 2020
There is absolutely no guarantee that economic conditions will get any better for the foreseeable future. With each passing day, more businesses are going under and more jobs are being lost.
Half of all small businesses expect to need more aid from the government over the next 12 months to survive, according to a survey by the right-leaning National Federation of Independent Business.
On Tuesday, President Donald Trump effectively killed discussions on a broader stimulus package until after the Nov. 3 election. The move came just hours after Federal Reserve Chair Jerome Powell urged Congress to pass a robust package.
Still, more than six months into the pandemic, many retirees, after what some described as a period of fear and hopelessness, are finding ways to adapt.
"The US federal budget is on an unsustainable path, has been for some time," Federal Reserve Chairman Jerome Powell said this week. But, Powell added, "This is not the time to give priority to those concerns."
"Like the rest of the entertainment industry, we have not been immune to the significant impact of the pandemic…We are in the midst of that process and it will involve increased investments in priority areas and, unfortunately, reductions in others."
"Our leaders and their leaders have to discuss the limits beyond which they will not push threats…And then they have to find a way of conducting such a policy over an extended period of time…You can say this is totally impossible…And if it's totally impossible, we will slide into a situation similar to World War I."
U.S. airlines received a $50 billion bailout in March, half in payroll support that was primarily composed of cash grants and half in federal loans. They are seeking another $25 billion in payroll aid to protect jobs for another six months.
There was a huge collapse in economic output from March through May thanks to the pandemic and near-total cessation of in-person activities, but the CARES Act rescue was so enormous and generous that it actually left most people better off. Personal income and savings increased markedly, and poverty decreased.
Read more at VicNapier.com and my Medium.com page.
Links may lead to sites where the author has an affiliate relationship.
October 8, 2020
According to the U.S. Census Bureau's Household Pulse Survey from late August, about 10% of adults, 22.3 million, reported they didn't have enough to eat or lacked food. This figure is up from 18 million in early March.
"I don't think any of us want to live in a world where the only option is to take your kids to watch a movie in your own living room, and not have a place to go for a date."
It's not like there was any new information, such as a pandemic, widespread forest fires, or the acceleration of urban decentralization, that might lead Congress to change its funding priorities anyway.
Students denied in-person education will suffer permanent learning loss that will degrade their skills for decades to come.
The lockdowns and forced shift to mostly virtual learning are driving massive interest in alternatives to the residential-assignment public schools most Americans have attended for decades.
Claims have been above 800,000 every week since the World Health Organization declared the coronavirus a pandemic, leading to the shutdown of the U.S. economy.
Many patients who once had good insurance are now realizing the $100 cap is only a partial solution, applying just to state-regulated health plans.
While the study finds a divided government actually produces the best results, analysts say each party has its strengths and weaknesses when it comes to handling the economy.
Most sought changes to state legislation that would allow for incorporation of small towns at the urban perimeter. They would fight off annexation by the big city and follow their own path. They'd become modern suburbia.
Read more at VicNapier.com and my Medium.com page.
Links may lead to sites where the author has an affiliate relationship.
October 7, 2020
However, Powell cautioned that backing off now with fiscal and monetary help runs the risk of losing momentum and bringing about an added downturn.
"It's hard on people to be unemployed for such a long time. It's hard on their mental health, it's hard on their children's performance in school, and it makes their employment prospects much worse in the future."
A second wave of coronavirus could "more significantly limit economic activity, not to mention the tragic effects on lives and well-being," Powell said. "Managing this risk as the expansion continues will require following medical experts' guidance, including using masks and social-distancing measures."
"Overall, we see that the average size of assets among retirees grew significantly over time, while the size of debt rose only slightly; thus, liabilities remained a smaller share of retirees' total assets."
She said continued recovery would require a focus from nations on protecting people's health, continued economic support from central banks and governments, and debt relief and financial aid for poor countries.
"I have instructed my representatives to stop negotiating until after the election when, immediately after I win, we will pass a major Stimulus Bill that focuses on hardworking Americans and Small Business."
President Donald Trump signed an executive order last month "to combat offensive and anti-American race and sex stereotyping and scapegoating" in the federal workforce and among federal contractors. Microsoft is a major federal contractor, supplying its Office workplace software and cloud computing services to multiple government agencies.
"To put it simply, companies that once were scrappy, underdog startups that challenged the status quo have become the kinds of monopolies we last saw in the era of oil barons and railroad tycoons," the committee said in an introduction to the report.
Read more at VicNapier.com and my Medium.com page.
Links may lead to sites where the author has an affiliate relationship.
October 6, 2020
"The central irony of the crisis may be that the very methods that liberal democracies are currently using to effectively fight the virus are the same tactics that authoritarian leaders use to dominate their people."
After big improvements over the summer, the labor market recovery is slowing. People who previously worked as bartenders, housekeepers or in other jobs dependant on travel and close human interaction, are sidelined as their industries adjust to lower demand and the pandemic begins to leave a lasting mark on the U.S. economy.
The larger question is how to know when this great stagnation is ending. Counterintuitively, the answer might be when people are most upset — because that's generally how most humans react to change, even when it proves beneficial in the longer run.
Fifty-nine million Americans performed freelance work in the past 12 months, representing 36% of the U.S. workforce, an increase of 2 million freelancers since 2019
Now, condos and single-family homes are seeing the "largest price-growth gap between the two property types since 2014," according to the residential real estate company's latest report.
From the S&P 500's high on the 2nd of the month, stocks, Treasurys, gold, bitcoin and the VIX volatility index all dropped. This total failure of hedging is unusual, but investors need to get used to the idea that Treasurys no longer provide the ballast for a portfolio.
Although many see plenty of blame to go around and there's a wide bipartisan divide over who is responsible, 56% of Americans say the U.S. government has substantial responsibility for the situation.
The union representing Southwest pilots said it had tentatively agreed to meet and discuss cost savings if a second COVID-19 relief package does not pass in Washington. The flight attendants and mechanics unions did not immediately comment.
Read more at VicNapier.com and my Medium.com page.
Links may lead to sites where the author has an affiliate relationship.
October 5, 2020
A report done by the New School Retirement Equity Lab found that over half of older unemployed workers may be forced into involuntary retirement. Nearly three million older workers have left the labor force since March and if the economic disruptions caused by COVID-19 continue, another million could join them soon.
Though there aren't reliable statistics that break down parents' use of alcohol, marijuana and anti-anxiety medications specifically, overall adult use of these substances has gone up since the pandemic began. Mothers Little Helper
People who have been jobless for six months or longer — one definition of long-term unemployment — typically suffer an erosion of skills and professional networks that makes it harder to find a new job. Many will need training or education to find work with a new company or in a new occupation, which can delay their re-entry into the job market.
The second-largest cinema chain in the U.S. is closing all of its locations nationwide after reopening in August, escalating the pandemic-driven crisis facing the entertainment industry.
Long-term trends such as disappointing productivity gains and limited labor force growth are sapping the economy's potential. In July, the Congressional Budget Office said the U.S. economy could expand in the long-run at an average annual rate of just 1.8% – down from more than 4% in 2000.
A UBI would create a new and permanently dependent underclass, a lumpenproletariat of the Fourth Industrial Revolution. And to provide the nectar that feeds these UBI drones, all those diligent worker bees who still have jobs would have to pay unacceptably high taxes.
An audit by the state comptroller spells out what was feared — that the financial outlook for many is bleak. It finds up to 50% of Big Apple bars and restaurants could close permanently within the next six months.
Only 114 days elapsed from when the debt topped the $26-trillion threshold on June 9 to yesterday, when it topped $27 trillion for the first time.
Read more at VicNapier.com and my Medium.com page.
Links may lead to sites where the author has an affiliate relationship.
October 2, 2020
"This report is an illusion of progress at a time when we needed accelerating gains in the labor market. The number of jobs added this month is just not enough…This report is massively concerning. We are not where we need to be, nor are we moving fast enough in the right direction as we head into fall."
The U.S. employment report that is usually released on the first Friday of every month has traditionally been viewed as the most important piece of economic data. No longer.
The moves by two of the nation's four biggest airlines represent the first — and likely the largest part — of involuntary job cuts across the industry in coming days.
Reed said that the current manifest projects seven Dragon missions will launch in the next 14 months, including three Crew Dragon missions…there will be at least one Dragon spacecraft, and sometimes two, docked to the station continuously through the end of 2021.
Assembly Bill 979 requires publicly traded companies based in California to add at least one board member from underrepresented groups — people who identify as Black or African American, Hispanic, Latino, Asian, Pacific Islander, Native American, Native Hawaiian or Alaska Native, or gay, lesbian, bisexual or transgender — by the end of next year.
"People have told me, 'I don't want to bury my dog in the backyard because one day it might be a parking lot or a shopping center. I want to know I can go visit them with my kids."
Our data shows that the willingness of Democrats and Republicans alike to justify violence as a way to achieve political goals has essentially been rising in lockstep.
"A lot of these roads were congested, air quality has been an issue, road safety has been an issue. We're determined those things should be tackled, so I'd anticipate that a lot of our measures will stay."
H&M rival Inditex, which owns Zara and other fast-fashion brands, said earlier this year it plans to close as many as 1,200 stores this year and next
Nearly two-thirds of the canton of Geneva on Sunday voted in favor of introducing the minimum wage, which is reported to be the highest in the world.
Results from several studies have shown that both children and adults learn more and remember better when writing by hand.
Read more at VicNapier.com and my Medium.com page.
Links may lead to sites where the author has an affiliate relationship.
October 1, 2020
The University of Jyväskylä research finds older adults who are 75 and 80 years old today are enjoying more years in middle age, leading to being more physically fit later in life. Today's seniors are also enjoying even better mental health than 75 and 80 year-olds in 1990.
During its September 23 meeting, the Metropolitan Transportation Commission, a regional authority that finances and coordinates local mobility plans in California's Bay Area, set a requirement that large office-based employers should have at least 60% of their employees work remotely on any given workday by 2050.
This year's collapse in American retail could overtake that of 2010, when 48 retailers filed for bankruptcy in the wake of the 2007-09 recession, according to the report by professional-services firm BDO USA LLP.
Overall, about 10% of Manhattan office workers were back as of Sept. 18, according to CBRE Group Inc., a commercial real estate services firm
The idea is related to universal basic income, popularized by former Democratic presidential candidate Andrew Yang. Whereas UBI involves regular payments to everyone regardless of income, Stockton's experiment targets poor neighborhoods.
Some future structures made with this approach could include flexible injectable electrodes to monitor brain activity, biosensors for virus detection, soft micro-robots, and structures that can emulate and interact with living cells and provide a medium for their growth.
In the leisure and hospitality industry, for example, the unemployment rate in August stood at 21.3%. In professional and business services, unemployment was 7.2% in August. As a result, average hourly earnings for workers have actually increased as more job losses accrue at the lower-end of the wage scale.
US private payrolls grow by 749,000 in September
Large companies with 500 or more employees added 297,000 employees in September, according to ADP's National Employment Report.1 Midsized businesses with between 50 and 500 employees added 259,000 jobs, and small businesses, those with less than 50 employees, added 192,000.
In a statement the company said the main factors behind its decision were "limited capacity due to physical distancing requirements and the continued uncertainty regarding the duration of the pandemic – exacerbated in California by the State's unwillingness to lift restrictions that would allow Disneyland to reopen."
Read more at VicNapier.com and my Medium.com page.
Links may lead to sites where the author has an affiliate relationship.
September 30, 2020
When the outbreak began, some companies spoke about Covid-19 but described it as a temporary inconvenience or a supply chain challenge. As the global death toll reaches 1 million people, retailers stare down a new reality.
The theater industry is "not going to recover fully until consumers are confident that they won't die if they go to the movies…That means no return to normal until there is a vaccine widely available, likely not until April to July 2021."
The multi-billion-dollar trade in second-hand clothing helps prevent the global fashion industry's growing pile of waste going straight to landfill, while keeping wardrobes clear for next season's designs. But it's facing a crisis.
Food truck businesses have been on the rise in recent years. The number of food truck establishments in 2018 was 5,970, nearly double the 3,281 in 2013. In 2018, these businesses employed 16,210 workers and reported annual payroll of $320.6 million.
Like the work done by hunter-gatherer societies of the past, the flat structures and team-based work of today call for cooperative behaviors. Yet many organizations still prioritize competitive prowess.
If current laws governing taxes and spending generally remained unchanged, debt would first exceed 100 percent of GDP in 2021 and would reach 107 percent of GDP, its highest level in the nation's history, by 2023, CBO projects. Debt would continue to increase in most years thereafter, reaching 195 percent of GDP by 2050.
There is no doubt that the current crises have impelled some, particularly families with young children and also the old and the vulnerable, to decamp to the suburbs or even rural communities.
"We have to be a simpler, more streamlined, more competitive organization that is more nimble and able to respond to customers…To be more nimble, we have to remove a certain amount of organizational complexity."
Sixty percent of students have at one point felt they couldn't express an opinion on campus because they feared how other students, professors or college administrators would respond
Read more at VicNapier.com and my Medium.com page.
Links may lead to sites where the author has an affiliate relationship.
September 29, 2020
"Based on what we have seen so far it is unlikely that we are going to see anything at the scale that we are seeing in Europe – both in terms of infections and mortality,"
Although the enrollment declines were steepest at community colleges, undergraduate enrollment fell at all types of colleges, including private nonprofit four-year colleges (-3.8 percent) and private for-profit four-year colleges (-1.9 percent).
Institutions across the nation saw spikes of thousands of cases days after opening their doors in the last month, driven by students socializing with little or no social distancing.
Supermarkets are stockpiling groceries and storing them early to prepare for the fall and winter months, when some health experts warn the country could see another widespread outbreak of virus cases and new restrictions.
Lawmakers say they didn't intend to create a precipice when they gave airlines an initial $25 billion in aid on the condition that they not lay off workers until October. Like many Americans, they expected the virus to be under control by now.
For the first time since the 2008-09 global financial crisis, the net national savings rate has entered negative territory, at minus 1 per cent in the second quarter. And it did so at speed, falling by 3.9 percentage points from the previous quarter – the sharpest plunge since records began in 1947.
In the first six months, 18 retailers filed for chapter 11 protection, mostly concentrated in apparel and footwear, home furnishings, grocery and department stores.
"We are always looking for the next frontier or breakthrough. We are really incredibly inspired by the work NASA is doing to push the boundaries of space exploration, and we saw a lot of synergy between both our brands' commitment to science and innovation."
The break room, where employees used to get their daily fix of caffeine and office gossip, is a big part of that reboot as coffee companies, such as Keurig Dr. Pepper, Lavazza and Nestle roll out new technology for the COVID-19 era.
Read more at VicNapier.com and my Medium.com page.
Links may lead to sites where the author has an affiliate relationship.
September 28, 2020
"To develop Blue Origin's vision of millions of people living and working in space, humanity will require places for them to live and work: space destination systems in which value-creating economic activity can occur…LEO (low Earth orbit) habitable stations, learning from but going beyond the ISS (International Space Station), are a first step."
With the advent of the entrepreneurial space age, the industry is forming more partnerships, innovating on business model design, and developing best practices for successful collaborations. This is a sign of a maturing industry.
"It may be a week. It may be the end of the month…I don't know when they're going to turn it off."
"Yearly fires now sweep through the region, brought on by extreme heat, high winds, and freak lightning storms. Preemptive power outages, mandatory evacuations, hazardous air quality, school and work closures, and the risk of losing everything to fire have been a yearly reality."
Presidential nominee Joe Biden is 77, Speaker of the House Nancy Pelosi is 80, House Majority Leader Steny Hoyer is 81, House Majority Whip Jim Clyburn is 80, Senate Minority Leader Chuck Schumer is 69, and Senate Minority Whip Dick Durbin is 75. Appropriations chair Nita Lowey is 83, Ways and Means chair Richard Neal is 71, Judiciary chair Jerry Nadler is 73, and Foreign Affairs chair Eliot Engel is 73.
People with the lowest incomes and educational attainment have been disproportionately affected, putting strains on achieving inclusive growth and potentially raising income inequality. Small and midsize businesses and communities of color, already more severely affected by COVID-19, are also more vulnerable to disruption from increased automation.
"But I think even within that overall average, there are a lot of students and institutions that are already in great need, so I would say it would be very bad indeed if the enrollments stay this low later in the term for community colleges, where we have 7.5 percent decline from last year at this point. And it's not much better for the four-year private nonprofits."
Clearly, the future of work will not be about college degrees; it will be about job skills. Now is our opportunity to steer those without college degrees toward successful careers and increase diversity amongst our workforce.
Read more at VicNapier.com and my Medium.com page.
Links may lead to sites where the author has an affiliate relationship.
September 25, 2020
Powell and Mnuchin on Thursday, testifying before the Senate Banking Committee, said hundreds of billions of dollars in unused funds from the March $2.2 trillion CARES Act could be reallocated to help American households and businesses.
The party aims to restart stimulus negotiations with the White House after talks fell apart last month. House Speaker Nancy Pelosi has repeatedly pushed Treasury Secretary Steven Mnuchin and White House chief of staff Mark Meadows to boost the administration's roughly $1.3 trillion offer by another trillion dollars.
Congress never reduces spending, even when times are calm and prosperous. Instead, it inexorably hikes spending by more than the taxes that are supposed to pay for it. Ever-larger budget deficits accumulate year after year.
The researchers used Google search data to examine trends in mental health during the COVID-19 pandemic, and based on that search, say panic attacks could be affecting millions.
Amazon's indoor drone, the Ring Always Home Cam available next year, aims to capture video where customers otherwise lack static cameras. It can show users video where an alarm has gone off.
In Los Angeles' public schools, kindergarten enrollment is down about 6,000 students, or 14%. In Nashville, Tennessee, public kindergarten enrollment is down about 1,800 students, or 37%, from last year.
Today, skeptical executives who believed employees could not be productive away from the office have come around, or at least have softened their views, and see that working from home can be effective. Now many large companies across industries have announced their intent to let employees work from home at least part of the time going forward.
Based on our reading of the current state of the variables and their likely progress in the coming months, we estimate that the most likely time for the United States to achieve herd immunity is the third or fourth quarter of 2021.
Read more at VicNapier.com and my Medium.com page.
Links may lead to sites where the author has an affiliate relationship.
September 24, 2020
Massive debt is surely a real problem. But rather than a sudden, Greek-style economic implosion, in the United States, it likely poses the threat of a gradual and incremental weakening of economic potential.
At 870,000, Thursday's figure represented the fourth consecutive week that new jobless claims came in below the psychologically important 1 million level, but was still high on a historical basis.
Harley has been scrambling for years to grow sales beyond baby boomers in the United States and has not posted retail sales growth there in the past 14 quarters.
The executive order will not prevent Californians from owning gasoline-powered cars or selling them on the used car market, according to the state.
A high-speed cellular connection over 5G could enhance robots' potential even more, enabling operators to control, reprogram and communicate with machines remotely while enhancing use cases where real-time agility is a priority—delivering packages or groceries or dispensing medication, for example.
"As we head into flu season with the new infection rates moving back up again with mortality unacceptably high, the risk of an aftershock is not something you can dismiss."
Edgerton notes according to the bank's 30 million cards, spending in September looks set to fall 5.8% from last year, a market improvement from August's 10% decline from a year earlier and the best year-over-year comparison we've seen for any month since February.
About two-thirds of parents say they are providing financial support to their adult children during the crisis, helping to pay for everything from groceries to health care expenses.
The retail giant is also stocking up on items that have grown in demand since the start of the pandemic, like bicycles, exercise equipment and athleisure gear.
Read more at VicNapier.com and my Medium.com page.
Links may lead to sites where the author has an affiliate relationship.
September 23, 2020
Seven feet tall when extended to its full height, the robot moves around on a wheeled platform and is kitted out with cameras, microphones and sensors. Using the three "fingers" on each of its two hands it can stock shelves with products such as bottled drinks, cans and rice bowls.
According to studio estimates Sunday, Warner Bros.' "Tenet" earned $4.7 million in its third weekend from nearly 2,930 locations, Disney's "The New Mutants" added $1.6 million in its fourth weekend, "Unhinged" brought in $1.3 million and Sony's rom-com "The Broken Hearts Gallery" picked up an additional $800,000 in its second frame.
Help for small businesses, Powell said, would better come through another grant-type program like the Paycheck Protection Program because "trying to underwrite the credit of hundreds of thousands of small businesses would be very difficult," for the Fed.
The company did not say how many or what type of jobs could go, but based on its last reported total workforce of about 24,900 employees, the changes could impact more than 3,700 employees.
Looking five years ahead, Walsh forecast it would be a smaller industry and there would be fewer players. Most of the consolidation would initially come through failures, he said, as he also predicted COVID-19 would make airlines more resilient.
U.S. drivers covered 262.4 billion vehicle miles in July, 33.2 billion vehicle miles fewer than the same month a year earlier. The drop came as government lockdowns to stop the spread of coronavirus kept drivers home.
Many of the industries with the lowest share of employees working from home were those that usually don't require a college degree — construction, transportation, and warehousing, and hotel and food services — while finance and professional services had the most people telecommuting.
The news shows Walmart is continuing to build on its drone delivery ambitions as it looks to compete with Amazon, Alphabet and UPS for the future of deliveries.
Read more at VicNapier.com and my Medium.com page.
Links may lead to sites where the author has an affiliate relationship.
September 22, 2020
"We must recognize that Sweden, at the moment, has avoided the increase that has been seen in some of the other countries in western Europe…I think there are lessons for that. We will be very keen on working and hearing more from the Swedish approach."
Buyers are accelerating purchase plans or considering homeownership for the first time, rushing to get more living space as many Americans anticipate working from home for a while.
"Unnecessary borrowing will just make it that much more difficult to get the national debt under control and stabilize our fiscal and economic future once this crisis has passed."
The fiscal path over the coming decades is unsustainable," Federal debt held by the public will reach 98% of gross domestic product this year and will cross the 100% threshold next year.
A Federal Reserve report released Monday showed the total household balance sheet in the U.S. rose to nearly $119 trillion in the April-through-June period, a 6.8% increase from the first quarter.
Laws that were meant to stop financial crime have instead allowed it to flourish. So long as a bank files a notice that it may be facilitating criminal activity, it all but immunizes itself and its executives from criminal prosecution. The suspicious activity alert effectively gives them a free pass to keep moving the money and collecting the fees.
Hooper expects the virus will leave lasting scars though, such as a permanent hit to the hospitality industry and automation taking jobs away forever, meaning the full recovery of the economy to before COVID-19 may never happen.
The Dow Jones Industrial Average DJIA, -1.84% was off by about 3% on the session, with the index looking at a month-to-date drop of 5.6%, which would represent its sharpest drop in September since 2011, if the decline holds at this level through the month.
Monday's decline marked the first time since February that the S&P 500 posted four straight daily losses. The Dow, meanwhile, had its worst day since Sept. 8, when it dropped 2.3%.
Read more at VicNapier.com and my Medium.com page.
Links may lead to sites where the author has an affiliate relationship.
September 21, 2020
"It's the first time the U.S. has gone through a period like this and it's not just the Covid-19 situation…It is the fear of what an extreme outcome on the left or right may look like after the presidential election."
Flight QF787, due to depart Sydney Domestic Airport on October 10 and return to the Australian metropolis seven hours later, had 134 tickets on sale — spanning business class, premium economy and economy and costing from AUD$787 to $3,787 (US$566 to $2,734).
Medical debt is piling up as millions of unemployed Americans struggle to stay afloat after losing their health insurance coverage following a historic wave of layoffs this year.
"The September gains were primarily in the outlook for the economy, and it was Democrats that posted gains in economic prospects while optimism about the economy weakened among Republicans,"
The measure, known formally as a continuing resolution or CR, was expected to be released by the Democratic-led House Appropriations Committee and taken up by the full House and the Republican-led Senate next week. But it was not immediately clear when the CR would be filed.
A tentative proposal by House Speaker Nancy Pelosi to permit Trump to keep awarding agricultural funds this campaign season in exchange for food aid for the poor ran into severe turbulence with both House and Senate Democrats.
Greek life has been a cornerstone of college campuses, surviving for generations despite public outrage over high-profile sexual assaults and hazing deaths. But now…students once affiliated with Greek life have built a new movement calling for its abolition.
Independent schools, which are not governed by local religious organizations and run by a board of trustees with charitable endowments, have fared better during the pandemic. Just three have closed out of about 1,600 schools nationwide
The lower enrollment figures are the latest sign of how the economic devastation unleashed by the coronavirus crisis has weighed more heavily on lower-income Americans and minorities, who have suffered higher levels of unemployment and a higher incidence of covid-19, the disease caused by the novel coronavirus.
Read more at VicNapier.com and my Medium.com page.
Links may lead to sites where the author has an affiliate relationship.
September 18, 2020
At their most targeted, such programs essentially function as a type of cash welfare, providing a flexible, fungible benefit to low-income Americans. In broader and more ambitious proposals, so-called universal basic-income programs would send cash to everyone regardless of income level.
"With nearly 30 million people unemployed and the ongoing failure of politicians to deliver additional needed fiscal stimulus, the climb out of the pandemic downturn is likely to be slower and more damaging to long-term growth than it should have been."
The ranks of jobless Americans grew yet again last week, with 860,000 first-time unemployment benefits filed last week, rising slightly from the prior week's level and reaffirming that a relatively robust U.S. recovery is losing momentum.
Unless the U.S. takes steps to make systemic repairs designed to provide greater opportunity for more Americans to achieve personal growth and financial security, the consequences likely will be painful for the country.
But Powell laid out a menu of factors – including wage growth, workforce participation and disparities in minority joblessness relative to whites – that must be satisfied before the Fed would view the economy at maximum employment, and thus even consider raising interest rates.
Under the pre-bankruptcy retention plan, Chief Executive Officer Paul Stone received $700,000. With the new plan, Stone could have collected as much as $1.6 million.
"Human augmentation is one of the most significant technology trends today…Augmentation enthusiasts are already testing the limits of what's possible, but we need commonly agreed standards to ensure augmentation reaches its full potential while minimising the risks."
The proposal addresses a number of points, including boosted unemployment benefits; state and local aid; and assistance for small businesses, many of which have struggled immensely during the pandemic and risk closing permanently.
"As COVID-19 continues to disrupt schools in the U.S., parents of school-age children are significantly less satisfied than they were a year ago with the education their oldest child is receiving…While parents' satisfaction with their child's education has fallen, there has been a five-point uptick (to 10%) in the percentage of parents who say their child will be home-schooled this year."
Read more at VicNapier.com and my Medium.com page.
Links may lead to sites where the author has an affiliate relationship.
September 17, 2020
Basically, the passengers will board the plane, fly around for a few hours, and come back — a quirky round-trip that could also include staycations at the city's hotels and limousine ferry rides.
However, many analysts have questioned whether either candidate have the political will to get the debt under control with servicing costs so low.
"If you're asking me when is it going to be generally available to the American public so we can begin to take advantage of vaccine to get back to our regular life, I think we're probably looking at late second quarter, third quarter, 2021."
Under a new policy regime, the Fed said it will allow inflation to go above its 2% target before increasing rates to keep prices in check.
The Problem Solvers Caucus, which is made up of 24 House Democrats and 24 House Republicans, is proposing a $2 trillion compromise to inject much-needed relief into the hardest-hit areas of the U.S. economy.
Raytheon Technologies Corp. plans to eliminate more than 15,000 jobs this year at its corporate offices, jet engine-maker Pratt & Whitney and aviation and military equipment manufacturer Collins Aerospace amid the downturn in the airline industry.
"I like the larger amount…Some of the Republicans disagree, but I think I can convince them to go along with that." Pelosi said, "All they want is to have the President's name on a check going out. …. That's all he really cares about".
Freelance jobs most in demand today are in computers/mathematics, and in finance/business operations, according to the report. Even before Covid-19, 26% of freelancers worked entirely remote and 46% worked remotely more than half the time.
In an unfortunately growing trend, eastern EU states that acted more decisively than peers like France and Spain are battling a resurgence that took root when restrictions fell.
Read more at VicNapier.com and my Medium.com page.
Links may lead to sites where the author has an affiliate relationship.
September 16, 2020
The guessing game that U.S. economic forecasting has become has produced a massive split in predictions as economists from the Federal Reserve to the top Wall Street firms take a stab at unknowables like the path of the pandemic and the ability of a fractured Congress to compromise on spending.
"Overall, Yelp's data shows that business closures have continued to rise with a 34% increase in permanent closures since our last report in mid-July."
It's the fourth consecutive monthly increase after COVID-19 sent production plunging in March and April. But even with the gains over the summer, industrial production remains 7.3% below where it was in February, right before economic activity seized up in the pandemic.
The U.S. Census Bureau said real median household income jumped 6.8% from $64,324 in 2018 to $68,703 last year – the highest since the agency began tracking the data in 1967.
"I just got off a call with my colleagues. We are committed to staying here until we have an agreement – an agreement that meets the needs of the American people. We're optimistic that the White House, at least, will understand that we have to do some things."
Those sectors pointing up on the "K" include grocery stores and technology companies like Zoom and Amazon. On the downward leg of the "K" are the airlines, restaurants and hotels that many of us haven't gone near for six months.
Dimon added that earlier government stimulus had delayed the full effects of the recession. As it hits, customers who have borrowed from the banks will feel the impact, the note said.
The spokesperson added, however, that working remotely could lead younger workers to be "disadvantaged by missed learning opportunities." JPMorgan's analysis also determined that Mondays and Fridays were particularly unproductive.
So with the holidays approaching, Chief Executive Officer Jeff Bezos is doubling down by investing billions in proximity, putting warehouses and swarms of blue vans in neighborhoods long populated with car dealerships, fast-food joints, shopping malls and big-box stores.
Read more at VicNapier.com and my Medium.com page.
Links may lead to sites where the author has an affiliate relationship.
September 15, 2020
Dunham estimates that one could fit 15,000 units — homes for about 50,000 people — on the 200-acre site, which is also within walking distance of both an upcoming Purple Line extension and a station on the Expo subway line.
"It'll be a race between entrepreneurs, companies and nations. It's going to open up a billion times greater resources and it will be an economic revolution greater than any we've seen before."
Our survey of US consumers suggests that indoor dining in restaurants may not return to precrisis levels for months—or possibly even years. That means full-service restaurant operators need a new economic model.
With tastes shifting away from sugary drinks, PepsiCo Inc. is about to start selling a beverage with L-theanine, which is an amino acid and FDA-approved supplement used for relaxation and usually found in green teas.
AstraZeneca hiked prices on some of its biggest selling medicines by as much as 6% this year at a time when the overall inflation rate is hovering around 1%, the analysis shows.
Nearly 3 in 10 people have decreased the amount of money they're setting aside for retirement or stopped saving altogether due to the economic fallout of Covid-19, according to a FinanceBuzz survey published in August.
While the liquidity measures have helped companies stay afloat, there are concerns they may also be creating a swathe of uncompetitive firms that hold back investment and innovation.
Amazon has gone on a hiring frenzy since the start of the coronavirus pandemic, hitting a total of 876,800 employees at the end of June. That does not include another 175,000 temporary crisis hires that have already been announced, of whom around 125,000 will become permanent.
In the first holiday season since the coronavirus pandemic, shopper concerns about health of their families and their finances are likely to put a chill on spending, with retail sales expected to rise only slightly.
Read more at VicNapier.com and my Medium.com page.
Links may lead to sites where the author has an affiliate relationship.
September 14, 2020
"We believe the growth we're experiencing marks a long-term shift in consumer adoption of grocery delivery and pickup services."…"When things return to normal, there will be a lot of people who don't go back to shopping in-person."
The bill lacked much of what Democrats wanted most. It would not have authorized another $1,200 payment to individuals or provided local and state governments any funding.
Growing old is not the terminology we should be using; it's just adding years. A 65- or 75-year-old today is, in many cases, a relatively young person who can travel and play sports and enjoy all kinds of things in life.
Yes, there's a growing awareness that it's possible to have too much of a good thing – well, at least, too many video calls. As a result, the number and length of video-based meetings will likely decline somewhat over time, but they aren't going to disappear.
The report said the pandemic could exacerbate higher rates of housing loss in mainly non-white areas dominated by renters where residents often lack health insurance. The cost of dealing with a medical emergency is a major cause of losing housing.
While authoritarian governments commonly criminalize gatherings of potential dissidents, meeting to oppose the current batch of seat-warmers in favor of your own lot is essential to the democratic experience in nominally free countries.
An Amazon spokesperson told CNN Business that the corporate and tech jobs come with average compensation of $150,000 including salary, stock-based compensation and benefits…the new hourly jobs will feature pay of at least $15 per hour and up to 20 weeks of parental leave.
Newly confirmed cases are falling in both countries, but the downward trend in Sweden has been much sharper since late June. The seven-day average of daily new cases has fallen by more than 80 percent in Sweden since June 29.
Our research shows that top-performing school systems can vary significantly in curricula, assessments, teacher behaviors, and even desired outcomes. What unites them is a focus on excellence for every child, regardless of race, gender, income level, or location.
Read more at VicNapier.com and my Medium.com page.
Links may lead to sites where the author has an affiliate relationship.
September 11, 2020
Red flag: The jump in unemployment claims is coming mainly from the Pandemic Unemployment Assistance (PUA) program. PUA is mainly for self-employed and gig workers. It implies many still can't find steady work.
Among workers, 36% say they are not working as many hours as they want to or are taking on tasks that don't tap their primary skills. And of that group, 53% say they are underemployed or underutilized because of the pandemic.
Continuing claims from those filing for at least two weeks rose from the previous week, hitting 13.385 million, an increase of 93,000 from last week's report and an indicator that the strong jobs improvement through the summer may be tailing off entering the fall.
The report, in other words, argues that government policy has both stood in the way of marriage formation and perpetuated socioeconomic inequality, highlighting a policy concern that could galvanize lawmakers on both the left and right to act.
The average for a 30-year, fixed loan was 2.86%, down from 2.93% last week and the lowest in almost 50 years of data-keeping by Freddie Mac.
Just over a third of Texans polled say they own at least one gun. Some 17% of gun owners bought a gun within the past 90 days, and of those, more than half were first-time buyers.
According to Target's diversity report, based on 2019 information, nearly half of the retailer's workforce of nearly 350,000 are people of color with 15% Black, 25% Hispanic or Latinx and 5% Asian.
"We know that it will be some time before we see millions of packages delivered via drone…That still feels like a bit of science fiction, but we're at a point where we're learning more and more about the technology that is available and how we can use it to make our customers' lives easier."
Today, the space agency is putting out a call for proposals from companies, challenging them to snag small samples of rocks on the Moon's surface. Such a purchase would also be the first transaction of space resources to take place off-world.
Read more at VicNapier.com and my Medium.com page.
Links may lead to sites where the author has an affiliate relationship.
September 10, 2020
Spring's temporary job losses – caused at first by the shutdowns – are settling into a long-term pattern of economic malaise that could reduce low-income and middle-class families' income for years to come.
Bentonville, Arkansas-based Walmart said the test would start on Wednesday in Fayetteville, North Carolina, with cloud-controlled drones picking up and dropping off select items.
The results show that the jobs potentially open to older workers tend to pay better but are less likely to provide benefits. And RetirementJobs.com direct postings…pay much less than jobs in general.
Though claims have dropped from a record 6.867 million at the end of March, layoffs persist across industries as many companies have exhausted loans from the government to help with wages and the coronavirus lingers.
Data from LinkedIn's Economic Graph team shows that the overall U.S. promotion rate has been running significantly below the year-earlier pace for all of 2020. The low point came in late April, when the promotion rate was more than 60% below its year-earlier levels.
Continuing claims from those filing for at least two weeks rose from the previous week, hitting 13.385 million, an increase of 93,000 from last week's report and an indicator that the strong jobs improvement through the summer may be tailing off entering the fall.
As the pandemic has rapidly accelerated a move to remote work — and widespread work-from-home arrangements are predicted to become permanent over the long-haul — some tech companies are carving out new jobs for executives to act as advocates for virtual workers and think more broadly about a lasting remote future.
Just as victory gardeners supplemented rations and boosted morale during the World Wars, the DIYers of coronavirus are facing quarantines and shortages with a mix of survivalist bravado and self-expression.
So say goodbye to the "era of globalization" and brace yourself for the "age of disorder" where millennials, firmly established as the generation of 'have nots', take their revenge and redistribute wealth from the old to young.
From Memorial Day through Labor Day weekend, which comprises what is generally the busiest and most lucrative time of year for airlines, the TSA screened 65 million people, down nearly 76% from the 269 million it screened on the same dates last year.
"Improving access to EVs for on-demand service providers can help reduce overall tailpipe emissions in cities across the country and help accelerate widespread EV adoption…Our collaboration with Uber will facilitate drivers' switch to an EV, empowering these drivers, their passengers and communities to experience electric vehicles and contribute to cleaner air in our cities."
At least half of all households in those cities — 53 percent in New York City, 56 percent in Los Angeles, 50 percent in Chicago, and 63 percent in Houston — reported facing serious financial problems, including depleted savings, problems paying credit card bills, and affording medical bills.
Read more at VicNapier.com and my Medium.com page.
Links may lead to sites where the author has an affiliate relationship.
September 9, 2020
The Fed report made public Wednesday said that a theme echoed across the country is the lingering uncertainty stemming from the pandemic and its negative effect on consumer and business activity.
"One of the things many people seem to have missed is, the unemployment rate doesn't count people who aren't looking for work."
Nearly a fifth of the job gains reported by the Labor Department on Friday were from the government's temporary hiring for the 2020 Census. While the unemployment rate fell below 10%, it was biased down by a continuing misclassification problem.
The trend is on track to exacerbate dramatic wealth and income gaps in the U.S., where divides are already wider than any other nation in the G-7, a group of major developed countries.
Houston-based Luby's said Monday that its board has approved a liquidation plan calling for the sale of its company-owned Luby's Cafeterias and Fuddruckers outlets as well as its culinary contract business and real estate.
"I don't think when we sat at the drawing board five years ago, we ever conceived that we would open up without fans, but I don't think there's anything about 2020 that any of us ever could have conceived."
My median download speed on AT&T was 32 Mbps with the 5G phone and 34 Mbps on the 4G one. On T-Mobile, I got 15 Mbps on the 5G phone and 13 Mbps on the 4G one. Verizon's limited 5G network wasn't available in my test area.
"Socially assistive, intelligent robots for older people could relieve some pressures in hospitals and care homes."
As of August 26, 2020 the Fed's Balance Sheet is nearly $7 trillion total of which $3.7 trillion are notes or bonds, and nearly $2 trillion in mortgages (Fannie Mae, Freddie Mac, or Ginnie Mae).
Read more at VicNapier.com and my Medium.com page.
Links may lead to sites where the author has an affiliate relationship.
September 8, 2020
The trend threatens the financial stability of families in the near-term. In the long-term, the crisis could stall — if not reverse — decades of hard-fought gains by working women who are still far from achieving labor force parity with men.
As companies wrestle with how best to support staff during the pandemic, some employees without children say that they feel underappreciated, and that they are being asked to shoulder a heavier workload.
Among the numerous adverse effects of the current crisis is the steep incline in the expected insolvency dates for Social Security and Medicare's programs, which are expected to run out of money in 11 years compared with the previous projection of 15 years
"Therefore, not only is the shrinking amount of revenue being dwarfed by the tremendous of amount of debt; but the government is adding to this debt at a rate that is equal to 17% of GDP per annum. In other words, the notion that this debt can ever be paid back is ridiculous"
The CDC's moratorium will apply to all rental units nationwide until Dec. 31 and goes into effect immediately, senior administration officials said of an unpublished CDC agency order…the moratorium would cover around 40 million renters.
"My first reaction was, 'Thank God,'" said Matthew Hill, an attorney with the Public Justice Center in Baltimore. But he noted that tenants will be expected to repay their rent when the moratorium expires on Jan. 1, and without some kind of rental assistance, "we are just going to be kicking the can down the road."
The Congressional Budget Office has warned that the government this year will run the largest budget deficit, as a share of the economy, since 1945, when World War II ended. Next year, the federal debt …is forecast to exceed the size of the entire American economy for the first time since 1946.
On Thursday, the government said the number of Americans applying for unemployment benefits fell last week to a still-elevated 881,000. It shows that the pandemic keeps forcing many businesses to slash jobs. Counting all the government's aid programs, roughly 29 million people are receiving some form of unemployment aid.
Read more at VicNapier.com and my Medium.com page.
Links may lead to sites where the author has an affiliate relationship.
September 4, 2020
"While the virus will eventually pass, vaccines will be developed, and workers will return to work, an event of this magnitude could leave lasting effects on the nature of economic activity."
Sales fell 33% year over year for Ross Stores and 39% for Burlington Stores. The discrepancy mainly related to how quickly the companies were able to get the bulk of their stores reopened.
Honda and GM plan to collaborate on purchasing supplies by leveraging their scale to gain costs savings. Purchasing collaboration would focus on joint sourcing of materials, logistics and localization strategies, GM said.
"Everyone is predicting this year about 13 million (vehicles sold), pre-COVID we were about 17 million. We expect it's going to take another two years, but that's predicated on a good recovery and continued recovery throughout this year."
The prevalence of sleep troubles, lethargy, feelings of hopelessness and other depression symptoms in adults across the country has more than tripled since the pandemic began, according to a new study.
President Donald Trump's repeated promise to deliver a safe and effective vaccine this year, "or maybe even sooner," has become central to his reelection campaign and has sparked concerns in the scientific community in particular that the White House could pressure regulators to cut corners.
When Donald Trump campaigned for president in 2016 he pledged to sharply lower the country's large trade deficits, especially with China, which for years has been the country with the largest trade surplus with the United States.
"The definition of retirement is evolving and will keep evolving…It's not going to be about working until a certain age and then switching to no work."
The job cuts represent nearly 10 percent of Amtrak's roughly 20,000-member work force and will take effect as the agency begins its new fiscal year, which starts in October.
The pandemic has exposed the fragile nature of success for millions of Americans: material markers of outward stability, if not prosperity, but next to nothing to fall back on when times get tough.
"We don't want to see a repeat of the surges that we have seen following other holiday weekends…We don't want to see a surge under any circumstances, but particularly as we go on the other side of Labor Day and enter into the fall."
The survey found that two in five New Yorkers say that they would leave the city if they had the ability to live anywhere they wanted.
Read more at VicNapier.com and my Medium.com page.
Links may lead to sites where the author has an affiliate relationship.
September 3, 2020
"The recovery in jobs lost in this pandemic recession was always a weak one…But for a second month in a row it is looking like the jobs are not going to come back unless there is more stimulus from Washington to bolster economic demand and keep business activity and consumer spending growing."
The Congressional Budget Office said Wednesday that federal debt held by the public is projected to reach or exceed 100% of U.S. gross domestic product…That would put the U.S. in the company of a handful of nations with debt loads that exceed their economies, including Japan, Italy and Greece.
The $3.3 trillion figure is more than triple the 2019 shortfall and more than double the levels experienced after the market meltdown and Great Recession of 2008-09.
When it comes to what's troubling most Americans, the poll of 2,000 people reveals 48 percent say their back bothers them the most during quarantine. A third of respondents point to their neck as their biggest achy spot.
Details of who qualifies were not released publicly Wednesday, but a source close to the situation confirmed that salaried workers may apply for the "Voluntary Incentive Program" with:
30 years of service for those hired or rehired before Jan. 1, 2004
55 and older with 10 years of service
65 with 5 years of service
The looming recession — a possible recession within a recession — is less severe than the coronavirus-driven downturn. But it's more likely to permanently push millions out of the labor force, lower wages and leave long-lasting scars on the economy.
The federal government's $2.2 trillion aid package, including $1,200 direct payments to households and an additional $600 in weekly unemployment benefits, spurred the start of a spending rebound in May. But as autumn approached with no sign of an end to the pandemic and further aid tied up in Congress, consumers appeared to be retreating once more.
Like elsewhere, the Nordic countries introduced state aid, compensated employees whose hours were reduced, and agreed to postpone tax payments, but the effects seem to have paid off more in the Nordics than elsewhere.
Read more at VicNapier.com and my Medium.com page.
Links may lead to sites where the author has an affiliate relationship.
September 2, 2020
In normal times, the government's numbers are thought to overstate the true rate of inflation. But the pandemic has upended the economy in ways that have reversed these biases, so that the official statistics are now an underestimate.
"Given the enormous job losses during the Viral Recession, job growth of around 400,000 per month means that it would take years for the labor market to recover from the coronavirus pandemic."
Maintaining a healthy work environment while spending hours behind a computer screen and a video camera is a challenge many of us are dealing with. We're being asked to complete tasks, develop new skills, and improve our communication along the way. Much of that is happening through videoconferencing.
The Supporting Return to School Program (SRS Program) plans to provide daycare for approximately 2,000 Fairfax County children, with the possibility for expansion. While means-tested, SRS can be pricey, costing families up to $1,472 per month per child.
"We have evaluations underway on a country-by-country basis to assess possible additional efficiencies to right-size our business and make it stronger for the future."
"Sadly, this phone call made clear that Democrats and the White House continue to have serious differences understanding the gravity of the situation that America's working families are facing."
If one place underscores just how dire America's hunger problem has become during the pandemic, it is here—in the middle of the breadbasket that supplies food from coast to coast. The ranks of Americans fighting hunger are projected to swell some 45% this year to more than 50 million.
"The economic situation is quite serious in Europe. That is why it is important in the second half of the year to tackle the serious recession we are experiencing. Current indicators give us hope that we will have a good recovery, we se that in a number of countries around Europe, but these developments are still quite precarious and I can't say we are over the worst of it yet."
Amazon.com Inc and other e-commerce players including online grocery upstart JioMart – backed by billionaire Mukesh Ambani – have been wooing India's mom-and-pop stores, considered the backbone of the economy.
Read more at VicNapier.com and my Medium.com page.
Links may lead to sites where the author has an affiliate relationship.
September 1, 2020
"We've never seen anything like this in 35 years in business. Each one of these distributions is serving well over a thousand cars…They start lining up as early as seven in the morning and this will run for six straight hours"
"With the recovery likely to face COVID-19-related headwinds for some time, in coming months, it will be important for monetary policy to pivot from stabilization to accommodation."
"The hospitality industry will never be the same again, that is absolutely clear…Small hotels are going to be in vogue. In my view, small is going to be the new big, wherein people will rethink a lot about going back to that 1,000-room hotel versus going to a 40-room niche hotel."
"We have a focused, targeted solution that we hope that the House would pass and the House would agree to. It's focused on getting people back to work, getting kids back to school," he told a reporter after the session…That's the goal, is to come back and vote to move to that."
The report…found that the dire state of the U.S. economy suggests a higher rate of defaults for what are known as speculative-grade companies.
"The seemingly endless rally… gives the impression that prices are endorsed and supported by the entire professional investment community…After all, despite the vocal concerns over valuations having split away from underlying corporate and economic fundamentals, few fund managers have been willing to challenge the market by placing outright shorts. "
Walmart+ members will get access to unlimited free delivery on more than 160,000 items, from groceries and toiletries to toys and electronics, which will be delivered to their doorsteps as soon as the same day.
"We started working on this over a year ago and it was really an opportunity for Amazon and Whole Foods Market to come together and create this vision for the future of grocery online."
The rig count in the United States has plummeted more than two thirds since the start of the year with completions also set to be much lower than expected as the coronavirus-related curbs has led to sharp decline in energy consumption and prices.
Zoom shares soared as much as 47% to $478 in morning trade, with brokerages raising price guidance by an average of $161 after the company reported blockbuster quarterly results and lifted its annual revenue forecast.
The Commerce Department said on Tuesday that construction spending edged up 0.1%. Data for June was revised to show construction outlays falling 0.5% instead of decreasing 0.7% as previously reported.
The employment gauge, meanwhile, also increased, but manufacturers have reduced hours and staff levels because of weaker domestic and foreign demand for their products.
Read more at VicNapier.com and my Medium.com page.
Links may lead to sites where the author has an affiliate relationship.
August 30, 2020
"Even prior to COVID, the evolution of frictionless experiences is something we were seeing retailers investing in and testing already…Based on the demand we're seeing, we expect this to grow and expand. It's not just about the US, we see it as a global trend."
Half of Coca-Cola's sales come from stadiums, movie theaters and other places where people gather in large numbers. Those venues have been mostly closed during the coronavirus pandemic.
The deceleration in spending — which accounts for about two-thirds of the economy — marks a tempering in the economic recovery following two months of stronger gains.
In the U.S., the national rate of anxiety tripled in the second quarter compared to the same period in 2019 (from 8.1% to 25.5%), and depression almost quadrupled (from 6.5% to 24.3%).
Successful Democratic candidates for the presidency of the United States invariably campaign with promises of domestic largesse and moral uplift. They nearly always end up taking their country to war.
But there are signs the initial burst of job gains may have played out and as much as half of temporary layoffs and furloughs could become permanent, according to some economists' estimates.
MGM Resorts International on Friday told its staff it will be sending termination letters to 18,000 employees in the U.S. who were furloughed during the COVID-19 coronavirus pandemic, making the job cuts permanent.
Even if a stimulus payment makes it into the final bill, lawmakers will only first reconvene to talk about it in September, which means by the time the details are sorted out, it could take until October at the earliest to get that money into the hands of those who need it.
Roughly 1 in 6 households reported recently that they have not been able to afford food during the pandemic, while one out of 10 adults have said "they haven't been able to pay rent or their mortgage in time."
"There is a particular part of the economy which involves getting people together and feeding them, flying them around the country, having them sleep in hotels, entertaining them,…That part of the economy will find it very difficult to recover. That's a lot of workers."
The suburban demand, driven in part by New York City residents who are able to work remotely while offices are closed, raises unsettling questions about how fast the city will be able to recover from the pandemic.
Read more at VicNapier.com and my Medium.com page.
Links may lead to sites where the author has an affiliate relationship.
August 28, 2020
Neuralink's device is a tiny computer chip, meant to be stitched by a "sewing-machine-like" robot into the brain on a network of superfine electrode-studded wires. It is supposed to pick up on signals in the brain and then translate them into motor controls.
Around the world, people have been turning to swapping, trading and bartering during the coronavirus pandemic, whether to do their bit for the local community, save money or simply source hard-to-find baking ingredients.
A tone-analyzing, Amazon health band that also lets you scan your body fat may sound like Black Mirror incarnate, but it's also opening up some ideas in fitness that we've never seen before.
Five big challenges have cropped up in the past two weeks. They're telling us the market will struggle to move higher, and it may even drop sharply in the seasonally volatile months of September and October.
The Commerce Department said on Friday that consumer spending, which accounts for more than two-thirds of U.S. economic activity, rose 1.9% last month, after jumping 6.2% in June.
Powell said the new approach reflects the reality that potential economic growth has slowed and that the threat of high inflation has diminished over the years, even when unemployment is low.
"We need continued innovation and partnership from auto manufacturers like Mercedes-Benz to decarbonize the transportation sector and tackle the climate crisis…the addition of 1,800 electric delivery vehicles is another step in our journey to building the most sustainable transportation fleet in the world, and we will be moving fast to get these vans on the road this year."
Democratic-governed California and New York tackled the spread of the virus aggressively with lockdowns and other steps that exacted a heavy toll on their economies. Republican-led Texas and Florida, in contrast, took a more hands-off approach. Neither tandem, so far, has managed to pull off the tricky balancing act of getting and keeping infections under control…
The change comes at an opportune time. Thriving stock markets amid massive, pandemic-related unemployment and a national debate about racial justice have drawn attention to Fed policies as possible drivers of inequality.
Bringing back cinemas isn't just about being able to go see a movie again. Their reopening symbolizes a greater return to normalcy — the ability to venture back out unafraid. But a sense that it's safe to do so and that the virus is under control needs to come first.
Read more at VicNapier.com and my Medium.com page.
Links may lead to sites where the author has an affiliate relationship.
August 27, 2020
The Commerce Department downgraded its earlier estimate of the U.S. gross domestic product last quarter, finding that the devastation was slightly less than the 32.9% annualized contraction it had estimated at the end of July. The previous worst quarterly drop since record-keeping began in 1947 was a 10% annualized loss in 1958.
The number seeking unemployment aid for the first time has been volatile, slightly dipping and rising, yet remaining stubbornly high…The see-sawing numbers reflect the stops and starts occurring throughout the U.S. economy, as businesses gradually reopen in some parts, while others roll back or halt re-openings as COVID-19 cases spike.
"Six months into the pandemic, the leading issue is not new layoffs but rather the exceedingly slow pace by which workers are being rehired…With September rent due soon and food insecurity already at elevated levels, the worst is yet to come if Congress and the President can't turn their attention to pandemic relief."
Salesforce is cutting about 1,000 jobs, or close to 2% of its workforce, after a blowout earnings report pushed the stock up 26% to a record valuation on Wednesday.
Classes begin Wednesday, and many will be online. But extenuating factors –such as a high number of COVID-19 cases, lack of coronavirus testing supplies, or a student or faculty death – could force the university to close all classroom doors as it did in March when the pandemic arrived in Texas.
Gov. Tom Wolf is calling on the Pennsylvania legislature to legalize recreational marijuana and use the tax revenue to help small businesses that have been impacted by the coronavirus pandemic.
The Boston Dynamics robot dog known as Spot stood out. Some people were fascinated. Others were annoyed and wary. Most, however, seemed excited to see the four-legged robot in person. That's what I noticed from more than 4,500 miles away from home in Lima, Peru,
Universal Hydrogen has no interest in becoming an aircraft maker itself. Instead, starting in 2024, the company plans to offer not just the pods but a retrofit kit for converting a 50-seat, single-aisle, regional aircraft to run on fuel cells.
In a move that Chairman Jerome Powell called a "robust updating" of Fed policy, the central bank formally agreed to a policy of "average inflation targeting." That means it will allow inflation to run "moderately" above the Fed's 2% goal "for some time" following periods when it has run below that objective.
Read more at VicNapier.com and my Medium.com page.
Links may lead to sites where the author has an affiliate relationship.
August 26, 2020
The prospect of a tidal wave of foreclosures could be ahead as the mortgage industry and government's policies were merely short-term measures to push a housing crisis off until after the election.
That's still a widely held view. And those who hold it are pointing to the wave of money created by governments to fight the pandemic –- and predicting that sooner or later it will wash through the whole economy and push prices up.
"The survey showed only 46 percent of storefront businesses in San Francisco that were open at the beginning of the pandemic are still operating."
For the week that ended July 21, the most recent numbers available, roughly 29 million U.S. adults — about 12.1 percent — said their household sometimes or often didn't have enough to eat the preceding seven days, according to the Center on Budget and Policy Priorities. Nearly 15 million renters said they were behind on rent during the same period.
Cornell is one of at least 39 U.S. institutions whose endowments are in the top 100, that is going ahead with a planned tuition increase for undergraduates this upcoming academic year, according to a MarketWatch analysis.
The pandemic has left many people at or near retirement age out of work and unexpectedly living on a shoestring budget. They're cutting their high-speed internet and life-insurance premiums. Frills like subscriptions are gone.
For those whose homes have become their offices, with the potential for remote work sticking around for quite some time, here are some tips to better separate your work and home life.
American said it expects to have 40,000 fewer employees in October compared with when the pandemic began, the carrier said. The involuntary cuts include furloughs of 17,500 union workers, including flight attendants, pilots and mechanics, and 1,500 administration and management jobs.
As part of new guidance for workplace safety, the agency said employees should not attempt to force customers to follow COVID-19 prevention policies if the customers appear to be upset or violent.
After a summer devoted to surveying, studying and strategizing, the only certainty about this new school year is that nothing is certain at all, as the pressure to get students back in classrooms amidst the Covid-19 pandemic grows.
Read more at VicNapier.com and my Medium.com page.
Links may lead to sites where the author has an affiliate relationship.
August 25, 2020
Lower rates of W-2 filings are seen persisting through at least 2027, with about 15.9 million fewer forms filed that year compared with prior estimates.
"Overall, these patterns suggest that temporarily laid-off workers will boost the labor market recovery for the remainder of 2020, but will increasingly transition to permanent unemployment as time separated from their prior job increases."
it may not be long before we can start eating air-flown vegetables from Peru or blueberries from Kenya without feeling pangs of guilt. Fresh food may reach us in cargo Hindenburgs without the unconscionable CO2 footprint of jet freight.
Two-thirds of NABE members say the economy has not yet come out of the recession that started in February. Eighty percent see a 25% chance of a second dip, once the economy recovers.
Chucked-out belongings are now spotted on some New Orleans street corners. Baby cribs and child car seats, the remnants from forced-out families, sit stacked in piles in 90-degree heat.
Qantas chief executive Alan Joyce said international routes would not reopen until the middle of next year and U.S. services might depend on a COVID-19 vaccine becoming widely available.
Store executives say the federal stimulus checks and the extra unemployment benefits helped boost spending during the period. But even as business tapered off when they expired, retailers continue to see strong sales growth and acknowledge that a major shift in spending is at play.
CEO Soeren Skou said the results were strong considering the economic conditions. "We are well positioned to financially and strategically come out stronger of the crisis."
"We are six months into this pandemic and only 25% of our revenues have been recovered. Unfortunately, we see few catalysts over the next six months to meaningful change this trajectory,"
The report by Upwork, an online platform that connects businesses and freelancers, found that while about half of spending came from businesses based in the top 15 metros in 2018, a much larger 72% of earnings went to workers located outside the 15 metro areas, meaning a significant share of the spending was flowing from larger cities to workers in smaller ones.
"We are a city of 42,000, and two-thirds of our residents are students…The absence of students since March has been crippling to our city."
Southwest trimmed 36% of its schedule for October with an update published last week, according to an analysis from Dallas-based Airline Data Inc. That includes nearly 35,000 flights nationwide and nearly 35% of its traffic out of hometown Dallas, or about 60 flights a day.
Read more at VicNapier.com and my Medium.com page.
Links may lead to sites where the author has an affiliate relationship.
August 24, 2020
Many companies will have to divert even more cash to repaying these obligations at the same time that their profits sink, leaving them with less to spend on expanding payrolls or upgrading facilities in months ahead.
In petitions started at dozens of universities, students arguing for reduced tuition say online classes fail to deliver the same experience they get on campus. Video lectures are stilted and awkward, they say, and there's little personal connection with professors or classmates.
"And in our situation now with more technology, and of course with more connectiveness, the virus has a better chance of spreading, it can move fast because we are more connected now… We hope to finish this pandemic (in) less than two years, especially if we can pool our efforts."
"This is a virus that is going to be with us forever in some form or another and almost certainly will require repeated vaccinations…So a bit like flu, people will need revaccination at regular intervals."
We find that 42 percent of the U.S. labor force are now working from home full time, while another 33 percent are not…The remaining 26 percent are working on their business's premises, primarily as essential service workers. Almost twice as many employees are working from home as at a workplace.
"The housing market is on a sugar high brought on by government stimulus and a pandemic-fueled rush to low density housing."
Lower-paid workers are losing their jobs at about three times the rate of higher-wage employees. But the drop in overall employment that white-collar industries like real estate, information and professional and technology services have seen in five months is already on par with or worse than the hits they took during the Great Recession.
"Before COVID-19, baby boomers — those born after 1945 but before 1965 — felt reassured that with all the benefits of modern medicine, they could live for years and years…What we never calculated was that a pandemic could totally change the dialogue."
Read more at VicNapier.com and my Medium.com page.
Links may lead to sites where the author has an affiliate relationship.
August 21, 2020
The Labor Department said Thursday that initial jobless claims for the week ended Aug. 15 came in at 1.106 million. Continuing claims, which refer to those receiving unemployment benefits for at least two straight weeks, declined by 636,000 to 14.844 million in the week ending Aug. 8.
According to FlatRate Moving, the number of moves it has done has increased more than 46 percent between March 15 and August 15, compared with the same period last year. The number of those moving outside of New York City is up 50 percent…
Covid-19 Pounds New York Real Estate Worse Than 9/11, Financial Crash
"It's not like New York City is all of a sudden on sale. New York has been on sale for the past 24 months…Sellers who are motivated and want to do deals need to add on another layer of discount."
But more than 700 U.S. cities have said they may cut infrastructure spending because of budget shortfalls, and more states are pushing off construction projects.
According to the San Francisco Chronicle, 23 officers resigned during the first six months of the year, with many resigning even before Floyd's murder. Most expect that another wave of resignations spurred by the protests and widespread anti-police sentiment in the deep blue state will spur even more officers to leave.
AMC opened some 113 locations across the U.S., advertising retro pricing and retro screenings to entice audiences back to the movies. Regal, the second largest exhibitor, is following suit Friday. It's been a long-time coming for the beleaguered businesses, which had several false starts due to coronavirus spikes.
The overall number of laid-off American workers collecting unemployment benefits declined last week from 15.5 million to 14.8 million. Many of them probably found jobs. But some may have used up all their benefits, which in most states run out after about six months.
Critics repeatedly said this circular form of fiscal finance — in which one arm of the government, the central bank, basically creates the money needed to fund the arm of government that taxes and spends — would inevitably lead to a spiral of inflation, a spike in interest rates or a loss of confidence in the currencies.
"The new listings are running a little higher than one year ago but all those new listings are being grabbed by the buyers and taken off the market."
Read more at VicNapier.com and my Medium.com page.
Links may lead to sites where the author has an affiliate relationship.
August 20, 2020
A "single USB-C cable provides full-bandwidth data streaming from the device" the paper noted: the device having been stitched, in theory, to your cerebral cortex.
This is the largest fundraising round yet for the Hawthorne, California aerospace manufacturer… The private company now has a valuation of $46 billion…They reported brokerage giant Fidelity Investments as one of the biggest participants of this latest round.
The company reported a 195% increase in digital comparable sales, while comparable, in-store revenue – which measures sales at stores open at least a year – rose by 10.9%.
Lawmakers don't even have the excuse that they have to attend the national political conventions, which are primarily virtual in this year of COVID-19. They need to get back to work now and come together on an agreement for desperately needed relief.
In an analysis of its small business clients, Gusto found that only 37% of workers who were initially furloughed in March and 47% of those who were furloughed in April had returned to their jobs by July. Furthermore, among those furloughed in March who were able to go back to work, nearly 25% had their wages reduced.
As part of its quarterly earnings Wednesday, Target CEO Brian Cornell said its Drive Up curbside pickup grew an "astonishing 730%" over the same quarter in 2019. Its Shipt online delivery service grew more than 350% year over year.
The Space Force supports the idea of "building unity of effort across government, industry and academia to incentivize that industry base," she said.
Those include a fall in labor share, or the chunk of output that goes to workers, even as corporate profits increased; and a surge in wealth and income inequality, as the net worth of the top 5% of households almost tripled between 1983 and 2016… poorer households borrowed to make ends meet while richer ones shoveled their wealth into bonds — feeding the demand for debt instruments.
Along with Apple, the overachievers – Facebook, Amazon, Netflix, Microsoft and Google's parent, Alphabet – are household names that have leveraged digital expertise to prosper amid the new, socially distanced reality. Through Tuesday, these six stocks collectively were up more than 43 percent this year, while the rest of the companies in the index together lost about 4 percent.
The seven-day moving average of reported new daily cases has more than doubled since the end of July in the five largest European countries, nearing 11,000.
On July 31, Apple passed the oil giant Saudi Aramco, becoming the world's most valuable publicly-traded company.3 Microsoft and Amazon are worth just over $1.6 trillion. Google parent company Alphabet is worth just over $1 trillion.
Read more at VicNapier.com and my Medium.com page.
Links may lead to sites where the author has an affiliate relationship.
August 19, 2020
The machine holds up to 2,000 products, including flower, edibles and vape oils. "Customers browse their favorite cannabis products, add to their bag, and request checkout," the website states.
Just days after welcoming students to campus, the University of North Carolina at Chapel Hill on Monday told undergraduates to move out of their dorms, go back home and prepare to complete all their courses online.
"The school wants my daughter to sign a form consenting to specimen collection and lab testing…I have a ton of concern with that…. Why is the state of Michigan's contact tracing not enough?"
The report used data from 2002 to 2009 in Ohio to see how mass layoffs impacted enrollment at two- and four-year public colleges. While the findings were a statistically significant positive relationship of about one percentage point, that isn't the best colleges could hope for.
In short, researchers believe that the coronavirus is creating a perfect storm of psychosocial insecurity that may lead to far greater numbers of obese individuals over the coming months and years.
Biden has said the wealthy should pay more in taxes, and that the tax code should be more progressive and equitable. That includes eliminating loopholes that favor the rich and large corporations.
The near-doubling of online sales in the second quarter helped the retailer trounce Wall Street expectations for quarterly profit and same-store sales.
Experts say that in the aftermath of the pandemic, nearly everything will change, from the way older people receive health care to how they travel and shop. Also overturned: their work life and relationships with one another.
"The state of political disarray is clearly weighing on the buck as the failure to produce more fiscal stimulus [and] the clearly partisan skirmishing over mail-in voting that threatens to undermine the credibility of the election are all taking their toll on the dollar,"
Surveys indicate that instead of growing comfortable with air travel, more people are becoming skeptical about it. In the United States, airline bookings have stalled in the past month after slowly rising — a reaction to a new surge of reported virus infections.
Read more at VicNapier.com and my Medium.com page.Links may lead to sites where the author has an affiliate relationship
August 18, 2020
In its filing, NPC said that closing stores not designed for pick-up or delivery will allow it to invest in smaller stores that can better handle online orders. In May, Pizza Hut's U.S. carryout and delivery sales reached an eight-year high, according to Yum Brands Inc., the Louisville, Kentucky, company that also owns KFC and Taco Bell.
The low-cost carrier said Monday that most of the reductions would come from trimming the frequency of flights, rather than route closures. Ryanair said the cuts would be focused on flights serving countries such as Spain, France and Sweden, where a rise in coronavirus cases has triggered tighter travel restrictions.
"The one-way paths take me a little out of the way, but it was easy to get used to…It actually gives me the opportunity to see more people and say a quick hello when I might have just walked directly to my desk before."
Surveys indicate that instead of growing comfortable with air travel, more people are becoming skeptical about it. In the United States, airline bookings have stalled in the past month after slowly rising — a reaction to a new surge of reported virus infections.
But even as home builder confidence surges, more homeowners affected by the crisis have stopped paying their mortgages, a separate report showed. The delinquency rate for residential mortgages rose to 8.2% in the second quarter, up nearly 4 percentage points from the first quarter and the largest quarterly increase on record, according to the Mortgage Bankers Association.
The government's plan includes a targeted corporate tax on banks and pension funds and higher levies for the most wealthy investors on their stock market returns, Prime Minister Mette Frederiksen told reporters Tuesday.
A growing chorus of investors, including billionaire hedge fund manager Ray Dalio, has worried openly in recent months that the U.S. response to the coronavirus pandemic — trillions in balance sheet expansion from the Fed and trillions in government spending while still having the world's worst outbreak — is further undercutting the dollar's supremacy.
Consumers had already begun to rely on Walmart and other essential retailers like Target and Amazon as lifelines for necessities during the start of the pandemic, sending Walmart's online sales up 74% for the fiscal first quarter.
Read more at VicNapier.com and my Medium.com page.
Links may lead to sites where the author has an affiliate relationship.
August 17, 2020
As of late last month, about 12.1% of adults lived in households that didn't have enough to eat at some point in the previous week, up from 9.8% in early May, Census figures show. And almost 20% of Americans with kids at home couldn't afford to give their children enough food, up from almost 17% in early June.
"One day the school district says X and four days later they say Y. And then the governor says another thing and then that changes what the school district can do. And parents and teachers are tired of what appear to be arbitrary and capricious decisions. They are tired of it and saying we are out of here."
"We did a survey of our staff and only 10% of our team wanted to come back full time. Our plans long term are not to have anybody come to the office other than the production crew."
The Labor Department reported 963,000 first-time claims last week, to be precise. Since mid-March, those claims have ranged from 1.2 to 6.8 million. Also, the number of people continuing to claim unemployment benefits…fell under 30 million. But this improvement in the jobless data starts from a really bad place of record unemployment during the ongoing pandemic.
If the national debt rises as projected ($45 trillion in 2024 and $78 trillion in 2028), Americans will feel the pain as labor markets tighten, the gap between the top 10% and the bottom 50% widens, and social unrest grows.
"Never before have I seen a market so highly valued in the face of overwhelming uncertainty," James Montier, behavioral economist and member of GMO's asset allocation team, wrote it in a recent research paper titled "Reasons (not) to be cheerful: Certainty, Absurdity, and Fallacious Narratives."
The economy will improve as the coping mechanisms, and the disease running its course, permit broader reopenings. Additional stimulus from Congress won't accelerate or improve the trajectory of this process.
A number of policies put in place by federal, state and local governments have helped protect and support homeowners throughout difficult financial conditions brought on by the pandemic, experts say repossessions and foreclosures may remain low thanks to strong demand.
A rebellion against the high cost of a bachelor's degree, already brewing around the nation before the coronavirus, has gathered fresh momentum as campuses have strained to operate in the pandemic. Incensed at paying face-to-face prices for education that is increasingly online, students and their parents are demanding tuition rebates, increased financial aid, reduced fees and leaves of absences to compensate for what they feel will be a diminished college experience.
In the California program, farmers donate their crops but are reimbursed by the food banks for labor and packaging expenses. Those small payments have been just enough to keep some farmers in business.
Read more at VicNapier.com and my Medium.com page.
Links may lead to sites where the author has an affiliate relationship.
August 14, 2020
"The stock market isn't the economy. The economy is production and jobs, and there are shortfalls in virtually every sector of the economy," Janet Yellen said…"This pandemic is causing suffering and losses…Individuals and businesses are not going to make it through this unless they get grants, and only the federal government can do that."
People around the country have been testifying how they are down to their last dollar or flat broke, facing eviction or living on the street, unable to afford vital prescriptions or even food.
"I am very concerned how quickly they will be able to get back to work, if they have to shift industries how long that will take…Not only will you not have a job, will you be able to make ends meet?"
…there's a tried-and-tested approach to cutting off transmission: move them out of their homes into centralized facilities while they get over their infections, which usually doesn't require longer than a few weeks.
The Labor Department said Friday that output decreased 38.9%, also the biggest decline ever recorded as hours worked fell 43%, with the coronavirus pandemic sowing economic damage throughout the U.S.
The problem now is that roughly 28 million laid-off workers are no longer receiving a $600-a-week federal unemployment check that they had received in addition to their state benefit but that lapsed last month. In addition, a $1,200 stimulus check that was sent to many Americans in April and May likely won't be repeated.
The average mortgage rate fell from around 3.75% at the beginning of the year to under 3% in a matter of weeks after the pandemic struck the U.S.
"The fact is the domestic coronavirus in the United States is the worst epidemic of any comparable economy and that's because of the lack of management from the U.S. authorities. That has meant the outbreak has created a materially worse outlook for the U.S. economy than its peers."
Read more at VicNapier.com and my Medium.com page.
Links may lead to sites where the author has an affiliate relationship.
August 13, 2020
"If the court doesn't reconsider, then in California, it's hard to believe we'll be able to switch our model to full-time employment quickly…So I think Uber will shut down for a while."
Instead of a single headquarters, REI will open a number of smaller offices and allow employees to work remotely, the company said. Employees have been working from home since March.
Seattle-based Amazon is reportedly in talks with the nation's largest mall operator to convert empty department stores including Sears and J.C. Penney anchor spaces into distribution centers.
As the coronavirus continues to transform a vast swath of the economy, it's becoming evident that millions of Americans face the prospect of a permanent job loss that will force some to seek work with new industries or in new occupations.
The owners of chains like Outback Steakhouse, Applebee's and The Cheesecake Factory are on a newly updated list of national restaurants that are facing the highest likelihood of not paying back their debts.
According to a new survey, 54% of Americans are concerned about touching coins or bills due to COVID, while 60% plan to use so-called touchless payments in the future.
The Energy Information Administration reported Wednesday that U.S. crude inventories fell by 4.5 million barrels for the week ended Aug. 7. That followed sizable declines in each of the previous two weeks.
Unemployment fell to 10.2% in July, down from 11.1% in June. But the fledgling economic rebound has been uneven, with rehiring increasing in certain industries while stalling in others.
Set against the backdrop of a highly contagious viral pandemic and the devastation it has woven across the U.S. economy, 2020's back-to-school season is unlike any other.
After plunging in the first two months of the coronavirus pandemic, the consumer price index (CPI) has roared back, posting a gain that was double what economists had been expecting, the Labor Department reported.
The federal government rang up a $63 billion deficit in July, the department reported. That's a relatively modest amount compared to red ink that spilled in the spring months when the government tried to revive an economy that all but ground to a halt due to the coronavirus outbreak.
Read more at VicNapier.com and my Medium.com page.
Links may lead to sites where the author has an affiliate relationship.
August 12, 2020
Profitable cannabis companies want to buy their way into niche segments and expand their brands, betting that the November U.S. presidential election will lead to weed becoming legal across the United States.
In the heart of Manhattan, national chains including J.C. Penney, Kate Spade, Subway and Le Pain Quotidien have shuttered branches for good. Many other large brands, like Victoria's Secret and the Gap, have their kept high-profile locations closed in Manhattan, while reopening in other states.
Homeschooling applications are surging in states including Nebraska, where they are up 21%, and Vermont, where they are up 75%. In North Carolina, a rush of parents filing notices that they planned to homeschool overwhelmed a government website last month, leaving it temporarily unable to accept applications.
The United Teachers Los Angeles co-signed a document with nine other unions and the Democratic Socialists of America calling for a moratorium on all new charter schools and private voucher programs.
Forty percent of incoming freshmen say they are likely or highly likely to not attend any four-year college this fall. Further, 28 percent of returning students who have the option to return to their campus say they are not going back or haven't decided yet.
Online learning leaders report that interest in both free and paid credentials is holding steady at a rate that is significantly higher than what many were seeing last year — suggesting the pandemic and subsequent economic downturn may have a lasting counter-cyclical impact on online enrollment.
People are getting more comfortable with buy-online-pickup-in-store and curbside pickup options. About 31% of shoppers said they preferred this method of online shopping in July, up from 24% in June.
Read more at VicNapier.com and my Medium.com page.
Links may lead to sites where the author has an affiliate relationship.
August 11, 2020
Restaurants in Italy are reopening ancient 'wine windows' used during the plague
Between the wrath of the Black Death in the 1300s and the Italian Plague in the 1600s, wine merchants in the Italian region of Tuscany built "wine windows" to protect buyers and sellers from coming into close contact.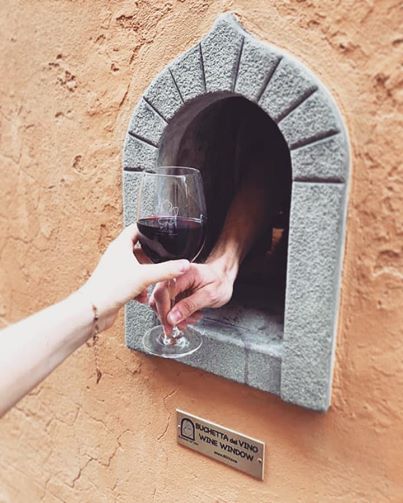 Hard times: One in four Americans have missed a bill payment since COVID-19 emerged
Twenty six percent say they haven't paid their cell phone or cable bills. Another 25% failed to pay for streaming services…On average, Americans who admit to skipping a bill payment have missed five bills altogether.
States strain to carry out Trump order on unemployment aid
Trump's order allocates $44 billion in federal dollars from FEMA's Disaster Relief Fund to boost unemployment aid for the jobless and calls on states to kick in roughly $15 billion.
Judge orders Uber, Lyft to stop classifying drivers as contractors
"Defendants may not evade legislative mandates merely because their businesses are so large that they affect the lives of many thousands of people."
U.S. bankruptcies on track for 10-year high with more than 100 consumer companies already filing
The coronavirus has hit consumer companies hard, with more than 100 filing for bankruptcy including Men's Wearhouse parent Tailored Brands Inc…department store Lord & Taylor and work wear retailer Brooks Brothers. Nearly 100 bankruptcies are in the energy and industrials sector…Chesapeake Energy Corp…small-engine maker Briggs & Stratton Corp…
'I can't afford tuition': College students face financial strains, health concerns from pandemic ahead of fall semester
Just over a third of college students will return to campus and attend class in-person this fall if given the option…Another 16% still plan to return to campus, but will take courses online, while roughly 29% plan to study online from home, the data shows.
For pandemic jobless, the only real certainty is uncertainty
The coronavirus outbreak and resulting economic upheaval have thrown millions of lives into disarray. Industries have collapsed, businesses closed, jobs disappeared. Compounding the misery is a question no one can answer: When will this all be over?
Virus causing financial pain even for people still working
Some have endured pay cuts or have had their hours slashed. Others have been furloughed temporarily — without pay. Many just feel seized by fear that their job could vanish at any time or that their struggling employer will go out of business.
Pandemic wrecks global Class of 2020′s hopes for first job
Around the world, young people armed with new degrees, diplomas and professional qualifications are struggling to enter the workforce as the pandemic pushes the global economy into recession. COVID-19 has thwarted hopes of landing first jobs – important for jumpstarting careers – as employers cut back graduate recruiting plans or even revoke job offers.
Read more at VicNapier.com and my Medium.com page.
Links may lead to sites where the author has an affiliate relationship.
August 7, 2020
ADP's National Employment Report shows that small businesses, those with 1-49 employees, added 63,000 jobs in July, while large businesses with more than 500 employees added 129,000. Medium sized enterprises, with between 50 and 499 staff, lost 25,000 jobs.
It is the lowest number of weekly initial claims since the pandemic began affecting the economy in March. The number of claims for the week ended July 25 was revised up to 1.44 million.
As of Aug. 5, the federal government has obligated $438 billion in spending, with agencies expected to unload almost $200 billion more before the close of the 2020 fiscal year on Sept. 30.
Nine of the 16 GOP senators who signed the letter are up for re-election in November and could be hurt by headlines about thousands of airline furloughs the month before the Nov. 3 election.
"The COVID crisis has moved delivery from a luxury to a utility."
Investors are looking to the next fiscal aid package to further cope with fallout from the COVID-19 pandemic.
The consensus of economists polled by MarketWatch points to an increase of 1.7 million jobs in July — just one-third of the 4.8 million gain in June.
Indeed, the downturn in debt is actually a reflection of people cutting their spending more than it is a sign that people are paying off loans. The main driver behind the decrease was a $76 billion decline in credit card balances.
Experts predict the problem will only get worse in the coming weeks, with 30 million unemployed and uncertainty whether Congress will extend the extra $600 in weekly unemployment benefits that expired Friday.
"The entire demand patterns and booking patterns have changed. Not only are they lower, but any information about the mix of business and leisure bookings is no longer relevant."
Read more at VicNapier.com and my Medium.com page.
Links may lead to sites where the author has an affiliate relationship.
August 6, 2020
The weak level of employment in the ISM's manufacturing and service surveys signals that U.S. employment growth in July is likely to soften after big gains in June and May.
"They made some concessions, which we appreciated. We made some concessions, which they appreciated. We're still far away on a lot of the important issues…The fundamental disagreement is the scope and depth of the problem and its solution."
More than half of consumers with credit card debt said they will need more bailout money to make minimum payments over the next three months.
"We expect the currency to be undermined by an ebbing of safe-haven flows, a reduction in the US rate advantage, and political uncertainty ahead of the November presidential election."
Such a tally would push total initial claims past a mind-blowing 55 million since pandemic-induced business shutdowns and layoffs began in mid-March.
"The decision to start remotely makes sense for a district of CPS' size and diversity…But we also understand the struggle this will be for many of our parents who have to manage work, child care and all the other needs at home."
U.S. firms added just 167,000 jobs in July, payroll processor ADP said Wednesday, far below June's gain of 4.3 million and May's increase of 3.3 million. July's limited hiring means the economy still has 13 million fewer jobs than it did in February, according to ADP, before the viral outbreak intensified.
A spokeswoman for Virgin Atlantic said the bankruptcy filing is part of a court process in the United Kingdom to carry out a restructuring plan that the airline announced last month. The process is supported by a majority of the airline's creditors, and the company hopes to emerge from the process in September, she said.
Investors and analysts…are among those who have warned that massive U.S. government spending in recent months could hurt the dollar.
"Never underestimate the power of enthusiastic buyers who do not know what they're doing…Sometimes the market rallies and it makes perfect sense. Then there are days like today, when I can't take how stupidly bullish this market can be."
Read more at VicNapier.com and my Medium.com page.
Links may lead to sites where the author has an affiliate relationship.
August 5, 2020
Satisfaction now sits just six points above the all-time low in October 2008 immediately following sharp drops in the U.S. stock market during the global financial crisis. The current measure ties as the ninth lowest in Gallup's history of tracking satisfaction since 1979.
Some are low-income families who have endured evictions before, but there are also plenty of wealthier families facing homelessness for the first time — and now being forced to navigate overcrowded and sometimes dangerous shelter systems amid the pandemic.
In a letter to top congressional leaders of both parties in the House and the Senate that was released Monday, the CEOs and other executives warn of significant consequences to the economy if Congress doesn't immediately act to save small business.
"We will still be chasing the virus four years from now. But it won't be like today…It will be like the smallpox eradication program. The polio eradication program. Having yellow fever in some countries and not in others."
Hundreds of migrants flock to the sunny high desert each summer, where they live in riverside dormitories and camps as they harvest apples, peaches, cherries and grapes for Gebbers Farms, one of the biggest fruit growers in the Pacific Northwest.
"For some goods, including food, supply constraints have led to notably higher prices, adding to the burden for those struggling with lost income."
"That's a bad thing for democracy…Our concern is that when half of Americans have some sort of doubt about the veracity of the news they consume, it's going to be impossible for our democracy to function."
"It's possible that I'm more sensitive to the editorial process due to my background in public radio, where no decision I ever witnessed was predicated on how a topic or guest would 'rate.' The longer I was at MSNBC, the more I saw such choices."
The fresh spikes in countries that had successful containment strategies, such as Vietnam, also underscore the challenges facing the United States, which has struggled to implement a cohesive plan to beat back a global pandemic that has killed more Americans than the citizens of any other nation.
Read more at VicNapier.com and my Medium.com page.
Links may lead to sites where the author has an affiliate relationship.
August 4, 2020
The drop was driven by less demand for coal that is burned for electricity and oil that's refined into gasoline and jet fuel, the U.S. Energy Information Administration said.
Now, as states have stalled or reversed reopening plans and the coronavirus outbreak worsens, nearly half of unemployed workers believe their jobs are not coming back.
"What people are most desperately waiting for is good news on virus control, that I think is number one…The currency bet is mainly a bet on relative control of the virus, not reflecting the fundamental strength of the economies in question."
"That's the only way we're really going to have a real robust economic recovery. Otherwise, we're going to have flare-ups, lockdowns and a very halting recovery with many more job losses and many more bankruptcies for an extended period of time unfortunately."
Realtors' cellphones have been "ringing with eager buyers" looking to flee urban areas for the suburbs while mortgage interest rates are at record lows. For renters, on the other hand, the outlook is grim.
A new survey finds four in five parents are thinking about homeschooling their school-age children this fall. Of those parents, nearly half say they're seriously considering keeping their kids home in 2020 and 2021.
CEO Ted Christie said in a memo to employees that furloughs might be needed because Spirit is burning through too much cash as the coronavirus pandemic continues to cut sharply into air travel. Separately, key members of Congress said they are investigating aviation contractors that took federal payroll aid and then laid off thousands of workers.
Traffic was down 86.5% in June from the same month a year ago, compared with a drop of 94.1% in April.
Read more at VicNapier.com and my Medium.com page.
Links may lead to sites where the author has an affiliate relationship.
August 3, 2020
Millions of struggling out-of-work Americans are in limbo after the additional $600 in weekly unemployment benefits expired at the end of July, leaving many fearful of how they will survive and pay their bills without the extra jobless aid.
Specifically, Starbucks expects drive-thru usage to increase, and is investing in new tools for employees to increase throughput. Curbside pickup capability is also rolling out to no fewer than 700 U.S. stores by the end of the current quarter. And where drive-thru and curbside pickup aren't workable – specifically in dense urban areas – a new small-footprint "walk-through" Starbucks store has been developed.
Age discrimination in the jobs market, which is supposedly illegal, goes up in recessions. Some employers take the opportunity to ax experienced workers who are paid a reasonable wage, and replace them with cheap, desperate kids who will put up with anything.
Eastman Kodak Co on Monday granted its executive chairman options for 1.75 million shares. One day later, the administration of President Donald Trump announced a $765 million financing deal with Eastman Kodak, and in the days that followed the stock soared.
Eurostat said the economic downturn was due largely to the impact of the shutdowns and travel bans imposed around Europe to slow the spread of the COVID-19 coronavirus pandemic.
Before the start of trading, the Commerce Department reported that in the second quarter, the U.S. economy contracted 9.5% quarter-on-quarter, and 32.9% on an annualized basis, a post WWII record
Even if a vaccine is available, the public, having adapted to a new normal, will likely remain hesitant to gather in large groups and ride public transportation, which will pose a headwind to growth.
Since July 1, Tailored Brands has missed interest payments on bonds, slashed its corporate workforce by 20%, announced plans to close up to 500 stores and was notified that it will be delisted by the New York Stock Exchange. The company operated more than 1,400 stores in the U.S. and Canada as of Feb. 1
Read more at VicNapier.com and my Medium.com page.
Links may lead to sites where the author has an affiliate relationship.
August 1, 2020
Fitch Ratings revised its outlook on the country's credit score to negative from stable, citing a "deterioration in the U.S. public finances and the absence of a credible fiscal consolidation plan…High fiscal deficits and debt were already on a rising medium-term path even before the onset of the huge economic shock precipitated by the coronavirus…They have started to erode the traditional credit strengths of the U.S."
The 747, dubbed the "Queen of the Skies," had its 50-year anniversary last year. Production was extended by orders for cargo versions of the plane.
The path of the recovery depends heavily on whether Congress passes another massive relief package, economists say, and whether the pandemic is brought under control again. Prolonged uncertainty will only cause Americans to save more and spend less, thus hurting the economy.
As many as 231,000 of the nation's roughly 660,000 eateries will likely shut down this year…This will bring the industry's steady growth to a halt and mark the first time in two decades that U.S. restaurant counts don't climb.
Across nine questions related to foundational political knowledge, only 17% of primarily social media news consumers scored "high political knowledge," meaning they got eight to nine of the questions right.
"Even if the reopening goes well — and many, many people go back to work — it is still going to take a fairly long time for parts of the economy that involve lots of people getting together in close proximity" to recover
Research indicates that public colleges rely on international students, who typically pay full tuition, to fill in budget gaps. A drop in international students would also likely impact the economy more broadly; international students contributed $45 billion to the economy in 2018, according to IIE.
United earlier this month told about 36,000 employees, or more than a third of its staff, that their jobs are at risk and this week extended deadlines into August for voluntary leave and buyout applications.
At the heart of the ad campaign is recognition that American workers and businesses have a shared interest in developing high-quality skills for the workplace — and that this doesn't necessarily require a four-year degree.
"While the 3rd quarter GDP is likely to improve over the record-setting 2nd quarter plunge, it is unlikely that consumers will conclude that the recession is anywhere near over."
"This is the result of the government prioritizing economic activity by getting people to move around again over infection control."
Read more at VicNapier.com and my Medium.com page.
Links may lead to sites where the author has an affiliate relationship.
July 31 2020
The network, known as Project Kuiper, is intended to beam high-speed internet service to "unserved and underserved consumers" across much of the world, including the U.S.
The report finds that the poverty rate for the last five months of 2020 will rise to 11.9% if expanded unemployment-insurance benefits, a second round of stimulus checks, and increased SNAP allotments are not approved, a significant increase over the projected annual rate of 8.9%.
But with coronavirus cases rising in the majority of states and the Republican Senate proposing to scale back aid to the unemployed, the pain is likely to continue and potentially worsen in the months ahead.
Analysts warn that the outlook could darken still further if Congress fails to enact enough financial aid to replace the expiring $600-a-week federal boost in unemployment benefits or provide sufficient help for businesses and state and local governments.
Forty three percent of Americans who lost income lost between 10% and 49% of their earnings. Workers earning less than $15,000 a year were most likely to lose all of their income compared to moderate and higher earners. Sixty five percent of Americans had to cut expenses due to income loss, while 26.2% took out some type of loan.
Friday's expiration of the $600 jobless benefit sent Republicans controlling the Senate scrambling to respond.
"Workers facing larger expansions in unemployment insurance benefits have returned to their previous jobs over time at similar rates as others…We find no evidence that more generous benefits disincentivized work either at the onset of the expansion or as firms looked to return to business over time."
A reasonable timeline for wide distribution of vaccines is likely the end of 2021…
The firms are booming while Old Economy industries like retailing and car-making falter, pushing scores of companies into insolvency and costing millions of Americans their jobs.
Before the start of trading, the Commerce Department reported that in the second quarter, the U.S. economy contracted 9.5% quarter-on-quarter, and 32.9% on an annualized basis, a post WWII record.
Read more at VicNapier.com and my Medium.com page.
Links may lead to sites where the author has an affiliate relationship.
July 30, 2020
In the bureau's weekly Household Pulse Survey, roughly 23.9 million of 249 million respondents indicated they had "sometimes not enough to eat" for the week ended July 21, while about 5.42 million indicated they had "often not enough to eat."
On Tuesday, President Donald Trump announced the company would receive a $765 million loan to launch Kodak Pharmaceuticals…The company's shares have skyrocketed on the news. Following a more than 200% jump in Tuesday trading, the rally continued on Wednesday and the shares ended up 318%
As of Monday, Continenza's 650,000 Kodak shares were worth just $1.3 million By Wednesday afternoon, his holdings were worth roughly $215.8 million.
The drop was driven by less demand for coal that is burned for electricity and oil that's refined into gasoline and jet fuel, the U.S. Energy Information Administration said.
It was the 19th straight week in which initial claims totaled at least 1 million and the second consecutive week in which initial claims rose after declining for 15 straight weeks.
CEO Ben van Beurden says the company is facing a "remarkably challenging environment" and focusing on "decisive cash preservation measures" to underpin the balance sheet.
"Even if the reopening goes well — and many, many people go back to work — it is still going to take a fairly long time for parts of the economy that involve lots of people getting together in close proximity…Those people are going to need support."
"We are preparing for another jump because it seems like schools aren't going to reopen in any way that looks normal…In states where they are moving more aggressively to open schools, we're seeing increased demand, not decreased."
There is talk that the Fed is preparing to publicly pledge to keep rates at zero until inflation reaches or moves above its 2% target.
Read more at VicNapier.com and my Medium.com page.
Links may lead to sites where the author has an affiliate relationship.
July 29, 2020
Around $30 billion would go to a small business opportunity fund, and refundable tax credits of up to $15,000 would be available for first-time homebuyers. The plan would also provide student debt relief while making public colleges and universities and private historically black colleges and universities tuition-free for those with family income under $125,000.
All told, roughly 10 million workers might need to find a new employer after the pandemic wraps up, and some might need to switch gears and find a new profession altogether.
Earlier this year, nearly two-thirds of institutions had planned on in-person instruction. As of Tuesday, about 49% said they were on that track. About a third were planning for a semester that would include a mix of online and in-person classes, while 13% were planning for online instruction.
"We are preparing for another jump because it seems like schools aren't going to reopen in any way that looks normaI… In states where theyare moving more aggressively to open schools, we're seeing increased demand, not decreased."
The idea that the dollar may one day be seen as less of a safe currency jeopardizes its role as the world's reserve currency, a position that has given the U.S. financial system a tremendous advantage in global financial markets for decades.
In a Chapter 11 filing in U.S. Bankruptcy court for Northern District of Alabama this week, the nation's oldest gunmaker listed assets and liabilities of between $100 million and $500 million, and between 1,000 and 5,000 creditors.
And even if Biden saying is able to add a "public option"…he would expect the new program "would still be run through the big managed-care companies, just like the Medicare Advantage programs." In other words, more revenue for the managed-care companies.
The HEALS Act, if passed, would be the fourth major stimulus package intended to address the COVID-19 pandemic, and it is in many ways a direct sequel to the CARES Act.
Some Fed watchers expect no rate increase until 2024 at the earliest given their bleak outlook for the economy and expectations of continued ultra-low inflation. But more specificity from the Fed could provide further assurance to businesses and households of a low-rate environment for years to come.
Read more at VicNapier.com and my Medium.com page.
Links may lead to sites where the author has an affiliate relationship.
July 28, 2020
The plan sparked immediate opposition from both Democrats and Republicans. Democrats decried it as too limited compared to their $3 trillion proposal that passed the House of Representatives in May, while some Republicans called it too expensive.
The massive pool of unemployed Americans has quickly saturated the market for contract-based drivers and delivery people, just as ridership on services like Uber and Lyft has come to a screeching halt.
This summer is one of the best times for home buyers and worst for many renters. Americans with money in the bank are buying bigger homes, while renters increasingly worry about eviction.
If landlords evict all their tenants, they will have a hard time finding replacements because of how unstable the rental market is. Empty buildings harm property values and mean less tax revenue.
When the US approved more than $2.4tn in spending this spring to try to shield its economy from damage caused by coronavirus, economists warned more would be necessary. While Democrats have proposed another $3tn in spending, Republicans have rejected that plan and been divided about how much more aid – if any – is warranted.
Ray Dalio warned the conflict between the U.S. and China could develop into a "capital war," which would hurt the U.S. dollar.
MGM told its employees that it had originally hoped the casino closures would be brief and full operations could be restored. But the pandemic has progressed, and based on currently available data, it doesn't look like "it will be safe to restart shows prior to August 31, 2020." That means the "large majority" of employees in the entertainment and sports division will be fired on that date.
Travel restrictions led to a collapse in the number of travellers, with 500,000 passengers in the first quarter compared with 41.9 million in the same period last year.
He claimed we're in a "golden age of fraud," describing the current market climate as rife with euphoria, FOMO and Trumpian "post-truth" politics — "a really fertile field for people to play fast and loose with the truth, and for corporate wrongdoers to get away with it for a long time," he said.
Read more at VicNapier.com and my Medium.com page.
Links may lead to sites where the author has an affiliate relationship.
July 27, 2020
"As we continue to expand, we promise to do everything in our power to offer the lowest prices, every day, without exception…In fact, as food costs are rising across the country, we're lowering prices on hundreds of items to meet our customers' increased need for savings."
"As the massive monetary and massive fiscal stimuli (over $15T globally) conjoin to save the economy from a deflationary depression, they will cause instead a hyperinflationary economic collapse."
All these things, when taken together, have even triggered concern in some financial circles that stagflation — a rare combination of sluggish growth and rising inflation that erodes the value of fixed-income investments — could take hold across parts of the developed world.
"We're really facing a situation that is not only a health crisis but becomes a major housing crisis when you start to see people losing their roofs in a pandemic that's calling for you to stay at home as one of the prescriptions."
"For better or worse, our plants are what they are," Smithfield Chief Executive Kenneth Sullivan said. "Four walls, engineered design, efficient use of space, etc. Spread out? Okay. Where?"
On Sunday, Treasury Secretary Steven Mnuchin said that a $1 trillion coronavirus relief bill from Senate Republicans will be released Monday. It includes another round of $1,200 stimulus checks, additional funding for elementary and secondary schools and a limited extension of the current unemployment benefits.
Eighty percent of infections can be traced to food processing plants, ships, aged care homes, bars, restaurants, shops, and worker dormitories. All of those are places notoriously associated with low pay and poor job security. Office workers are almost absent from the records, except for 148 cases associated with a business conference.
"Honestly, at this point, there's not going to be a job to go back to…The kids are going to do virtual school, and there is no day care."
"All it really did was prolong the agony of having our workers file for unemployment. Whether it's April 15 or June 30, the end result is still the same."
But clawing back the rest of the lost ground is likely to be a tougher slog. The federal programs are expiring unless Congress quickly votes to extend them in some form.
Read more at VicNapier.com and my Medium.com page.
Links may lead to sites where the author has an affiliate relationship.
July 24, 2020
"We've gotten a glimpse of what a world with better air looks like and see that there may be an opportunity to 'flatten the climate curve.'"
Normally, rituals like weddings or even a July 4th party serve as a familiar source of comfort for people. Looking forward to and planning for such events help us cope with daily stressors and anxiety, and function as "mechanisms of resilience."
"Maybe we'll get encouraging news on a virus. But I think for the financial markets, it's prudent to start thinking about a blue wave. I think that's quite likely."
Laid-off workers' paychecks vanish immediately, but they may also earn less in the next job. The depressed earnings, over months or years, reduce the money flowing into their 401(k)s, and the amount they'll receive in pensions and future Social Security benefits.
There were 1.4 million Americans who applied for traditional unemployment benefits — the first time the figure has risen from the prior week after consistently declining for 15 straight weeks. Another 975,000 were first-time applicants to the Pandemic Unemployment Assistance (PUA).
McConnell has floated a proposal to limit the number of Americans eligible for another check to those earning $40,000 a year or less.
As the number of Covid-19 cases has surged across the country, a disturbing trend has emerged: landlords commencing eviction proceedings even though the CARES Act relief law currently protects about 12 million tenants living in qualifying properties.
"On a virtual team, it's more important than in a face-to-face meeting to stand out as the one who helps others…Those who take the time to pause and assist others with tasks are more likely to be viewed as leaders."
Economists had forecast 1.3 million claims. The prior week was initially reported as 1.3 million claims. The Labor Department revised that figure up by 7,000. Claims hit a record 6.87 million for the week of March 27. Until this week, each subsequent week has seen claims decline.
"Through Operation Warp Speed, we are assembling a portfolio of vaccines to increase the odds that the American people will have at least one safe, effective vaccine as soon as the end of this year…Depending on success in clinical trials, today's agreement will enable the delivery of approximately 100 million doses of vaccine being developed by Pfizer and BioNTech."
At some point, if the jobs simply aren't there, they can't be trained into being. Academics should know that better than anybody. The academic job market of the last few decades should be conclusive proof that good training doesn't necessarily produce good jobs.
Read more at VicNapier.com and my Medium.com page.
Links may lead to sites where the author has an affiliate relationship.
July 23, 2020
Republicans hope to keep the cost of the package around $1 trillion, though Democrats have argued that level of spending would be insufficient.
The bottom line is most people will need to buckle in for more distance learning, alongside their own work and other responsibilities.
Sixty percent of the 26,160 temporarily closed restaurants on the business review site as of July are now permanently shut. Temporary closures are dropping, and permanent shutdowns are increasing.
"Our indicator is now flashing a warning sign…I'm not prepared to say everybody should sell everything and short the market because of the recent insider data…We still don't trust the market's recent recovery."
Kentucky Republican Rep. Thomas Massie told Just the News in June that he thinks the national debt will hit $40 trillion by the end of the coronavirus pandemic. Some experts have predicted that the debt held by the public will soon exceed the nation's entire GDP.
"We're thrilled to bring Amazon Scout to two new communities," Amazon said. "Adding Atlanta and Franklin to our existing operations gives Scout devices the opportunity to operate in varied neighborhoods with different climates than they operate in today."
"Bottom line is that there has never been a sustained surge in firearm sales quite like what we are in the midst of."
"We think the 'Go It Alone' moment has arrived…This means brands should plan for a future that does not rely on department stores or malls …The ideal business model will be one where a brand can profitably sell directly to consumers either online or in-store."
According to data from the New Hampshire-based firm Dynamic Benchmarking, many museum directors worry they will not be able to sustain their organizations in the coming months.
"Recent media reports have covered anecdotes of people being laid off after being rehired…This would suggest a second wave of initial applications, as many states require people to file again if they had discontinued their weekly benefits from their first period of unemployment."
With a new form of business casual taking over as millions of Americans work from home during the COVID-19 pandemic, the owner of Men's Wearhouse and Jos. A. Bank plans to close up to 500 stores.
What has been largely overlooked are the mounting problems of wealthier homeowners with jumbo mortgages. They have also been slammed by the lockdowns. According to Black Knight, 11.8% of all jumbo loans were in forbearance as of June 16.
Read more at VicNapier.com and my Medium.com page.
Links may lead to sites where the author has an affiliate relationship.
July 22, 2020
Senate Majority Leader Mitch McConnell on Tuesday promised a new round of direct payments to earners below a certain income level, similar to the $1,200 checks sent in the spring. President Donald Trump insists on a payroll tax holiday for workers. And Democrats want billions to outfit schools and shore up local governments.
A double-dip recession is possible, but the most probable outcome right now looks like treading water, with the fast recovery of the late spring turning into a long, slow slog. Fewer jobs will be created, and many businesses will find themselves unable to stay afloat until conditions improve.
While most online leaders described their spring pivot to remote instruction as a success, most also recognized that plenty of improvements could be made to their remote courses. Many respondents felt that their remote courses fell short in terms of student engagement when compared to their fully online courses
And two to three years may be too optimistic — at least for a recovery by the major airlines.
There are workers who have been more insulated from the recession and have used the pandemic as a time to build their nest egg. Nearly a third of Americans have put their stimulus money into a savings or retirement account, Jackson Hewitt data showed.
As of now, 59% of surveyed Americans admit they would be far too afraid to start reporting to a shared workplace once again. Meanwhile, 36% have concerns they'll never be able to get back to the office without potentially putting themselves and their family in harm's way.
This sense of uncertainty has been building up for years. It probably began with the global financial crisis of 2008-09. Yet, until 2020, there was hope that the world would somehow return to the right track and regain stability. Covid-19 ended this hope
"We'll have to lay off police and firefighters if people like Mitch McConnell and the White House can't put their differences aside…What's being sacrificed in the meantime? Virtually every service we provide is being provided more slowly."
The jobs recovery has slowed and, in some cases, reversed as coronavirus cases have surged in sunbelt states where case numbers are climbing and governors have reinstated economic restrictions.
"The economy needs another shot of adrenaline," McConnell said Tuesday. "If we lose control of the virus…everything else will be window dressing."
By providing to every American a $2,000 monthly guaranteed income, America will be a more resilient nation. Monthly cash payments will ensure people can pay rent and buy food, provide the peace of mind needed to socially distance today, and better prepare everyone for the next disaster.
Read more at VicNapier.com and my Medium.com page.
Links may lead to sites where the author has an affiliate relationship.
July 21, 2020
Everyone who digs beneath the headline numbers of employment / unemployment soon discovers a number of jarring anomalies in what the media presents as "factual statistics."
"I was ready to support a reasonable tax increase, but then the pandemic hit. We lost a lot of sales tax revenue and small businesses are doing what they can to stay afloat. Now we are going to hit them with an even bigger tax increase? Jeez."
In the four months since the pandemic began, nearly 50 million workers have filed unemployment claims nationwide, a flood that's overwhelmed some states, freezing antiquated computer systems and jamming websites and phone lines for days.
The pandemic reduced tax collections across the country as safety precautions to limit the spread of the virus shuttered businesses and kept shoppers and tourists at home. A resurgence of the virus has forced states to reverse or slow reopenings.
Even without further spending, your government is headed toward almost $4 trillion in deficit spending, accompanied by somewhere near $10 trillion of financial infusion by the Federal Reserve.
"Despite some recent positive macroeconomic data and significant, decisive government action, we still face much uncertainty regarding the future path of the economy."
Some of the plan's major provisions include accelerated investment in carbon-free energy and grid infrastructure, investment in mass transit, encouraging efficient buildings and sustainable housing, and "climate-smart" agriculture solutions.
"In order to safeguard its legitimate interests, China will make necessary response and sanction the relevant individuals and entities of the United States."
Remote work was already one of the fastest-growing employment sectors in the country when coronavirus came around, closing offices and stranding millions of professionals at home. Employees are proving to their bosses that remote working isn't only possible, it's preferable — at least for now — and the prospect of a work-from-anywhere future now seems less hypothetical.
Briggs was the world's largest manufacturer of small gasoline engines. It has sold more than 125 million of the engines. At one point, it employed about 11,000 people in the Milwaukee area.
Read more at VicNapier.com and my Medium.com page.
Links may lead to sites where the author has an affiliate relationship.
July 20, 2020
The total number of active unemployment recipients in the U.S. fell to 17.3 million for the week ending July 4, a decrease of 422,000 from the previous week's revised figure.
Combined with those who have been forced to log fewer hours, the number climbs to 20 million people — or 1 in 8 workers — who have seen their paychecks shrink over the past few months even as they continued to work…
"We anticipate that additional relief will be targeted to certain industries, smaller businesses and lower- to middle-income families that have been especially hard-hit by the pandemic…Our focus will be on jobs and getting all Americans back to work."
The grim forecast is actually an upgrade from one the IMF made last month when it foresaw the American economy contracting 8% in 2020.
As this year's Out of Reach shows, the persistent gap between renters' incomes and the cost of housing continues. Many of our essential workers…have risked their lives during the pandemic, but don't get paid enough to afford housing.
Across the globe, Covid-19 is fueling the rise of the cashless economy as employees and consumers alike worry that the direct handling of paper currency could spread the coronavirus.
"There are two things we need to do right now…First, we need to keep doing CARES Acts until this is over. If we run the debt up $10 trillion, it will be money saved. Second, we've got to get a grip on the pandemic, and that probably means shutting every indoor business down for a few months again and moving as much outdoors as we can."
In some cases, families are teaming up to form "pandemic pods," where clusters of students receive professional instruction for several hours each day. It's a 2020 version of the one-room schoolhouse, privately funded.
Among businesses that received money was a California hotel partially owned by the husband of House Speaker Nancy Pelosi, as well as a shipping business started by Transportation Secretary Elaine Chao's family. Chao is married to Senate Majority Leader Mitch McConnell.
Read more at VicNapier.com and my Medium.com page.Links may lead to sites where the author has an affiliate relationsh
July 17, 2020
In May, the company kicked off a campaign to drive hiring, resulting in about 8,000 new employees to date. Chipotle said that it has received close to 700,000 job applications this year. It now has more than 85,000 workers nationwide.
Initial weekly jobless claims came in at 1.3 million for the week ending July 11…Economists polled by Dow Jones expected 1.25 million. It was also the 17th straight week in which initial claims totaled at least 1 million. Initial claims have risen by more than 51 million since late March, when it peaked at 6.867 million.
The potential vaccines may not have the qualities needed to be rapidly deployed in large numbers of people…"If you're going to use a vaccine on billions of people, you better know what that vaccine does."
For the week ending July 11, workers in Washington filed 40,466 new, or "initial," claims for unemployment insurance — a 42.5% jump from the prior week — reported the state Employment Security Department (ESD) Thursday.
People have taken to talking about normal life before coronavirus hit…as "the before time." My problem is that I've begun to feel like I'm living in another such time right now — like there's some worse thing looming just around the corner as we dither and bicker about trivialities, oblivious to the doom about to strike.
Put simply, most Americans are no longer willing to squeeze into small cars despite their affordability and fuel efficiency.
Per Mnuchin, unemployment payouts will not total more than 100% of what a worker would usually bring home, if employed. Making enhanced unemployment benefits dynamic to a worker's typical pay will ensure that there's an incentive to get the unemployed back to work.
Millennials have led the movement toward multigenerational households, with the Census finding about one in three people between the ages of 18 to 34 lived with their parents in 2015.
Ageism runs deep in our culture–especially in the workplace. This kind of bias is pervasive and starts at the top, even as an off-the-cuff comment that sows a seed and adds to the perception of older adults as less than.
"Unfortunately, declines are more likely in the months ahead as the coronavirus spreads and causes continued economic harm, social disruptions, and permanent scarring."
Read more at VicNapier.com and my Medium.com page.
Links may lead to sites where the author has an affiliate relationship.
July 16, 2020
UnitedHealth's better-than-expected performance "punctuates just how much it benefited from COVID-19 induced low utilization," Jefferies analyst David Windley said in a research note.
The companies say they need to keep their management teams to help turnaround consultants repair the damage, even when it means rewarding people who were in charge when the business began sinking.
The consumer-price index rose 0.6% in June, the Labor Department said Tuesday. The index had fallen in each of the previous three months, with particularly sharp declines during the earlier part of the pandemic in March and April.
"JPMorgan's fixed-income traders generated $7.3 billion in revenue in the second quarter — a figure so high, that even if the equities trading group had generated NOTHING, the bank *still* would've set a record for total trading revenue."
"The whole business model of a mall, which is about pulling in as many people as you can and getting them to stay for as long as you can, has just unraveled."
"People don't want to invest capital in these huge office buildings with these huge spaces until they really know what they need to do."
"Rather than buying assets at valuations stunningly decoupled from underlying corporate and economic fundamentals, investors should think a lot more about the recovery value of their assets…The sense that the worst did not come to pass has fed complacency among investors of all stripes."
Some employees have already been told their jobs will be eliminated…but that their terminations were delayed due to the pandemic…the bank told federal regulators that it plans to close 65 branches across the U.S., many in small towns and rural areas. More cuts are expected across the entire bank over the coming years.
The airline expects to have more than 20,000 more workers on its payroll than it needs this fall as it shrinks its schedule to reflect the reality of depressed travel demand for the foreseeable future.
Read more at VicNapier.com and my Medium.com page.
Links may lead to sites where the author has an affiliate relationship.
July 14, 2020
"The genie is out of the bottle," with many companies now embracing remote work, says Victor Calanog, of Moody's Analytics. "Do we really need that much office space?" Downtowns, he says, could become speckled with gleaming, hulking office-building skeletons that resemble industrial relics in cities like Cleveland or Detroit or the growing crop of empty retail spaces in, well, virtually any American city.
"Although furloughs and layoffs remain our very last resort, we can't rule them out as a possibility in this really bad environment…We need a significant recovery by the end of this year, and that's roughly triple the number of passengers from where we are today."
Qantas' decision comes just weeks after the airline slashed 6,000 jobs – 20 per cent of its workforce – and chief executive Alan Joyce predicted international flights were unlikely to resume until July 2021.
Like other apparel retailers with a heavy commitment to shopping malls, the company and its brands were grappling with declining foot traffic long before the coronavirus pandemic.
Gripped by one of the deepest recessions since the 1930s, state governments across the country have to race to catch up with escalating demand for unemployment assistance.
During the October-June period, the government spent a record $5,004,372,000,000 while it collected $2,260,069,000,000 in total taxes.
"COVID-19 is now inversely related to the markets. The worse that COVID-19 gets, the better the markets do because the Fed will bring in stimulus. That is what has been driving markets."
Several other big cities were considering similar plans, while others have adopted hybrid plans through which students would be in school on certain days and at home on others.
Online food prices have climbed 4.2% over the past six months according to the latest Adobe Inc. data as grocery e-commerce accelerated amid the COVID-19 pandemic and food producers struggled to keep up with continued high demand.
Read more at VicNapier.com and my Medium.com page.
Links may lead to sites where the author has an affiliate relationship.
July 13, 2020
Virtual health adoption can create opportunities for a variety of providers to attract patients with new service offerings and connections to perceived higher-quality providers.
"Their circumstances may be more challenging to rectify than those who were laid off because of a temporary closure…Finding new jobs will be more difficult. There's been scarring in the economy."
The Montreal-based company says it is sending notices to terminate the leases at the 124 stores to take effect in 30 days.
Dozens of new companies are popping up to rent or sell retrofitted sleeper vans, some now with yearlong wait-lists. Apps are surfacing to help these van dwellers find legal parking.
The question for mayors and governors will be, 'how much money can we extract from the people without causing extreme poverty and triggering widespread revolt?'
The loss of momentum in the recovery is evident in key segments of the economy such as retail and dining out. Some businesses in California, Texas and elsewhere have been ordered to scale back operations again.
About 130,000 jobs in air transportation disappeared during that time—but airlines were just 0.4% of the index at the start of the year. By contrast, job losses were minimal in information technology, the S&P's biggest sector, which accounted for 23% of the index.
It is no secret that easy monetary policy, which began in earnest during the Great Recession of 2008-2009, fuels higher stock prices.
The high number of jobless claims punctures the positive news last week that the U.S. economy added a record 4.8 million jobs in June as states allowed more businesses to reopen and a growing number of Americans returned to work.
Read more at VicNapier.com and my Medium.com page.
Links may lead to sites where the author has an affiliate relationship.
July 10, 2020
Despite the better-than-expected numbers, this marked the 15th consecutive week that initial claims totaled above 1 million.
"I do not buy for one second that the vitality of American manufacturing is a thing of the past," Biden, the presumptive Democratic nominee, said in a speech at a factory in Dunmore, Pennsylvania, where he introduced the plan.
"I'll be laser-focused on working families: the middle-class families I came from here in Scranton, not the wealthy investor class…They don't need me, but working families do."
Vaccine developer Novavax has been awarded $1.6 billion by the U.S. government…The government in May pledged up to $1.2 billion to AstraZeneca…Johnson & Johnson was awarded $456 million for vaccine development…Moderna received $483 million to create a vaccine.
The grim U.S. numbers come on top of extraordinarily high jobless figures, although they came in lower than economists had forecast.
"It's frustrating that, in my mind, somebody who has done the things you were told as a kid you need to do – stay at a job, work, learn, be helpful, get promotions – and then you find yourself, at this point, that your career doesn't mean [anything]."
The pandemic has effectively pulled away the first rung of the jobs ladder for many young Europeans, a situation economists say has the potential to blight their employment and earnings prospects long term.
Without coverage, many producers cannot get the completion bond, or guarantee, that banks require to lend to productions.
But optimism was kept in check Thursday after cases continued to surge despite a report that showed fewer workers are getting laid off across the country.
"We may not have sports in the fall…We may not have a college football season in the Big Ten.
Read more at VicNapier.com and my Medium.com page.
Links may lead to sites where the author has an affiliate relationship.
July 9, 2020
The clinics will be spread out among more than 30 markets, with more than half in locations that are underserved by medical professionals. The move marks the latest evolution in the drugstore sector's pivot away from retail floor space toward more healthcare services.
Retail giant Walmart is launching a subscription program later this month. The Walmart+ membership program will include fuel discounts, same-day shipping at no additional cost, and other perks, at an annual cost of $98.
The retailer, founded in 1818, boasts of having dressed 40 U.S. presidents and countless investment bankers.
It would take something on the order of divine intervention to keep the situation from worsening
Across all businesses, that could take five years or longer…Among small businesses, recovery is again likely to take even longer. Many may never reopen.
"I do expect unfortunately that the economy is going to remain weaker than many had hoped through the summer and fall."
What they're going to do as a result is a subject of intense debate, even as governments roll out new stimulus packages to fight the economic damage caused by the coronavirus pandemic.
Nagging unease over the outlook for the global economy in the midst of rising U.S. coronavirus infections helped dampen the buying mood on Wall Street.
The world's biggest currency banks see the dollar edging lower toward year-end, a consensus that may only hold if rising coronavirus infections don't hamper the global growth rebound.
Bed Bath & Beyond Inc. plans to close approximately 21% of its namesake stores, or 200 locations, over the next two years, the company announced Wednesday.
Read more at VicNapier.com and my Medium.com page.
Links may lead to sites where the author has an affiliate relationship.
July 8, 2020
U.S. services industry activity rebounded sharply in June, almost returning to its pre-COVID-19 pandemic levels
"People are using cards and contactless payments because they don't want to have to touch anything," said Mr. Cornu, as a line of mask-wearing shoppers stood three feet apart before approaching the register and swiping contactless cards over a reader.
"Softer sales expectations are widespread across all regions and sectors, with firms often expressing a high degree of uncertainty about consumer behavior and future demand."
But there's no silver bullet. Experts agree that it will be at least a year from now before we have a vaccine that's accessible to most people. Mass immunization likely won't come until 2022.
About 44 percent of students said the pandemic and ensuing rise in unemployment have also impacted their ability to pay for college. And while students are confident about finding relevant jobs, 66 percent are worried about finding a job that meets their salary needs.
Ensuring retirement security for an aging population was one of the most compelling challenges facing the nation before the onslaught of COVID-19. The unemployment associated with the pandemic has made the situation worse across the board.
Fauci noted that while Europe managed to drive infections down — and now is dealing with little blips as it reopens — U.S. communities "never came down to baseline and now are surging back up."
The dense nature of urban living and the lack of proper local government planning led to the coronavirus spreading five times faster in New York than the rest of the country. The city that never sleeps now resembles a ghost town in many areas after thousands of its wealthy and middle-class residents fled early in the pandemic
"For the last several months investors watched Biden's rising poll momentum with trepidation, but now a narrative is emerging whereby he's being painted as a neutral (and possible upside surprise) for stocks (as taxes won't rise by as much as feared while trade policy should be less disruptive and the volume of nonsense tweets will be substantially reduced)."
Though the locations that will be closing are all reportedly located inside Speedway gas stations, and not free-standing cafes. The big news comes as part of termination of the coffee shop's partnership with Hess, owner of Speedway gas stations, Today Food reported.
Read more at VicNapier.com and my Medium.com page.
Links may lead to sites where the author has an affiliate relationship.
July 7, 2020
"The first round of economic impact payments were a lifeline that helped some get by for a few weeks…Even after businesses start to re-open and jobs begin to come back, there will be significant economic fallout, and demand will continue to lag if people don't have money to spend."
"The vision for us is to become an everyday service…Postmates is a great step along that vision. Anyplace you want to go, anything you want delivered to your home, Uber is going to be there with you, and we think these everyday frequent interactions create a habit, create a connection with customers."
The company's latest foray into the delivery space is in partnership with Cornershop, a Chilean online grocery provider that Uber has held a majority stake in since October.
And so it begins…
The yuan on Monday recorded its best day against the dollar since December as investors lapped up risky assets on growing expectations of a strong Chinese economic rebound and as glimmers of good news in U.S. data drove down demand for the safe-haven dollar.
How a 2005 call for 'skin in the game' started a 15-year countdown to the first human orbital spaceflight from U.S. soil since 2011.
Eviction cases filed since the start of the pandemic are overwhelmingly located in majority-Black neighborhoods.
What are the forces that create homelessness? What are the main strategies aimed at helping people exit homelessness? What are the major debates that could shape this policy discussion going forward, especially in light of Covid-19?
In March and April, over 2 million young people moved back in with their parents or grandparents. If the allure of cities declines further due to the risk of disease, a sputtering economy, and a future of telework, the flight to suburban and rural safety will continue well after a coronavirus vaccine hits the market.
The growing gap between rich and poor is creating two Americas, one with a stake in the economy, and one without.
July 6, 2020
"…the research indicates a remarkable amount of resilience and gumption in the face of this ordeal."
"We don't necessarily agree on everything, but we do agree that our constituents deserve an income floor"
"State and local eviction moratoriums are expiring rapidly and courts are beginning to address the backlog and new eviction cases…And they're putting people out of their homes in the middle of a pandemic, and in places where Covid-19 is raging out of control."
"People buying stocks are not worried about earnings in 2020 or even 2021…They're thinking, 'Am I paying the right price for 2022?'"
COVID-19 has hit retailers who were already in debt harder than others and bankruptcy filings have increased due to the pandemic with J.C. Penney, Neiman Marcus, Tuesday Morning, GNC and J. Crew filing for Chapter 11. Other retailers…plan to shutter locations, including Victoria's Secret, Nordstrom and Signet Jewelers, parent company of Kay, Zales and Jared.
"It remains too difficult to call this trend with any real confidence as we continue to see-saw between lockdown tightening and lockdown loosening…Instead, it's the revision to these numbers in the next set of data that will prove most revealing."
"If you have to spend less, what is your major cost? It's your labor cost, and they're slashing jobs like we've never seen before. We've lost more jobs in three months than in the last ten years." When companies rehire, rather than bringing back full-time jobs with full wages and benefits, they'll opt for more part-time, contractor, and gig workers, according to Roubini.
"I started to juggle three apps to make ends meet…It was really hard, because at that time, I could not afford to stay home because I had to pay rent."
"I didn't fathom that a whole country could stay shut down and affect people's businesses and people's livelihoods for the duration of time that it has…I've put my life's work into this business, and it's really hanging on a thread."
New York University's Stern School of Business Professor of Economics & Roubini Macro Associates, LLC CEO Nouriel Roubini joins Yahoo Finance's Julia La Roche to break down his economic outlook amid the coronavirus pandemic.
"What Disney has to do is figure out how to make itself matter, how to get in front of audiences in very different ways than it has in the past…Because the previous rules – of gathering a lot of people in one place, of just riding safely down the middle of American society – won't apply for the next 12 months. And maybe a lot longer."
Read more at VicNapier.com and my Medium.com page.
Links may lead to sites where the author has an affiliate relationship.
July 3, 2020
"Walmart will roll out this red carpet experience in towns across the country for a combined 320 showings."
"More than ever, we're concerned about the worsening health situation and its impact on the burgeoning recovery. Rebounding mobility and poor use of protective equipment will make for a dangerous summer cocktail."
"The dollar rises in two instances: when you see risk off or when there is a situation where the U.S. is leading the global recovery, and we don't think that's going to be the case anytime soon…The U.S. is playing fast and loose with the virus, and chronologically they're behind the rest of the world."
"Even as we move into the second half of the year, a large number of people will still be looking for work."
"I'm just sitting and waiting, and it's frustrating because I took the five years and got a degree, and I'm ready to start with a career." Now, she's babysitting.
"What we've seen over the last several days is a spike in cases that is way beyond the worst spikes that we've seen. That is not good news."
The amount of money the government owed to the public was 79 percent of gross domestic product at the end of 2019, up from 31 percent in 2001. The COVID-19 lockdowns and subsequent emergency spending will push the curve above 100 percent of GDP by the end of 2020, and it's expected to keep rising.
The CBO now forecasts the unemployment rate will remain above its pre-pandemic level — which was a near-50-year low of 3.5% — until after 2030.
"I would like to say that it fell because we sold everything, but that is not the reality."
The older workers must choose between "health risks – returning to work before the virus is under control – or economic risks – delaying work until the environment is safe, which may exhaust their resources."
Yet even if governments do avoid defaults, record public-sector debt levels could seriously dampen economic recovery if not managed effectively. Increased debt-servicing costs could crowd out vital investments in areas such as infrastructure and reskilling. Decisions to "print money" at scale could prompt a rise in inflation. And a big rise in taxation could hamper business innovation and growth and harm countries' competitiveness.
Read more at VicNapier.com and my Medium.com page.
Links may lead to sites where the author has an affiliate relationship.
July 2, 2020
"With air traffic not expected to recover to pre-Covid levels before 2023 and potentially as late as 2025, Airbus now needs to take additional measures to reflect the post Covid-19 industry outlook."
The next few months of recovery could be rocky even if the current infection surge abates. Job losses have slowed but remain at levels higher than in any previous recession, and a growing share of workers now report they have been laid off permanently, rather than temporarily furloughed.
"I'm not satisfied with what's going on because we're going in the wrong direction."
"Clearly we are not in total control right now," Dr. Anthony Fauci told a U.S. Senate committee. "I am very concerned because it could get very bad."
The burger giant said Wednesday that it would wait three weeks before any new U.S. restaurants add dine-in service to its drive-through, takeout and delivery operations.
But investors were optimistic about the summer thanks to the gradual reopening of the economy — which began as early as April in some states — as well as unprecedented monetary and fiscal stimulus left investors optimistic about the summer.
Fed Chairman Jerome Powell offered a similar warning Tuesday during testimony before the House Financial Services Committee, arguing that a full recovery is "unlikely" until Americans feel comfortable gathering in large numbers and close spaces.
"Politicians who entertain notions of defunding police departments are the same ones who call for strict gun control and even outright confiscation…These figures aren't push polls. They are representative of Americans from all walks of life who are taking action and taking responsibility for their rights and their safety."
"Country Garden…has built a complete industry chain encompassing back-end supply production (the centralized kitchens) and robotic cooking alongside the operation of restaurants and the management of robots."
"It's when you feel alone, stigmatized and hopeless that you are most vulnerable and at risk…So much of addiction has nothing to do with the substance itself. It has to do with pain or distress or needs that aren't being met."
But with the US seeing about 40,000 new cases of coronavirus a day, economists fear a renewed malaise as local authorities roll back the efforts to return to pre-pandemic normal and businesses are forced to shut down again.
Read more at VicNapier.com and my Medium.com page.
Links may lead to sites where the author has an affiliate relationship.
July 1, 2020
"Fireworks sales have been unprecedented and stronger than ever in the history of my being in this industry and I've been in it for 50 years."
"It's just been like three years of digital commerce growth being pulled forward into three months…People are making purchases that they would have made in person, but they're making them online now." [Another nail in the coffin of traditional retail jobs.]
Nearly a quarter of respondents (24%) say they will never return to the gym at all. A third will keep their membership, but expect to go less frequently than they used to.
"Temperature checks are not a guarantee that passengers that don't have an elevated temperature don't have COVID-19."
There's an "explosion" in demand for gold, said Peter Thomas, a senior vice president at Chicago-based broker Zaner Group. "The virus concerns, inflation on the back of people's mind, and the fact that it's up almost 20% this year" is driving further increases in the metal, he said.
Creative workers with multiple gigs are among the worst hit by the recession and face long roads to recovery
… I think we're also about to see large workforce reductions by states and cities and other local governments that have had their tax revenue ravaged by the coronavirus fallout and their expenses increased.
"Even with states that have enacted full-year budgets, this will be a banner year for mid-year adjustments…And that's because the revenue picture is constantly falling, and that's really going to be an unprecedented level of change for state budgets."
"We're still in a very deep hole…This makes the June employment report backward-looking instead of forward-looking.''
"The rebound sparked concerns that the markets have become unmoored from economic reality."
"I very much expect to see the numbers continue to rise…Every day there are more rumors of this or that company, and the rumors are almost never wrong."
Read more at VicNapier.com and my Medium.com page.
Links may lead to sites where the author has an affiliate relationship.
June 30, 2020
"I will go on the record to say that travel will never, ever go back to the way it was pre-COVID; it just won't…There are sometimes months when decades of transformation happen."
"To get the employment-to-population ratio back to where it was at its peak in 2000 we need to create 30 million jobs."
Unless there's a huge push to turn things around — to bring back immigrants, sustain research universities, make housing cheaper, lower infrastructure costs, reform the police and restore competence to the civil service — the result could be decades of stagnating or even declining living standards.
"During the pandemic, we have learned a lot about working remotely and we will be looking at space solutions that are more agile for the appropriate teams."
"I'm very scared to think I may not be able to make my bills…With my future so uncertain, I have a house payment and bills based on 18 years of what I was making."
Both Congress and the Federal Reserve are pumping trillions of dollars into the economy to fight the economic damage caused by the coronavirus. WSJ explains where all that stimulus money is coming from.
Cirque du Soleil shut down all 44 of its shows in March, laying off 95 percent of its workforce, including more than 1,300 in Las Vegas. The company further announced that nearly 3,500 employees in its international workforce would be terminated, though none in its Las Vegas productions.
"We expect to maintain interest rates at this level until we are confident that the economy has weathered recent events and is on track to achieve our maximum employment and price-stability goals."
"I very much expect to see the numbers continue to rise…Every day there are more rumors of this or that company, and the rumors are almost never wrong."
"If these trends hold steady, 26 million Americans are set to lose benefits by July 26th, costing the economy $15.6 billion dollars in economic stimulus per week and leaving millions of families at a sudden severe risk for evictions and hunger."
Read more at VicNapier.com and my Medium.com page.
Links may lead to sites where the author has an affiliate relationship.
June 29, 2020
The technology sectors good fortune is also reflected in venture capital funding, where Silicon Valley far outpaces the rest of California and the nation.
"The Texas response to close bars and restaurants is a the real driver of lower markets today, as it portends to a possible second shutdown across the country if we see Covid spikes…And a second shutdown would be devastating to the overall economy."
The Fed has taken a recession caused by a government-forced shutdown and applied its traditional demand-management tools to stimulate employment. This amounts to beating a dead horse.
"Our sales have grown online as our product portfolio has evolved to largely digital offerings, and our talented team has proven success serving customers beyond any physical location."
A survey of 2,000 American homeowners found that 52% are constantly concerned about making their mortgage payment on time. Forty-seven percent of the poll say they're considering selling their home because they can't afford their mortgage anymore.
As universities scramble to survive the financial fallout of the coronavirus, sports teams are being cut, abruptly ending thousands of student-athletes' careers and exposing a collegiate sports model that many believe is broken.
Among the 14% of small businesses that anticipate layoffs once their PPP funds are depleted, around 50% say they'll let one or two workers go, while 31% say they'll lay off between three and five. About 12% say they'll lay off more than 10 employees.
"So we've been looking hard at — are there hotels that we could acquire to turn into supportive housing rather than having to build from ground up?"
The Federal Reserve bought bonds issued by companies including AT&T Inc., UnitedHealth Group Inc. and Walmart Inc. as part of its emergency lending program set up in response to the pandemic, according to new disclosures.
"The lockdown measures brought in by most governments have succeeded in slowing the spread of the virus and in reducing the death toll but they have also frozen business activity in many sectors, widened inequality, disrupted education and undermined confidence in the future."
Read more at VicNapier.com and my Medium.com page.
Links may lead to sites where the author has an affiliate relationship.
June 26, 2020
The report from the Commerce Department on Friday added to increases in homebuilding permits, industrial production and orders for manufactured goods in suggesting the economy was turning the corner.
Gen Zers who returned to their childhood bedrooms in March and April represent lost rental revenue of $726 million a month.
It's the toughest call in sports this year: to play or not to play.
"While I expect banks will continue to manage their capital actions and liquidity risk prudently, and in support of the real economy, there is material uncertainty about the trajectory for the economic recovery."
"We are modernizing federal hiring to find candidates with the relevant competencies and knowledge, rather than simply recruiting based on degree requirements…We encourage employers everywhere to take a look at their hiring practices and think critically about how initiatives like these can help diversify and strengthen their workforce."
"No politician wants to lead with raising taxes…When they get there, it's because they've run out of other options."
The number of active forbearance plans rose by 79,000 in the past week, erasing roughly half of the improvement seen since the peak of May 22.
Friday's losses were driven by a decline in bank shares as investors weighed the Federal Reserve's move to temporarily suspend shareholder payouts by big banks ahead of a potentially damaging recession.
"Tax cuts are wonderful things — they give you a little extra money up front, but when the tax cut affects your long-term retirement income, it can have a very long-reaching impact."
"Very senior people are saying, 'We have a whole bunch of jobs we thought never could be done remotely and we're finding they can be—and it's going pretty well."
Should the downside scenario materialize, vulnerable firms would exit markets, vulnerable households would sharply reduce consumption, and several low- and middle-income countries would see heightened financial stress.
Read more at VicNapier.com and my Medium.com page.
Links may lead to sites where the author has an affiliate relationship.
June 25, 2020
"We had extreme lows… It's only natural that we bounce back from that and have extreme highs.''
"Maybe we can say the world has bottomed out, for now, and we're in a recovery phase…But still, the strength of the recovery is highly uncertain because there is no solution yet to the health crisis."
At least four major factors are terrifying economists and weighing on the recovery: the household fiscal cliff, the great business die-off, the state and local budget shortfall, and the lingering health crisis.
That means shifting priorities away from the value of a liberal arts education and focusing on degrees that pay. "We are going to start to see those programs marketed that have a direct return on investment — that will prepare that student for a job."
"Everything we have seen in the last week or two between rising case counts/hospitalizations, stalling economic progress in some important states, government job cuts, means one thing: the Phase 4 of fiscal stimulus must be bigger."
"I think many of these companies will file [for bankruptcy], and it's not a handful. It's several dozen. And that's a scary number. It's far more than we have seen over the last several years combined."
"Everybody's maximized their margin. They've bought all their shares back . . . There's nothing there. Every industry has about three players. Elizabeth Warren is right."
Why do icons of our childhood one day go from being on top of the retail world to being buried 6 feet under and relegated — to an — in memoriam Wikipedia page?
We've long gotten used to touchless water faucets in public bathrooms, for instance. And a simple website can solve the problem of multiple hands on restaurant menus: Everyone at the table could get the menu on their mobile phones. But newer technologies will drive some of the more interesting changes.
"While it counts as good news that businesses are ordering more equipment in May as the states reopened, the second wave of the pandemic may keep companies cautious in the months ahead when it comes to making new investments in the country's future."
The move came after the coronavirus pandemic forced the company to temporarily close locations. The chain has also been weighed down by debt it accumulated in a private equity buyout several years ago.
While the number of people seeking first time aid fell below the 1.5 million who filed claims the week before and mark the 12th weekly drop in a row, the slide is slowing.
Read more at VicNapier.com and my Medium.com page.
Links may lead to sites where the author has an affiliate relationship.
June 24, 2020
Nearly three months of frustrating and failed economic negotiations ended with the league implementing a 60-game season that will run through Sept. 27 and feature a number of new elements.
However, leading congressional Republicans and some senior White House officials remain skeptical of sending more checks.
Job cuts…have spread to other sectors, including manufacturing, education and professional services.
"While traditional milestones are no longer making or breaking what's important in life, our study shows our hearts are still an important driver to achieving financial peace of mind, no matter your life path."
"You get an invitation to a party from the Fed, Treasury and Congress — they offer to pick you up, take you home and bring you breakfast in bed the next morning…You know it is going to be a party like no other."
"Now we'll be looking at a new way of enabling NASA personnel to fly on commercial suborbital space systems by considering factors such as flight experience and flight history."
According to Gallup Panel data, the percentage of employed adults saying they had worked from home specifically out of concern about the coronavirus rose from 31% in mid-March to 49% a few days later, and to 59% the week after that. Remote work leveled off at 62% in mid-April.
The level of inequality across the U.S. was highlighted by the fact that total U.S. billionaire wealth increased by twice as much as the federal government paid out in one-time stimulus checks to 150 million Americans.
"The COVID-19 pandemic created a situation where we were unable to accomplish our refinancing and the abrupt change in the operating environment had a dramatic negative impact on our business."
Read more at VicNapier.com and my Medium.com page.
Links may lead to sites where the author has an affiliate relationship
June 23, 2020
As a whole, the figures illustrate the unusually broad nature of the recession, with all states enduring unemployment rates that soared in April as the coronavirus forced business closures and then generally fell in May but remained painfully high.
"It's clear that Covid has changed a lot about our lives, and that certainly includes the way that most of us work," Mr. Zuckerberg said. "Coming out of this period, I expect that remote work is going to be a growing trend as well."
Virgin Galactic's new agreement will "directly support NASA's broad strategy to facilitate the commercialization of low-Earth orbit by US entities."
The worse things look for the pandemic, the economy and the stock market, the better they look for mortgage rates.
"The great bubbles can go on a long time and inflict a lot of pain but at least I think we know now that we're in one. And the chutzpah involved in having a bubble at a time of massive economic and financial uncertainty is substantial."
Instead of letting the markets naturally correct and revalue stock prices with each economic cycle (which is more or less what happened in the past), now, leaders and central bankers don't want to let the music stop.
Stem cell treatments offer tantalizing hope for the future. But such lofty claims are not out of character in the world of stem cell marketing…virtually all unproven by American scientific standards.
Considering that low-income workers have been hit hardest by the crisis as restaurants, hotels and other service-industry businesses laid off workers in droves, the recovery in spending among poorer Americans is striking.
"This massive shift to fiscal stimulus is going to blow out the national savings rates and the current-account deficit."
Other conservative White House officials and influential congressional Republicans oppose the plan, expressing concern with the impact of tremendous levels of new spending on the deficit.
Read more at VicNapier.com and my Medium.com page.
Links may lead to sites where the author has an affiliate relationship.
June 22, 2020
Traffic has been steadily increasing since mid-April, when it bottomed out at 52 percent of pre-pandemic levels.
The head of the Minneapolis Federal Reserve warned Friday that banks should "stop paying dividends" and "raise capital" as more Americans struggle to pay their loans and credit losses mount at America's large banks amid the ongoing coronavirus pandemic.
"All facilities in Clearwater have been closed indefinitely to all players, coaches and staff and will remain closed until medical authorities are confident that the virus is under control and our facilities are disinfected."
"The market was priced for a continuation of improvement and I think that's overstating what's going to happen…We are going to have episodes of cases rising. We are going to have a very slow and uneven improvement in the jobs market."
But an imminent banking crisis is now a near certainty, with most global systemically important banks in a weaker position than at the time of the Lehman crisis. US markets appear oblivious to this risk, though the ratings of G-SIBs in other jurisdictions do reflect specific banking risks rather than a systemic one at this stage.
Everyone from indie distributors to blockbuster studios will be carefully watching to see how the experiment with new theatrical releases proceeds.
Sales fell in all regions of the country, with the biggest decline coming in the Northeast where virus infections were especially heavy. Sales of both existing and new homes have fallen sharply during the traditional spring selling season as communities were locked down to prevent the spread of the coronavirus.
"But the economic impacts of the pandemic will last more than a handful of months. It is really important to tie the fiscal support to economic conditions…rather than have policies end with a cliff based on arbitrary timelines."
Most now say the economy is in either only fair (38%) or poor (38%) shape. In January, just 9% of Americans said economic conditions were poor.
Like its Medieval counterpart, today's serf class consists of the permanently marginalized—like the peasants of feudal times, these people are unlikely to move to a higher station.
Read more at VicNapier.com and my Medium.com page.
Links may lead to sites where the author has an affiliate relationship.
June 19, 2020
McDonald's is experiencing a rebound in sales and demand. Its US sales fell 19% during the month of April compared with the same period in the year prior, but were down just 5% year-over-year in May.
Meeting your new team and being shown round the office is one of the biggest parts of starting a new job. But how does it feel when everyone is working from home?
Lower earners, those with less schooling, women and minority groups have borne the brunt of the economic pain driven by soaring unemployment.
Rosengren repeated his view that the U.S. unemployment rate will likely be "at double-digit levels" at the end of 2020 and cautioned against reopening the economy too quickly after the end of lockdowns aimed at containing the virus.
"We will make our way back from this, but it will take time and work … The path ahead is likely to be challenging…Lives and livelihoods have been lost, and uncertainty looms large."
As many people continue working remotely and others begin transitioning back to the office, employers will have to prioritize rooting out improper behavior and mistreatment of employees.
Major lines, including Norwegian Cruise Line, have already extended their sailing suspensions well into fall, and Canada issued a ban on cruises in the country's waters through Oct. 31.
$1.2 million for Todd Teske, chairman, president and CEO
$600,000 for Mark Schwertfeger, senior vice president and chief financial officer
$425,000 for David Rodgers, senior vice president and president of the engines and power division
$425,000 for Harold Redman, senior vice president and president of the turf and consumer products division
Read more at VicNapier.com and my Medium.com page.
Links may lead to sites where the author has an affiliate relationship.
June 18, 2020
"The recent sightings of green shoots for economic growth are going to fade in a hurry if workers can't return to the jobs they lost during the pandemic recession…Over 20 million out of work without a paycheck is a lot of spending missing from the economy."
"It's not clear why claims are still so high; is it the initial shock still working its way up through businesses away from the consumer-facing jobs lost in the first wave, or is it businesses which thought they could survive now throwing in the towel, or both? Either way, these are disappointing numbers and serve to emphasize that a full recovery is going to take a long time."
As states started easing back shelter-in-place restrictions last month, public health experts warned cases would increase. That's simply the nature of the coronavirus: more people encountering more people provides more chances for the virus to pass from one to another.
Is this the end of moving to where the jobs are?
"…consumers have actually got rather more cautious and we have a majority saying now that they would wait more than six months before traveling…The survey is telling us that passengers are rather cautious."
"…there will be targeted, but sizable reductions in our workforce across executives, managers and union-represented employees, consistent with our previously announced transformation initiative."
A defacto lockdown in the United States has lasted longer than expected despite a rollback in some restrictions on mobility, pointing to a deeper-than-expected contraction in gross domestic product in the second quarter.
"Investors desperately want to be optimistic, but we're not out of the woods yet…This market seems to be all about the short term – a lot of volatility, lots of fluctuations and extremely dependent on a number of (COVID-19) cases."
The company has also advanced plans for landing sites for its reusable rockets which promise to bring down the cost of space travel by billions of dollars.
Read more at VicNapier.com and my Medium.com page.
Links may lead to sites where the author has an affiliate relationship.
June 17, 2020
Analysts…say there is at least a one-in-three chance that at least one of four major tail risks will occur within the next decade: a major influenza pandemic killing more than two million people; a globally catastrophic volcanic eruption; a major solar flare; or a global war.
The discount retailer said Wednesday it will permanently raise its starting wage for its store, distribution and headquarter employees to $15 an hour beginning July 5. The company raised its starting minimum wage to $13 an hour last June.
The coronavirus pandemic has disrupted many lives and industries, but it's also brought certain realities to bear; among them, the need for a legal and regulated global cannabis industry and the tax-revenues and jobs that come with it.
Unless Congress steps in to extend the benefits, Americans will see their unemployment checks reduced to their state's typical payout starting in August, with a national average of about $378 per week.
"Our outboard engines business has been greatly impacted by Covid-19, obliging us to discontinue production of our outboard motors immediately. This business segment had already been facing some challenges, and the impact from the current context has forced our hand."
But, to be clear, while the rebound was strong overall, sales remain 8% below where they were in February, and many corners of retail are miles shy of where they were just three months ago when coast-to-coast stay-at-home orders brought many businesses to a full standstill.
"The housing market continues to experience the release of unrealized pent-up demand from earlier this spring, as well as a gradual improvement in consumer confidence."
Most now say the economy is in either only fair (38%) or poor (38%) shape. In January, just 9% of Americans said economic conditions were poor.
Employers in the United States are increasingly in pursuit of workers who are adept in social skills, like negotiation and persuasion, and have a strong grounding in fundamental skills, such as critical thinking and writing.
Read more at VicNapier.com and my Medium.com page.
Links may lead to sites where the author has an affiliate relationship.
June 16, 2020
The Department of Transportation's preliminary version reserves most funds for projects such as roads and bridges, but will also set aside about a quarter of the money for priorities such as 5G wireless infrastructure and rural broadband.
Dallas Federal Reserve Bank President Robert Kaplan says the unemployment rate could be "as high as 8% or more" at the end of 2020.
"The U.S. economy has been afflicted with…a very low domestic savings rate and a chronic current account deficit…The dollar is going to fall very, very sharply." His forecast calls for a 35% drop against other major currencies.
Walmart is testing a store that will only offer self-checkout. The retailer is removing cashiers and standard conveyor belt lines at one of its popular superstores in Fayetteville, Arkansas. Walmart says it is an attempt to see if checkout times are faster while limiting human interaction in the age of the coronavirus.
But in just six weeks, the most significant part of the $2 trillion CARES Act passed back in March will roll off the books when enhanced unemployment benefits expire. The end of enhanced unemployment benefits is a turning point for the recovery.
A full U.S. economic recovery will not occur until the American people are sure that the novel coronavirus epidemic has been brought under control.
Hotel chain Hilton Worldwide Holdings Inc (HLT.N) said on Tuesday it would cut about 22% of its corporate workforce, or 2,100 jobs
The Federal Deposit Insurance Corporation reported that "deteriorating economic activity" caused lenders to write off delinquent debt and set aside billions of dollars to guard against future losses. Over half of all banks reported a profit decline, and 7.3% of lenders were unprofitable.
Read more at VicNapier.com and my Medium.com page.
Links may lead to sites where the author has an affiliate relationship.
June 15, 2020
"Anywhere today that you have repetitive operations in place, those are prime things you could potentially automate to reduce your costs and become more efficient and more responsible…If you have to do it now, you're not going to stop doing it when the market recovers."
Colleges are among the largest employers in their towns. They helped drive economic growth for decades and were seen as stable sources of jobs.
Almost twice as many respondents said they're worse off since Trump moved into the White House in January 2017, while about half of the U.S. adults polled, 45%, said their financial situation has stayed about the same.
The majority of locations to be closed are in California and Texas. As many as 8,352 employees, or roughly 46% of the total workforce, could be affected by the changes, according to people with knowledge of the situation.
Without much of a possibility of greener pastures, an unusually low number of Americans, 1.8 million, quit their jobs in April, according to recently released data from the Bureau of Labor Statistics. It was the fewest quits in any month since July 2010.
The paper said it was unclear whether negotiations with Travis County show that Tesla has picked the Austin region as the site for the plant, which would build the company's electric pickup truck and Model Y SUV and employ thousands of people, or if the company is also negotiating with officials in Tulsa, Oklahoma.
Big Tech firms in Silicon Valley managed to stay afloat during those electricity outages because of fortified power lines, but power cuts this summer could spark a catastrophic fallout for thousands of staffers who've set up home offices.
Hertz said in a government filing Monday that it would sell up to $500 million in common stock. In that very same filing, the company said those shares won't be worth anything unless those with higher priority in a bankruptcy, such as the company's debtholders, are paid in full.
Read more at VicNapier.com and my Medium.com page.
Links may lead to sites where the author has an affiliate relationship.
June 12, 2020
Liquidation sales could begin as soon as this weekend at the initial 154 J.C. Penney stores that will permanently close. The company is hoping to shed debt and split into two entities: an operating business and a real estate investment trust.
That somber assessment of the outlook doused much of the optimism for a fast recovery that had been sown by the surprise growth in employment in May and factored heavily in Thursday's dramatic sell-off on Wall Street, when U.S. stocks fell by the most since March.
Public sector debt increases reflect higher healthcare spending, actions to alleviate the economic effects of the COVID-19 crisis, emergency loans and the loss of tax revenues. Households and businesses have also substantially increased borrowings to cover income shortfalls.
"In many cases they will be back in jobs that they had before as those businesses come back…But in many cases they won't, I think there are jobs that will go away."
North Dakota is among the states most dependent on both energy and agriculture. The impact of the virus and trade war on its lifeblood industries could ripple through its budget for years through cuts to education, government and highway services.
The treasury secretary said that, even if the US sees more coronavirus cases, it won't be necessary to impose tough restrictions now that testing and contact tracing programs are now in place.
Biden's tax plan…would lift the federal tax rate on domestic income to 28% from 21%…double the GILTI tax rate on certain foreign income, impose a minimum tax rate of 15%, and add an additional payroll tax on higher earners.
Read more at VicNapier.com and my Medium.com page.
Links may lead to sites where the author has an affiliate relationship.
June 11, 2020
Fed Chair Jerome Powell however cautioned that the outlook remains highly uncertain, and both the central bank and Congress may have to do more to boost the recovery.
About 1.5 million Americans filed first-time applications for unemployment insurance last week, the Labor Department said Thursday. That pushes the tally of those who have made initial claims – a rough measure of layoffs — over the past 12 weeks past a staggering 43 million.
"A combination of aggressive fiscal and monetary policies is necessary for the U.S. to achieve a V-shaped recovery in the level of real GDP," they wrote. "Aggressive policy means that the U.S. will need to consider negative interest rates and aggressive government spending, such as spending on infrastructure."
Starbucks will close up to 400 company-owned locations over the next 18 months while also speeding up the expansion of "convenience-led formats" such as curbside pickup, drive-thru and mobile-only pickup locations. The Seattle-based coffee giant says the moves are being driven by changing consumer behaviors
The Transportation Department announced the news on Wednesday, saying the dramatic drop was the direct result of the coronavirus crisis currently crippling the globe.
Almost 40% of those Americans making under $40,000 a year have lost their jobs. The unemployment rate of those with less than a high-school diploma jumped from 6.8% on the month to 21.2%. For college graduates, it rose from 2.5% to 8.4%. Salaried workers have been laid off at roughly half the rate of hourly workers.
"Public plans with extremely low funded ratios in 2020 may face the risk of running out of assets in the foreseeable future if markets are slow to recover."
The federal debt had topped $24 trillion for the first time on April 7, 2020. It then climbed another trillion dollars in just 28 days, topping $25 trillion for the first time on May 5.
Read more at VicNapier.com and my Medium.com page.
Links may lead to sites where the author has an affiliate relationship.
June 10, 2020
At least 60 food-processing facilities outside the meatpacking industry have seen outbreaks, with more than 1,000 workers diagnosed with the virus.
"We represent the average city. If cities like Allentown begin to crumble, that's how America crumbles…So something needs to be done. We need help."
So far, 24 states are now processing evictions again, and that number is expected to climb to at least 30 states by the end of June.
"The Fed will welcome the improvement in employment we saw in May, but those gains will not be enough to stop members of the FOMC from worrying about the pace of the rebound in growth…The Fed has been consistent in its view that more fiscal stimulus will be needed. It is not expected to back down now."
"There's a lot of denial here, as there was in the 1930s…At the beginning of the Depression, nobody wanted to admit that it was a crisis. The actions the government took were not adequate to the scope of the problem, yet they were very quick to say there had been a turnaround."
After the housing crisis, subprime CDOs naturally fell out of favor. Demand shifted to…the CLO, or collateralized loan obligation. A CLO walks and talks like a CDO, but in place of loans made to home buyers are loans made to businesses—specifically, troubled businesses.
"Overall, the initial impact of the shutdowns due to the novel coronavirus is deflationary…Going forward, expect increased volatility in the coming months — but the medium-term risks to inflation remain firmly to the downside.″
Read more at VicNapier.com and my Medium.com page.
Links may lead to sites where the author has an affiliate relationship.
June 9, 2020
Already stressed by the impact of the Covid-19 pandemic, U.S. living standards are about to be squeezed as never before. The balance is shifting, and a crash in the dollar could well be in the offing.
So yes, the actual unemployment rate may be worse than Friday's headlines suggest…Based on the BLS's estimates adjusted for the misclassification error, the unemployment rate dropped from 19.5 percent in April to 16.4 percent in May.
They…are collectively sitting on tens of billions of dollars of cash reserves that are supposed to help them weather an unanticipated storm. They awarded their five highest-paid officials about $874 million in the most recent year for which they have disclosed their finances.
"We're paycheck to paycheck like most people," he says. "And when you take away that paycheck, especially for this length of time, we have to make the decision — a vehicle or food."
U.S. budget gap more than doubled in May as the pandemic undercut federal revenue and triggered spending increases
"This is a deeply sobering outlook, with the crisis likely to leave long-lasting scars and pose major global challenges."
CBO estimates that the unemployment rate in the 2020 second quarter will be 15.1%. This unemployment rate is more than four times the rates of both the 2019 fourth quarter (3.5%) and the 2020 first quarter (3.8%).
The pandemic alone, however, poses new challenges for a city that thrives on, and is packed with, people. It also comes at a time when New York is pricing out those who are perfectly capable of working elsewhere remotely.
Read more at VicNapier.com and my Medium.com page.
Links may lead to sites where the author has an affiliate relationship.
June 8, 2020
Forty-two percent of the layoffs caused by the pandemic could become permanent job losses, according to a study by the University of Chicago's Becker Friedman Institute for Economics.
"It took years for the economy to grow enough to find jobs for those unemployed in the last recession, and it will take years again this time to do the same."
Branch traffic fell more than 30% in April and the first three weeks of May compared with the same period last year
"Even with the mild improvement in May, the unemployment rate of all groups is still higher than the highest level the overall unemployment rate hit at the height of the Great Recession, when it reached 10.0% in 2009."
"The bigger the business, the more it moves the major averages, and that matters because this is the first recession where big business … is coming through virtually unscathed, if not going for the gold"
U.S. commercial bankruptcy filings under Chapter 11 of the U.S. Bankruptcy Code jumped in May by 48% from year earlier.
"It will get worse before it gets better—white-collar workers will now bear the brunt Even if states and businesses reopen, we're likely to see this second wave of losses."
The accuracy of the numbers is questionable. And even if they were accurate, there's still an incredibly long way to go.
The panel forecast that the monthly unemployment rate will average 10.9% this year. …Forecasters expects the 5% annual GDP drop to be followed by a record 33.5% annual plunge in the current April-June quarter.
Read more at VicNapier.com and my Medium.com page.
Links may lead to sites where the author has an affiliate relationship.
June 5, 2020
Even a seemingly small requirement—for instance, that everyone who enters a country needs to present, in addition to a passport and a visa, a health certificate—would constitute an obstacle to the return to the old globalized way, given how many millions of people would normally travel.
Now that telework is feasible for a hefty slice of their workforce, firms will soon realise that they can get some of the remote work done at much lower cost by hiring workers sitting in low-wage countries. While it is certainly true that foreign talent working online is unlikely to be as good as domestic talent working in the office, the foreign talent may be a whole lot cheaper.
Our classification implies that 37% of US jobs can plausibly be performed at home.
As it turned out, May's numbers showed the U.S. may well be on the road to recovery after its fastest plunge in history.
Filings for unemployment insurance claims totaled 1.877 million last week in a sign that the worst is over for the coronavirus-related jobs crisis but that the level of unemployment remains stubbornly high.
In the time that officially recorded U.S. deaths from COVID-19 increased from 100 to 100,000, the S&P 500 rose by 20 percent. What is going on?
"The best laid plans: inspired by myopic modelers, eschewing of expert opinions of dissident scientists, disregarding of essential rights, fueled by media fabrications and irresponsibility, imposed by governments at all levels. It's a new chapter of The Road to Serfdom."
"The goal of Starlink is to create a network that will help provide internet services to those who are not yet connected, and to provide reliable and affordable internet across the globe."
As part of its bankruptcy reorganization, Penney said it planned to permanently close nearly a third of its 846 stores in the next two years. That would leave it with just over 600 locations.
The outbreak of the coronavirus has dealt a shock to the global economy with unprecedented speed. Following are developments Thursday related to the national and global response, the work place and the spread of the virus
"Even before the COVID-19 pandemic, outdated and hazardous school buildings were undermining the quality of public education and putting students and educators at risk."
"While our economics in our Old Navy and Athleta fleets are strong, our specialty store fleet (Gap and Banana Republic) has not been as profitable as we need it to be."
But the simplest way to calculate that impact – tallying up the number of initial unemployment claims filed each week since a national emergency was declared in March, for a total of 42.6 million – is increasingly flawed, analysts say.
Read more at VicNapier.com and my Medium.com page.
Links may lead to sites where the author has an affiliate relationship.
June 4, 2020
"Business closures and social distancing measures are expected to curtail consumer spending, while the recent drop in energy prices is projected to severely reduce U.S. investment in the energy sector."
The long list of worries includes a new wave of coronavirus contagion in the fall, an extended period of double-digit unemployment, a spike in defaults and a slower-than-expected economic recovery as businesses around the globe adapt to the realities of prolonged social distancing.
Fifteen U.S. airlines were granted final government approval on Wednesday to temporarily halt service to 75 domestic airports as travel demand has been crushed due to the coronavirus pandemic.
Brimming diesel inventories and stronger oil prices are driving down refining profits, stifling incentives to hike production even as fuel demand recovers from the coronavirus hammering.
Hedge funds are getting ready for another slump in stock markets after growing uneasy that surging prices do not reflect the economic problems ahead.
The problem for the broader U.S. economy is that when businesses…stop paying rent, it sets off an alarming chain reaction. Landlords are now at risk of bankruptcy, too. Commercial real estate prices are falling. Jobs at property management companies and landscapers face cuts. Banks and private investors are unwilling to lend…strapped city and local governments are realizing the property taxes are…unlikely to be paid…
"When the $600-a-week unemployment insurance runs out at the end of July, most people expect tremendous displacement risk…Evictions are likely to go through the roof."
The world's largest movie theater chain said Wednesday it has "substantial doubt" it can remain in business after shuttering all of its locations during the coronavirus pandemic.
Even before the coronavirus pandemic, the United States post office had been atrophying from financial turmoil. Over the past decade, post offices have been closed across the country, rural mail delivery is stretched thin, and thousands of post office workers' positions have been eliminated.
Read more at VicNapier.com and my Medium.com page.
Links may lead to sites where the author has an affiliate relationship.
June 3, 2020
A Wells Fargo spokeswoman confirmed that the bank…will no longer accept loan applications from most independent shops. Wells Fargo has also been stepping back from parts of the mortgage market.
The company has transformed itself into a global video hangout from a business-oriented teleconferencing tool. It came under fire over privacy and security issues, prompting it to roll out major upgrades.
Yes, young workers got slammed when the economy fell off the cliff, but the next most severely affected group is older workers — those 55+.
"The difficulties encountered by the Group, the major crisis facing the automotive industry and the urgency of the ecological transition are all imperatives that are driving the company to accelerate its transformation," the company said in a statement.
More than 2.1 million people in the U.S. filed for unemployment in the week ended May 23, the Labor Department reported on Thursday, the eighth week in a row that the number of new claims has declined since it peaked in the week ended March 28.
"I found that a combination of aggressive fiscal and monetary policies is necessary for the U.S. to achieve a V-shaped recovery in the level of real GDP," Wen wrote. "Aggressive policy means that the U.S. will need to consider negative interest rates and aggressive government spending, such as spending on infrastructure."
The lawsuit seeks at least $5 billion, accusing the Alphabet Inc unit of surreptitiously collecting information about what people view online and where they browse, despite their using what Google calls Incognito mode.
Besides just personal use, UV light devices can conceivably be used to disinfect large public areas like parks, theaters, buses, and subways.
The 5ft-tall robot, known as Alexia, can move around the terrace while carrying a tray of up to nine drinks at one time. It is currently in use in Bar Baviera in the Plaza del Castillo square in the city of Pamplone in the province of Navarre.
Read more at VicNapier.com and my Medium.com page.
Links may lead to sites where the author has an affiliate relationship.
June 2, 2020
With five big retailers having filed for bankruptcy in May, some of the industry's survivors can't get financial backing for their holiday season orders — prompting an urgent appeal to the Treasury Department and Federal Reserve for help.
"We're slowing our pace of hiring and investment, and are not bringing on as many new starters as we had planned at the beginning of the year." The move affects more than 2,000 people
"There's nowhere we want to be other than with our families right now. It's really heartbreaking to be far away…We've gained a lot from living in the city, but as we get older, and going through this pandemic, we see the value of being close to family and having land."
"In normal times, businesses would probably take it in their stride…But coming off the back of the pandemic, it's devastating."
"I can't see anybody agreeing to reopen arenas or concert venues in the foreseeable future…So, I have to say that things will be fan-less, which, who knows what kind of experience that will be to watch on TV, and for the players."
Mortgage investors have yet to enjoy robust returns this year despite the Federal Reserve providing $688 billion of support to the sector since mid-March.
"A full recovery of the economy will really depend on people being confident that it's safe to go out…A second wave would really undermine public confidence, and might make for a significantly longer recovery, and weaker recovery."
"Markets are pricing a V [shaped recovery], everyone's coming back to work, and this is going to be fine…I don't think it's going to be that easy quite frankly…As the second quarter comes along and we start seeing the pain…we think this is going to be much tougher than it looks."
So many unusual policies and practices have come out in recent months to help stabilize the economy that it seems almost anything could be on the table. Might negative interest rates be next?
"The direct economic impact of the protests is small, at least so far…Just when people were starting to come out of the proverbial bunkers, the protests may be too much for them, and they will go back in."
Read more at VicNapier.com and my Medium.com page.
Links may lead to sites where the author has an affiliate relationship.
June 1, 2020
71% of Americans say the country is in an economic depression or recession, a figure that has remained at or above 70% since mid-April.
The market was heavily weighted to a small number of companies — Amazon, Apple, Google, Facebook — that were positioned to become even more dominant than they were before the crisis and whose stock prices were rising in anticipation of that.
"If you're going to euthanize thousands of animals and it takes six months to raise a new one, obviously there's going to be some type of delay or buffer in the supply chain."
But the corporate rush to working from home has most dramatically drained the money-fuelled downtown life of the people who once needed to be there every day: the office workers.
"Today this government is showing that its political choice is social justice and that it takes the [Spanish] Constitution seriously." People between 23 and 65 years old with "assets of less than 16,614 euros," not including house and discounted loans, will be eligible for the basic income plan
"This crisis is clearly pushing us even farther away from using cash in our everyday legal transactions," said Kenneth Rogoff, a Harvard University economics professor and author of "The Curse of Cash." "And it's for obvious reasons. No one wants to touch something you or someone else just touched. That's not going to change any time soon."
As local leaders are pleading for more federal aid…the Senate resumes session Monday with no immediate plans to consider a fresh round of relief.
"Unless this is fixed soon, the retail engine that supports one in four American jobs will have a hard time coming back to life…the retail industry could suffer "a commercial credit crisis that threatens to seize up our economy and stall the safe restart in its infancy."
"We're slowing our pace of hiring and investment, and are not bringing on as many new starters as we had planned at the beginning of the year."
Now, indie bookstores everywhere, confronted with the twin threats of Amazon and covid-19, are struggling to survive. And in response, readers across the country are banding together to save them.
We all know that one person who can eat whatever they like and never gain a pound…Now, a groundbreaking new international study appears to have zeroed in on the so-called "skinny gene" that help keep such individuals thin.
Read more at VicNapier.com and my Medium.com page.
Links may lead to sites where the author has an affiliate relationship.
May 29, 2020
"Because of the lack of guidance from the federal government, it's up to the states, and it will probably evolve into the cities and counties as well. Nothing's going to be uniform. These people will stay closed, these people will open up. You'll get some hot spots and flareups of infections.''
"The CARES Act was massive, but it was a very short-term offset to what is likely to be a long-term problem…This economy is clearly going to need more support."
"It's a sign that the White House does not anticipate a major recovery in employment and growth prior to the election and that it has essentially punted economic policy over to the Fed and the Congress."
"Delta will have to be a smaller airline as we adjust to reduced demand and the need for distancing and safety during travel…A smaller Delta unfortunately means fewer people will be required."
Our economy is built on Americans of all class levels buying things. What happens when the ability — and desire — to do so goes away?
In fact, 66 percent of respondents said their workplaces should be physically changed "to create more personal space," the survey found.
The company plans to permanently close about 230 of its 687 stores this summer.
Of the almost 110 recipients of $4 million or more, Reuters found some 46 paid no U.S. corporate tax for the last year.
The U.S. economy shrank at an even faster pace than initially estimated in the first three months of this year with economists continuing to expect a far worse outcome in the current April-June quarter.
"The longer we remain fully remote, the more difficult it is going to be to mitigate a rate of decay in culture…That should be keeping leaders up at night."
"Whether it's the bubonic plague, the Spanish flu or coronavirus, pandemics inevitably are both health events and social events that cause transformations in society and politics."
"I think there has been a growing sense — not by all, but a growing portion of institutional investors — that CEOs are overpaid," said Amy Borrus, deputy director of the Council of Institutional Investors. "It's not so much that they're overpaid but that it's out of whack with corporate performance."
Read more at VicNapier.com and my Medium.com page.
Links may lead to sites where the author has an affiliate relationship.
May 28, 2020
Even under a best-case scenario "the annual poverty rate will reach levels comparable to the Great Recession."
"The COVID-19 pandemic's devastating impact on the airline industry means a deep cut in the number of commercial jets and services our customers will need over the next few years, which in turn means fewer jobs on our lines and in our offices."
"That's unlike anything the industry has ever seen," Coresight CEO and founder Deborah Weinswig said. "It's the speed with which it's all happening which has been a little surprising."
The check's the same each month for a whole year, but the prices, well, they just keep going up.
Business leaders "cited challenges in bringing employees back to work, including workers' health concerns, limited access to childcare, and generous unemployment insurance benefits."
The Fed's May "Beige Book"…painted a dire picture of the economic toll of the coronavirus pandemic as states began to gradually lift restrictions imposed to slow the spread of COVID-19.
"While almost all states have begun to re-open their economies in one way or another, the process is gradual…This argues for persistent pain in labor markets."
"I think we will enter into a severe renter crisis and very quickly…we will have an avalanche of evictions across the country."
The authors "emphasize the urgent need for the provision of income assistance to all U.S. residents, with a particular focus on children and working-age adults who we find are at the greatest risk of falling into poverty."
"We cannot make assumptions that just because the disease is on the way down now that it's going to keep going down."
But, the headsets, while helpful for gaming and some interactive experiences, are likely out of reach for the everyday sports consumer. Prices start at around $200 and go up from there depending on the model.
This special report looks at what impact increasing public debt will have on both developed and poorer countries, alongside the potential long-term consequences for the global economy.
Read more at VicNapier.com and my Medium.com page.
Links may lead to sites where the author has an affiliate relationship.
May 27, 2020
"It's one of the reasons why we don't expect a so-called V-shaped recovery," said Michael Gapen, Barclay economist. Americans taking pay cuts "might have little, and in some cases maybe nothing, left over after that for discretionary purchases."
Personal incomes in March suffered the steepest drop since 2013, and consumer spending fell at the fastest rate since 1959. The numbers for April, due Friday, are expected to be worse. Yet stocks have continued to rise. The S&P 500 has surged 34% since bottoming March 23,
"I'm a born-and-raised, do-or-die New Yorker because it was always a party, but the party is over…I'm not getting my city back, so I'm leaving before it gets to the point that I can't get my mind back."
"Presidents and trustees are deluding themselves into thinking that students will return in mass or are willing to pay the remarkably high-tuitions that have become a hallmark of our secondary educational system, especially given the deep financial contraction that has impacted almost everyone."
"We are not meant to be alone…The reason it feels unpleasant is it's a biological signal, much like hunger and thirst, to motivate us to reconnect with others."
After all, the "novel" in "novel coronavirus" means new and unknown. Science moves slowly and attempts to push it along ensures poor science.
Yet the latest psychological literature suggests that less communication might actually be more: constant collaboration can in fact reduce collective intelligence.
"The expectation of parents and society is we're sending our children to be educated in a safe environment, and how we're going to provide that safe environment is completely unknown."
"If we want to prevent human beings from suffering from the next infectious-disease outbreak, we must go in advance to learn of these unknown viruses carried by wild animals in nature and give early warnings…If we don't study [the viruses], there will possibly be another outbreak."
L Brands also said it was closing 50 Bath & Body Works stores, mostly in mall locations where it doesn't expect foot traffic to regain pre-pandemic normalcy.
Paul Stone, promoted to CEO three days before the retention bonuses were awarded, got $700,000. Chief Financial Officer Jamere Jackson got $600,000, while Chief Marketing Officer Jodi Allen got about $190,000.
Read more at VicNapier.com and my Medium.com page.
Links may lead to sites where the author has an affiliate relationship.
May 26, 2020
Nouriel Roubini, the economist who warned of the 2008 economic debacle, now warns of a long-term economic downturn.
"The impact of Covid-19 on travel demand was sudden and dramatic, causing an abrupt decline in the company's revenue and future bookings…uncertainty remains as to when revenue will return and when the used-car market will fully re-open for sales, which necessitated today's action."
Retirement contributions are offered mostly to full-time professors. Only about 25% of college professors are full time; the remainder are low paid part time or adjunct instructors, with no job security or benefits.
"Exiting them (the 8 brands) will create focus and clarity on the brands that will continue…We're still highly committed to the women's business. In the short term, we're facing some challenges here."
"…nothing to signal there's any return to economic stability or recovery happening right now," said Alex Camardelle, a senior policy analyst with the nonprofit Georgia Budget and Policy Institute.
When asked if they would "consider relocating" if given the option to work remotely, 34% of Bay Area respondents said no. About 18% said they'd consider moving out of the Bay Area but staying in California, 36% said they'd consider moving elsewhere in the US and 16% said they could foresee leaving the country.
"We'll adjust salary to your location at that point," Zuckerberg said, "There'll be severe ramifications for people who are not honest about this."
"Unless the federal government steps in to help renters and owners in a big way, we are going to see a housing disaster the likes of which we have never seen."
"And so now, people graduating this spring are going to face the worst job market in the entire post-depression history."
Austin and Tulsa vying for Tesla factory, while the east and west coasts are not even in the running.
"They are like the ultimate P.P.E. — you can really seal yourself into them."
"Unlike rigorous testing of potential new drugs, lockdowns were administered with little consideration that they might not only cause economic devastation but potentially more deaths than COVID-19 itself."
Read more at VicNapier.com and my Medium.com page.
Links may lead to sites where the author has an affiliate relationship.
May 22, 2020
"We are going to put out the fires. We're not going to close the country," Trump said. "We can put out the fires. Whether it is an ember or a flame, we are going to put it out. But we are not closing our country."
"The numbers coming in are not good. In fact, they are downright bad in most cases. But we are seeing some glimmers, perhaps … there's a lot of heartbreak here. There's a lot of hardship here. There's a lot of anxiety here. It's a very difficult situation."
"I hate to say it, but this is going to take longer and look grimmer than we thought," Nicholas Bloom, an economist at Stanford University, said of the path to recovery. Bloom…estimates that 42% of recent layoffs will result in permanent job loss. "Firms intend to hire these people back. "But we know from the past that these aspirations often don't turn out to be true."
"We won't be accepting cash payments for 30 days after reopen, and we'll reassess after that time. We prefer contactless tap payments like credit and debit cards or ApplePay. Check in with your financial institution so your digital wallets are ready to go!"
"We would expect to have a meaningful number of additional store closures beyond the 250 that we're pursuing this year, meaning there will be more in 2021 and probably a bit more in 2022."
Apple is checking shoppers' temperatures at the door. Best Buy is asking customers to shop by appointment. Macy's and Nordstrom are doing away with beauty consultations and alteration services, while the Gap is closing off bathrooms and fitting rooms. Cosmetics giant Sephora won't allow shoppers to test products anymore.
As a percentage of gross domestic product (GDP), the coronavirus response has already pushed government spending to its highest levels since World War II (the single most expensive event in U.S. history). How is the United States going to pay for all of this?
An outsized battle looms in Washington, as trade associations for trial lawyers push their own vision of open-ended lawsuits while groups like the U.S. Chamber of Commerce come down on the side of restricting litigation over coronavirus.
"Congress has a tremendous responsibility to help mitigate the impact of this crisis on our states and our local communities and on the families they serve…We must not wait. We should act now."
"This thought came into my head, like, 'how amazing would it be for a virtual babysitter to come up on my screen while I would exercise, so I didn't have to invite someone into my home for three hours to watch my child for 45 minutes'."
Read more at VicNapier.com and my Medium.com page.
Links may lead to sites where the author has an affiliate relationship.
May 21, 2020
"Participants commented that, in addition to weighing heavily on economic activity in the near term, the economic effects of the pandemic created an extraordinary amount of uncertainty and considerable risks to economic activity in the medium term."
A large body of research — along with the experience of those who came of age in the last recession — shows that young people trying to start their careers during an economic crisis are at a lasting disadvantage. Their wages, opportunities and confidence in the workplace may never fully recover.
Lawmakers will face pressure to extend these benefits, said Joshua Rauh, a Stanford University professor, "Once these things get started, it's very hard to stop them," he said. "Once you think about it that way … we're getting closer to something that certainly resembles universal basic income."
Singles across the country are boasting about their coronavirus antibody test results when they're out on the prowl. Some are even including the status of the test results in their online dating profiles, using their possible immunity to score a lover in the middle of a pandemic.
"The zombie companies are those firms that are able to borrow in effect cheaper than they should given their revenue, and they're able to stay in business," said Steve Blitz, chief U.S. economist at TS Lombard "What they're talking about is not so much zombie firms but firms that would otherwise just shut down,"
"Just as the country begins to open up there has been a swing toward increasing caution, with a majority of Americans clearly saying 'not yet' when it comes to attending large public events,"
Patients found in the northern provinces of Jilin and Heilongjiang appear to carry the virus for a longer period of time and take longer to recover
A growing number of businesses and individuals worldwide have stopped using banknotes in fear that physical currency, handled by tens of thousands of people over their useful life, could be a vector for the spreading coronavirus.
A weekly survey from the Mortgage Bankers Association released Monday found that 8.16 percent of total loans are now in forbearance plans, up from 7.91 percent as of May 3. It was the smallest increase in forbearance since March 10, when the outbreak of the virus first paralyzed the nation's economy.
Sweden has kept most schools, restaurants and businesses open during the pandemic and some theorized it might at least suffer less economic pain. But the latest data challenge that idea.
The unidentified staffer told her managers at Tula Regional Clinical Hospital that she was "too hot" to wear clothing underneath the head-to-toe vinyl gown…While there were reportedly "no complaints" from her patients, hospital chiefs punished the nearly nude nurse for "non-compliance with the requirements for medical clothing."
Read more at VicNapier.com and my Medium.com page.
Links may lead to sites where the author has an affiliate relationship.